Sri Lanka 02.09.2014 David Abram
Although Sri Lanka is loaded with cultural attractions, the island's beaches are, for many visitors, one of its biggest draws. Sri Lanka has some of the best beaches in Asia and resorts that were little more than backpacker hideaways before the end of the civil war just a few years ago have grown rapidly over the past few seasons.
However, plenty of unspoilt corners of Sri Lanka remain. Whether you're looking for a romantic honeymoon hotel, laid-back break somewhere tranquil, an inspirational snorkelling or diving centre close to a coral reef, or the bright lights of a fully fledged five-star, luxury hotel on the sand, you'll be spoilt for choice.
Sri Lankan beaches come in many and varied forms and which ones to visit depend on the time of year you plan to go to Sri Lanka. While the coast around Galle in the southwest and close to Colombo is dominated by archetypal palm-backed paradise coves, the wilder, windier east and northwest are more wave-lashed, with generally longer stretches of sand and much less development and tourism. Accommodation is also varied, ranging from large, international-style resorts to pretty boutique places in off the beaten track locations.
Here's a rundown of our favourite Sri Lankan beaches: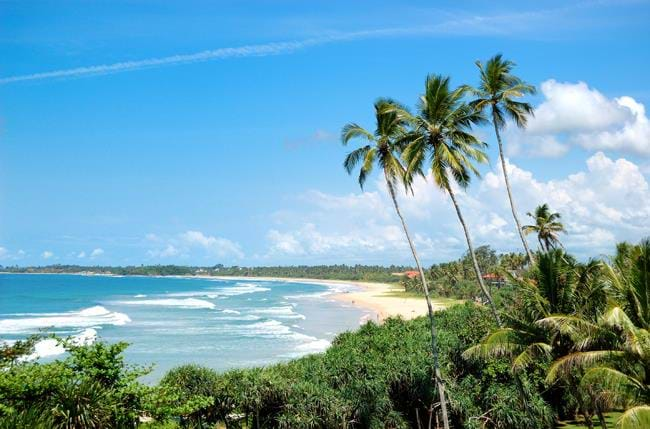 Bentota
Bentota's huge expanse of palm-backed, spray-soaked golden sand is home to some of the island's top beach hotels, ranging from five-star palaces to boutique hideaways, plus loads of watersports and boat trips on the Bentota Lagoon.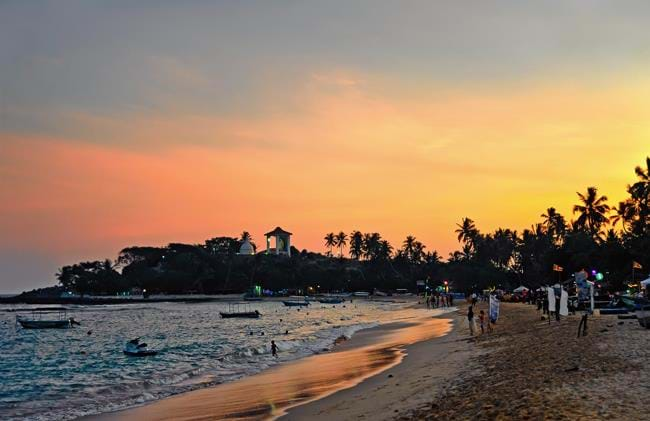 Unawatuna
Sri Lanka's party beach, Unawatuna is far from pristine but remains an enjoyable place to while away a few days, with plenty going on at all times of the day and night. It is a short trip from the fortress town of Galle but over the years has suffered from the building of big resorts and some pollution. It's still a stunning place to visit and enjoy everything from yoga classes and diving trips to beach BBQs and full-moon parties.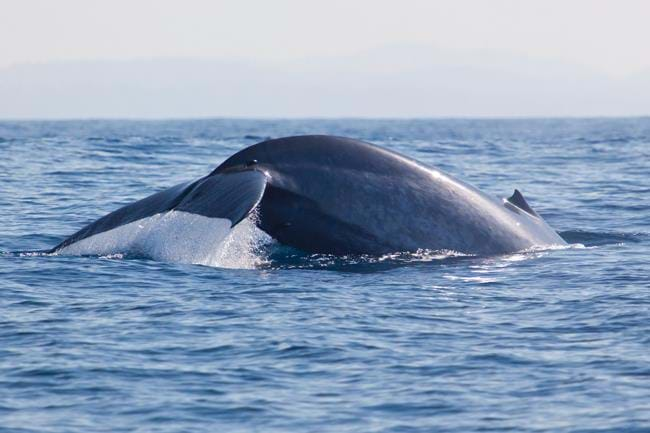 Mirissa
Small but perfectly formed beach on Sri Lanka's southern tip, Mirissa is especially pretty after dark when its lantern-lit waterfront restaurants get going, serving up some of the island's finest seafood. It's one of our favourite family-friendly destinations in Sri Lanka and the best place to go whale-watching, with majestic blue and sperm whales regularly sighted just a few miles out to sea. You can stay in Mirissa on our Grand Tour of Sri Lanka.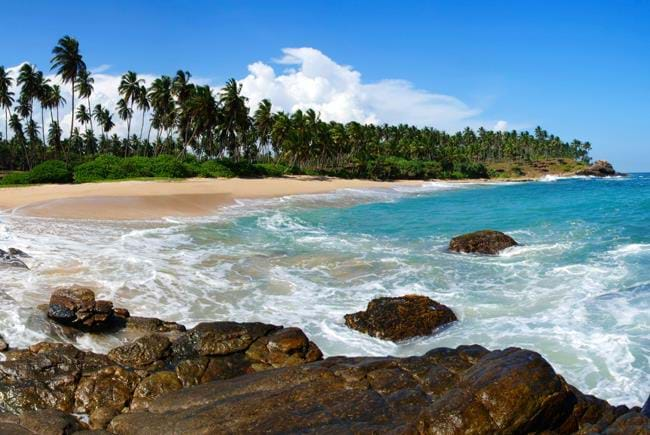 Tangalla 
A picture-perfect stretch of Sri Lankan coast, featuring idyllic white-sand coves, turquoise waters and thousands of tilting palm trees leaning towards the sea.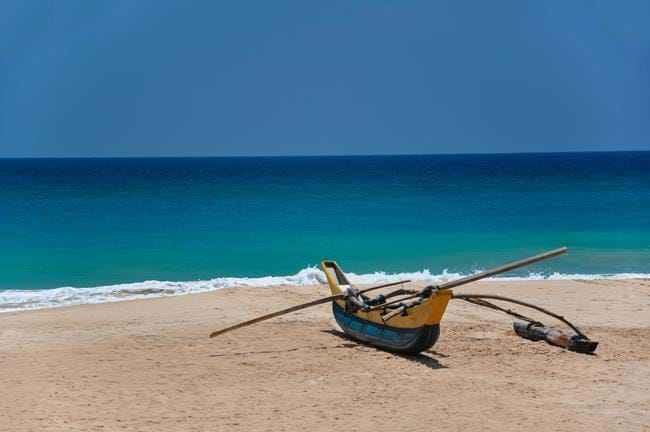 Arugam Bay 
A remote east-coast beach, popular amongst surfers for its world-class waves. Arugam Bay was particularly badly hit by the 2004 Boxing Day tsunami and has only started to really recover. It's got a cool backpacker feel to it with few resorts but with a host of other nearby wildlife and cultural attractions nearby. From Arugam Bay, you can hire a tuk-tuk to visit nearby Kumana National Park which borders the more famous Yala National Park. One of the best national parks in Sri Lanka for wildlife, you can spot majestic elephants, particularly at sunset, mangrove forests and jungle monasteries. There is tonnes to enjoy for a couple of days at Arugam Bay. At night, the sleepy main street which runs parallel to the beach comes alive with locals selling fish which can be purchased whole and thrown onto a barbecue. Grab some beers from the local 'Tesco' to wash your meal down with as the perfect end to an action packed day.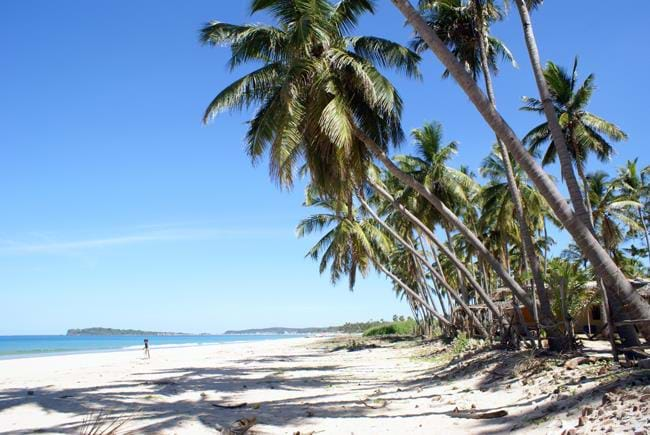 Uppuveli & Nilaveli 
Resorts on Sri Lanka's quieter east coast, these beaches are more popular in the summer months when monsoon season hits the typically busier west and southern coasts. Miles of sleepy and utterly unspoilt beaches are book-ended by temple-topped Swami Rock and tiny Pigeon Island, home to some of Sri Lanka's best snorkelling. For total escapism in Sri Lanka, there is no where better to run to.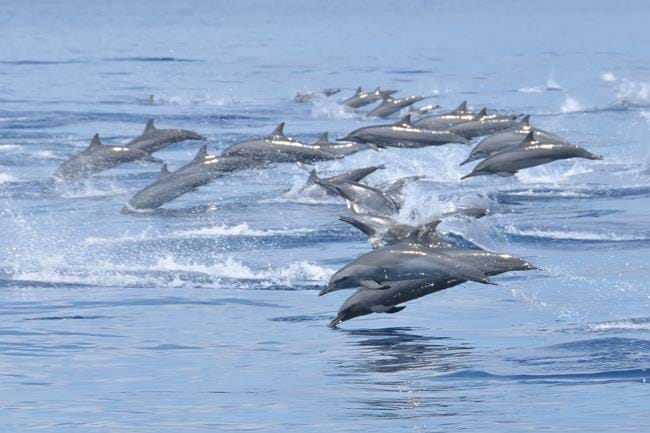 Kalpitiya
A string of pristine and still largely undiscovered beaches fringe the beautiful Kalpitiya peninsula, north of Colombo, complete with Sri Lanka's finest cluster of eco-lodges, top-class kite surfing and spectacular pods of spinner dolphins.