Sri Lanka 14.01.2020 DAVID ABRAM
Whether cosy coves or long, windy expanses of coral sand are your thing, visitors are spoiled for choice when it comes to beautiful beaches in Sri Lanka. Deciding on which might be the best beach resort for your holiday to Sri Lanka, however, can be a challenge. So to help you plan your next trip, our travel specialists have put together a list of our current favourite beaches, along with hot tips on where to stay.
When to travel to Sri Lanka
Sri Lanka is a year round destination and there is no best time to travel but the first thing you need to bear in mind when planning a beach holiday in Sri Lanka is the time of year you're intending to travel. The monsoon affects different parts of the island at different times. In the south and west, the rainy season peaks in May and October, whereas on the east coast, November and December is the wettest time.
The upside is that Sri Lanka really is a year round destination as at any given month there will be one corner where the weather is good for the beach. In the south and west, December to April is the optimal time. On the east coast, it's our summer – July through September – perfect for the school holidays!
Where to travel in Sri Lanka?
Whether 'barefoot' or 'bright lights' is your thing, rest assured our team or Sri Lanka specialists will have dozens of suggestions. To get the ball rolling, we've picked up some of our favourite spots on the Sri Lankan coast, with tips for where to stay to best enjoy the idyllic views and local sights.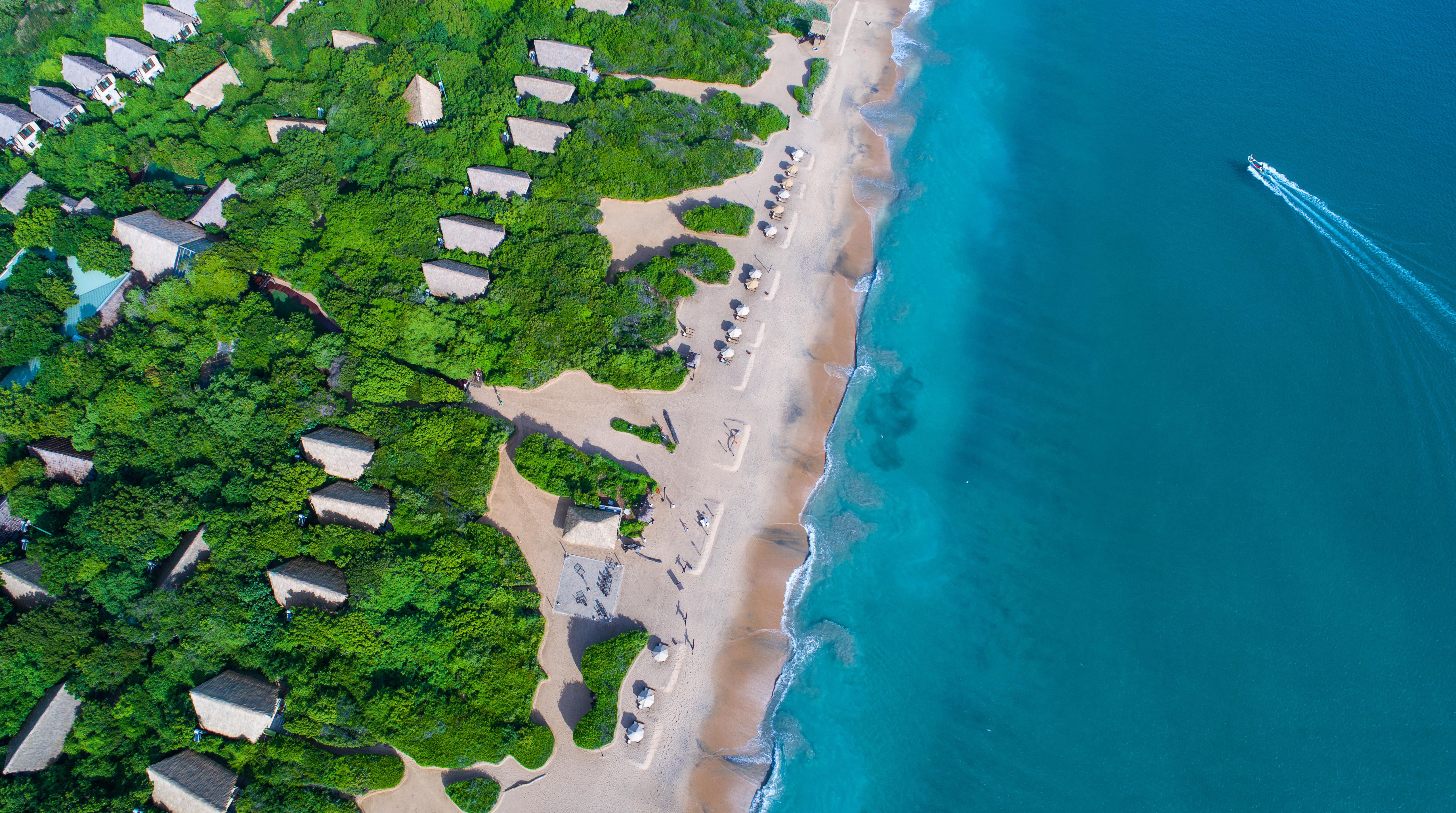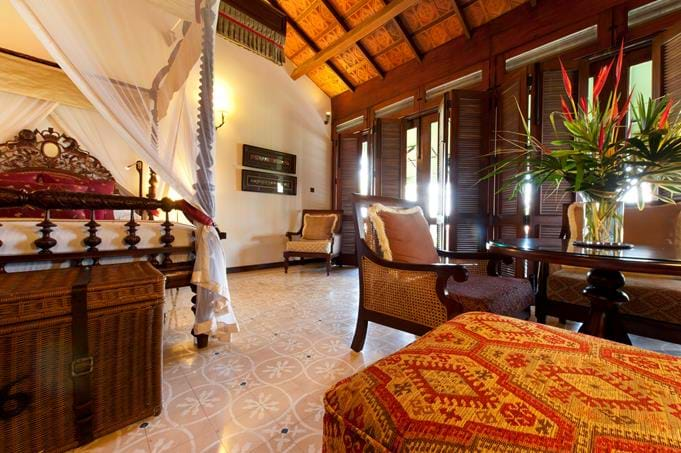 Wadduwa
Where in Sri Lanka: West coast
When to visit: November–April
Best for: honeymooners; tour extensions; end-of-trip beach breaks
Less than an hour's drive south of Colombo city, Wadduwa is one of the best beaches in Sri Lanka and makes a handy first landfall on the island or last halt before flying home. Given the proximity of the capital, its beach remains astonishingly unspoilt. The resorts and guest houses dotted along it are discretely spaced, and the sands never busy. Because they're steeply shelving, everyone tends to swim in their hotel pools, leaving miles of golden, palm-backed beach to the fishermen, who haul giant hand nets from the sea in the early morning, and heave old outriggers into the surf at sunset time, when the warm, tropical light intensifies the colours of the palm canopy.
Where to stay: Reef Villa
Imagine a bungalow of an East India company burra sahib somewhere in upstate Bengal circa 1850, only transported to a dreamy strip of Sri Lanka's southwest coast. Add a dash of Balinese boutique chic, and surround with palm groves and three acres of gardens of lush lawns and lily ponds, and you'll have something close to Reef Villa – a recent discovery of ours we're sure will prove a huge hit. Its British owners have been inspired by the romance of the Raj era to create an elegant, luxurious retreat right on Wadduwa beach. Wicker chairs, paddle fans, and antique canopied four-posters set the tone. Everything has been beautifully done and the result is a delight.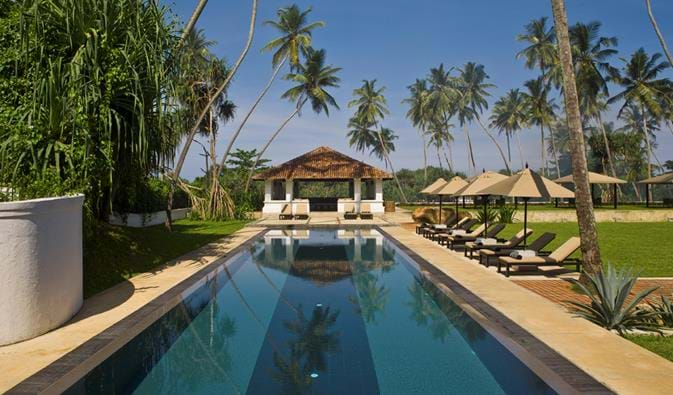 Bentota
Where in Sri Lanka: West Coast
When to travel: December-April
Best for: retro-colonial style; sunsets.
Midway between Colombo city and Galle on the southwest coast of Sri Lanka, 'Bentota' is a byword for 'watersports', with some of the best facilities on the island. The area also holds an exceptional array of beaches, most of them surprisingly empty. Our favourite is the one to the south of town, around the headland from the Taj Hotel, where a curtain of corkscrew palms screens a clutch of particularly inviting boutique hideaways. Don't expect much in the way of beachlife – this is somewhere to stroll along empty sands, soaking up the rays, marvelling at the tropical sunsets and enjoying the wildlife (nearby Kosgoda has a famous turtle hatchery and the birdlife is prolific).
Where to stay in Bentota: Paradise Road The Villa
Paradise Road The Villa Bentota was converted into a small boutique hotel in the 1970s by Geoffrery Bawa.  The hotel is set on a two-acre plot of tropical gardens with a sprawling coconut palm lawn and direct access to a fabulous beach.
This property holds 15 individually styled rooms and suites. There are two swimming pools, one of which is nestled within the walls of the villa, along with a small massage room offering Ayurvedic treatments. Paradise Road The Villa Bentota also has an impressive contemporary art collection created by Sri Lankan artists, displayed throughout the property and in each of the rooms and suites.
The chic Villa Café and Lion Bar is the place to head for a sundowner: the tamarind chilli martini comes highly recommended! Private dining on your terrace can also be arranged.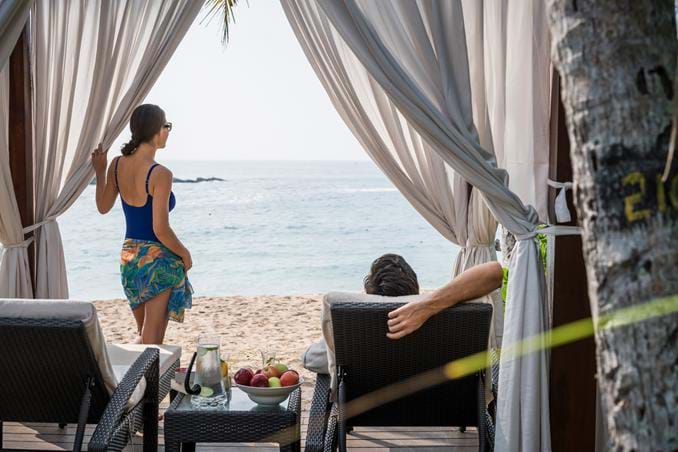 Tangalle
Where in Sri Lanka: South coast
When to travel: November-April
Best for: beach walks; fishing; kayaking.
Dotted along the prettiest stretch of the south coast, Tangalle consists of a series of gorgeous little coves enfolded by screens of gently inclining coconut palms and piles of black granite boulders. Tourism in the area is low key, and the beaches delightfully unspoilt. Most of the accommodation in the area consists of small, family-run guest houses and beautiful little boutique hotels offering direct access to the sand. The location couldn't be better: you're within easy reach of some of the island's top off-beat sights, including the giant Buddha at Wewurukannala, the rock temples of Mulkirigala and Rekawa beach, where marine turtles nest.
Where to stay in Tangalle: Anantara Peace Haven
It's no wonder that Anantara Peace Haven Tangalle Resort is consistently listed as one of the top beach resorts in Asia. Not only does it have a wonderful secluded beachfront location on Sri Lanka's Tangalle coast, but it also boasts a wealth of facilities.
There is a range of accommodation to choose from with ocean views or direct beach access. It's great for families who particularly love the villas of the resort with private plunge pools and a Villa Host to take care of your needs.
The resort has a wide range of cuisines to sample from Japanese teppanyaki to fresh Italian pastas whilst Spice Spoons is the resort's cookery school for total immersion into the local delicacies.
For the energetic and active there is a 25 metre swimming pool, bikes to explore the local area as well as tennis and badminton courts. For those seeking relaxation, then the Anantara Spa is the place to head for Ayurvedic, holistic and reflexology treatments.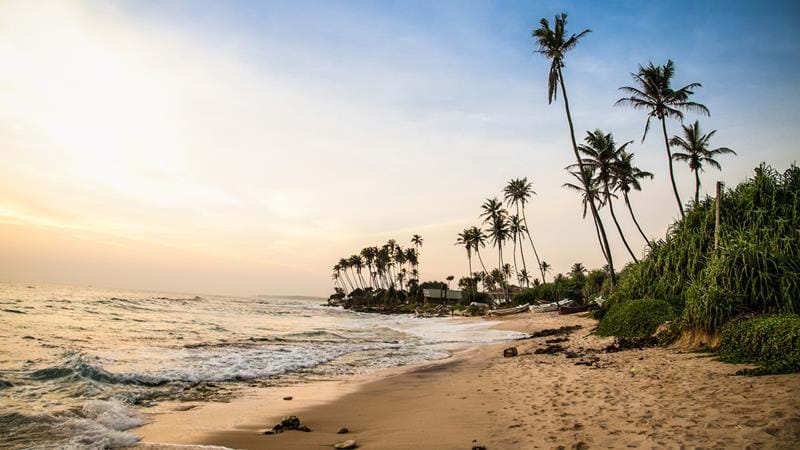 Weligama
Where in Sri Lanka: South coast
When to visit: November–April
Best for: ultimate luxury; cliff walks.
Half an hour's drive east of Galle, Weligama Bay forms a conspicuous bite out of the Sri Lanka's heavenly south coast, and one that has attracted surprisingly few visitors given the spectacular, golden sand beach that lines most of it. Spread around the bay, the town retains a traditional, workaday feel, with an atmospheric market area and lots of pretty, colonial-era villas with traditional wood-carved eaves. But it's the rugged stretch of coast to the west we like best. Honeycombed with hidden coves, this stretch serves as a great base for a holiday combining beach relaxation with wider-ranging cultural explorations.
Where to stay: Elephant Stables
With just four rooms and names such as Chocolate Tree and Sugar Apple, you know you are going to be in for a treat when you step into Elephant Stables Weligama Bay. Weligama translates as sandy village and Elephant Stables is at its heart. The beach has a wealth of water sports from diving to surfing, whilst nearby Mirissa is gateway to Sri Lanka's whale watching industry, where boats go out in search of blue and sperm whales.
The rooms are as colourful as the Sri Lankan fruit that gives them their names. Chocolate Tree is ideal for families with an interconnecting twin room to the master bedroom whilst the Passion Fruit room is perfect for couples with a large private garden and verandah.  
Elephant Stables has a swimming pool and sheltered gardens. Each evening, dinner consists of a four course set menu of Sri Lankan and Western cuisine. From November to April the hotel runs a beachside Hopper Hut where you can sample Sri Lanka's most popular local food.
Elephant Stables also has a sister property of the same name in Kandy.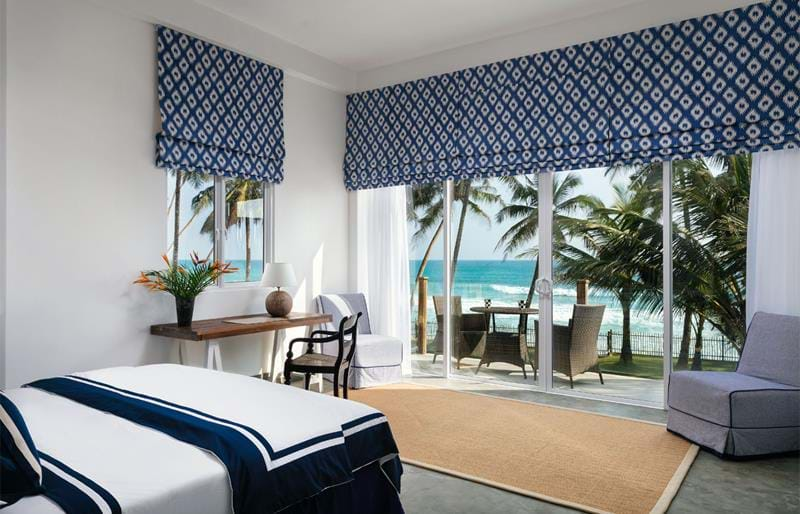 Mirissa
Where in Sri Lanka: South coast
When to visit: November–April
Best for: laid-back beaches; quiet coves; seafood.
This little, laid-back resort on the south coast is among our favourite on the island thanks to its low-key feel and picturesque shoreline. Spread over three separate bays bounded by rocky headlands, the village nestles under a canopy of coconut trees. One of the great pleasures of staying here is wandering down the beaches and scaling palm-studded bluffs to watch the sunset. At night, the shack-restaurants dotted along the beachfronts are illuminated by lanterns and fairy lights –one of the prettiest spectacles on the entire Sri Lankan coast.
Mirissa is also one of the island's principal centres for whale watching - one of the more unique wildlife experiences in Sri Lanka. A flotilla of boats chugs out of the harbour each morning in search of cetaceans, which congregate in the lapis-blue waters off-shore in healthy numbers between November and April.
Where to stay in Mirissa: KK Beach
We absolutely love this stylish beachfront boutique hotel up the coast from Galle. The architecture is definitely more 'Malibu' than 'Mirissa', but we think you'll agree it's a perfect fit for the striking turquoise water and vivid, talcum-powder sand on the doorstep.
Facing the ocean, all of its ten rooms are large and luminous. Pick of the crop are the penthouses on the top storey, which have oodles of space. We guarantee you'll find it hard to drag yourself from your breezy balcony, though with a gorgeous pool in the garden and a string of pretty resorts dotting the shoreline to the east and west, there's plenty of incentive to do so.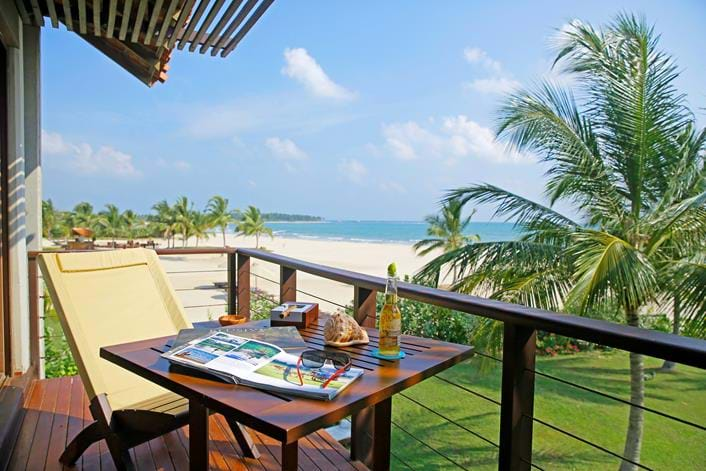 Passikudah
Where in Sri Lanka: East coast
When to go: June to September
Best for: families; snorkelling; diving.
Passikuda, on the east coast, forms a breath-taking arc of pristine golden sand and warm, turquoise water. It's a half day's drive from Colombo airport, but the transfer is well worth the effort – especially if you're travelling with your family as, unlike the south and west coast beaches, the bay is shallow and gently shelving (perfect for young children). The choice of hotels in Passikudah nestled in the palm groves behind is extensive (the hotels are all relatively new) and you can escape the holiday scene altogether at the neighbouring town of Kalkudah, a short stroll around the headland. The local reefs are great for snorkelling and there are quality kayaks and sailboards for hire. Sunset cruises by catamaran are an added attraction.
Where to stay in Passikuda: Uga Bay
Uga Bay consistently features in our round ups of Sri Lanka. It is one of the most romantic hotels on the island. Occupying a plum spot at the centre of Passikuda beach, Uga Bay is a stylish five-star with an intimate feel and fabulous Indian Ocean views from all of its rooms and villas. You're a short stroll from the sea, but there's also an infinity pool with shaded loungers should you prefer. Fresh, local seafood and mellow Sri Lankan curries are served in the restaurant (where staff actually dig the tables and chairs into the sand!). We also love the terrace facing the bay – the perfect spot for a leisurely sundowner.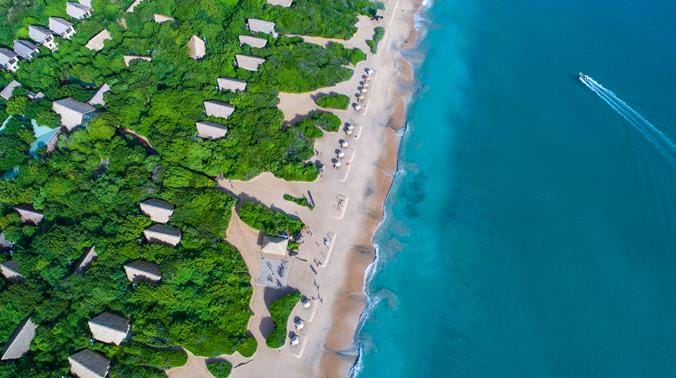 Kuchaveli, Trincomalee
Where in Sri Lanka: East coast
When to travel: June to September
Best for: wilderness; barefoot luxury.
The town of Trincomalee, or 'Trinco' as it's known locally, straddles a peninsula on the east coast, overlooking one of the finest and oldest harbours in Asia. To the north stretches a largely deserted coastline of white-sand beaches, and the fishing village of Kuchaveli is scattered behind a particularly beautiful section, backed by lush tropical scrub. The sea here is calm and ideal for bathing outside the monsoon period, and the nearby Pigeon Island Marine Reserve offers some of the finest reef snorkelling and wreck diving in the Indian Ocean. If you're seeking peace and quiet, well away from the brouhaha of the tourist boom, this is our recommended beach resort.
Where to stay in Trincomalee: Jungle Beach
Live out your castaway fantasy at this idyllic boutique bolthole up the coast from Trinco. Nestled in a swathe of mangrove bushes, the hotel's thatched villas keep a low profile behind miles of empty, golden sand and cobalt-blue water. They're well spaced around a heavenly curvilinear pool, offering plenty of privacy and a vivid taste of local nature, with geckos, kingfishers and even the odd hornbill flitting through the foliage. Facilities, food and service are all five-star standards, but the feel is soothing and rustic. Between ocean dips, enjoy the sea views from your own private deck, or head off on a croc-spotting stroll around the nearby lagoon.
Speak to our consultants for Beach Breaks & Prices:

For more recommendations on where to stay in Sri Lanka, what to do and how to travel around on your perfect Sri Lankan holiday, contact one of our travel consultants at TransIndus HQ in London.