Tailor-made Tour

16 days from £4875 per person
Places Visited:
Colombo, Anuradhapura, Passikudah, Yala National Park, Galle
Experience some of Asia's dreamiest and most romantic beaches on this luxury honeymoon to Sri Lanka - a country of evocative ancient monuments and gorgeous landscapes. This two week bespoke tour is designed especially for couples looking for a luxury honeymoon to Sri Lanka in the British summer. At this time, only the less developed but arguably more beautiful east coast of the island enjoys dependably sunny weather, which is why you'll be spending the best part of five days on the powder-soft, white-sand beaches of our favourite resort in the region, Passikudah.
Throughout you'll be treated to luxurious experiences, copious amounts of romance and hotels that have been chosen for their intimate atmosphere, travelling between them in your own chauffeur-driven vehicle.
Holiday Types
Cultural Holidays Wildlife Holidays Family Holidays Honeymoons Beach Holidays Adventure Holidays
Suggested itinerary
Day 1
UK
Fly overnight from the UK To Sri Lanka
Day 2
COLOMBO
On arrival at Colombo airport, you'll be met by your chauffeur-guide and driven to your hotel in the city centre. Spend the rest of the day relaxing in your beautiful honeymoon suite or by the pool, venturing out later for an acclimatizing walk along Galle Face Green.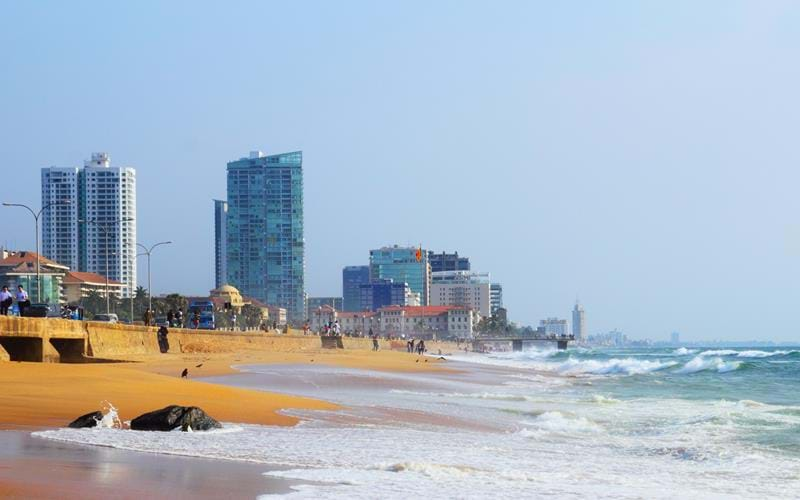 Along the seaward side of Galle Face Green runs a promenade lashed by churning waves – the perfect place for a blustery stroll in the late afternoon, when Colombo's residents come here to munch tasty street food snacks. Try the more-ish 'isso wadai' (spicy lentil cakes stuffed with prawns), or a plate of cuttlefish curry at Nana's.
For a more substantial seafood supper, we recommend a table at the award-winning 'Ministry of Crab' restaurant, over in the Dutch Hospital Shopping Precinct, where an enclave of handsomely converted 17th-century buildings, complete with teak beams and colonnaded courtyards, house trendy boutiques, bars and cafés.
Accommodation Options
Day 3
COLOMBO
After breakfast at your hotel, re-join your chauffeur-guide for a leisurely tour of the capital.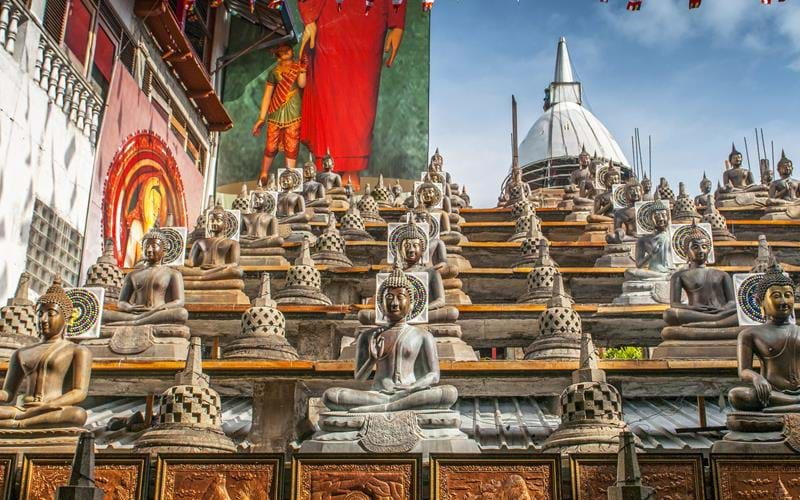 Highlights of our city tour include a visit to the National Museum, famed for its collection of priceless stone Buddhas and a jewel-encrusted throne. From there you'll continue to the lavishly decorated Gangarayama Temple, the most important shrine in the city, whose intricate woodcarvings form a backdrop to the annual Navam Perahera festival, held every February and featuring fifty elephants.
Next on your tour is walk around Pettah – a bustling, predominantly Tamil market district, where you will find hawkers and traders plying their wares in a grid of jam-packed streets.
The remainder of the day will be at leisure to discover Colombo at your own pace, with or without your guide, as desired. Consider a stroll around Beira Lake to the Seema Malaka temple, a meditation centre designed by the country's best known architect, Geoffrey Bawa. A graceful assemblage of wood and stone, the shrine juts serenely into the water. Look out for the flocks of pelicans and storks who live on the algae-filled lake, at the heart of the metropolis.
For a sundowner, we recommend the veranda of the elegant Galle Face Hotel, which boasts the best sea views in the city.
Accommodation Options
Day 4
ANURADHAPURA
After breakfast, re-join your chauffeur-guide for the half-day drive to Anuradhapura in the Cultural Triangle. After checking in, enjoy the hotel's luxurious facilities, which include a generous sized outdoor pool.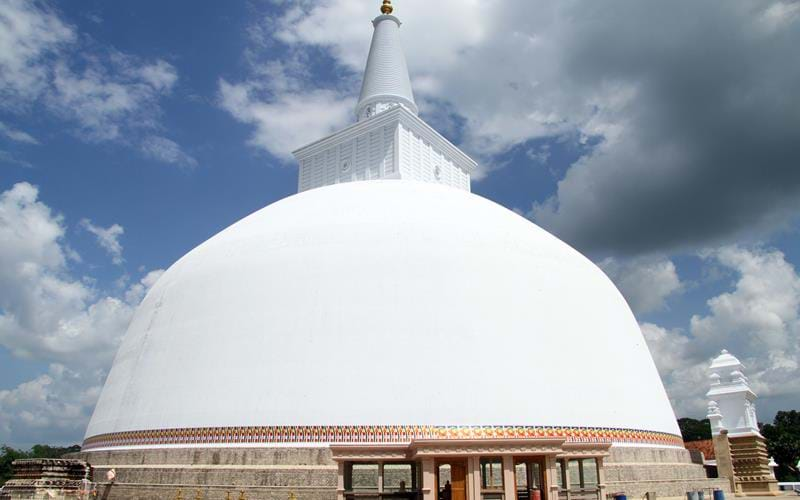 Anuradhapura, the vast Sinhalese capital founded in 377 BC, remains a sacred city simply because it was Buddhism's initial home on the island. Today, the site retains great appeal for both tourists and pilgrims. The scale of its dagobas, or stupas, is what most impresses. While Sri Lanka is dotted with these typically bell-shaped and whitewashed memorials, the largest and most impressive are found here.
Accommodation Options
Day 5
ANURADHAPURA
After a leisurely breakfast, enjoy a half-day tour of Sri Lanka's ancient capital, returning to your hotel for lunch and a low-key afternoon of rest and relaxation.
One of Anuradhapura's stupas, the Jethawanarama, was at the time of its construction in the late-3rd century AD almost as tall as the two great pyramids at Giza! The most revered monument on the site, however, is of more modest proportions. Enclosed within tiers of gold railings, the Sri Maha Bodi, or 'Sacred Bodhi Tree', is believed to have been grown from a cutting taken from the one under which the historical Buddha achieved enlightenment. A local priest gives blessings near the ancient tree.
Accommodation Options
Day 6
ANURADHAPURA
Visit Sri Lanka's two most famous archeological sites today, beginning with Sigiriya and moving on to the evocative ruins of Polonnaruwa.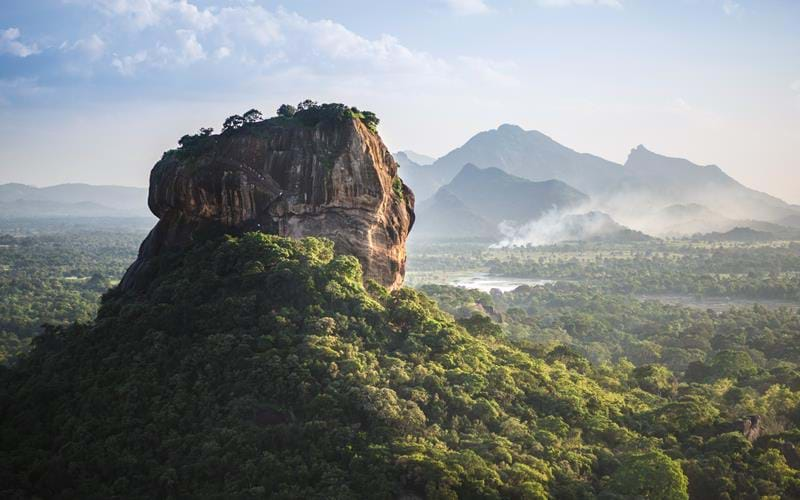 The great rock of Sigiriya is a striking sight, and one that's all the more remarkable for the presence on its summit of a 5th-century fortress-palace. A series of celebrated frescoes depicting celestial nymphs, or 'cloud maidens', adorn the stepped approach, cut through the solid rock. Exhilarating stairs and catwalks complete the final haul to the summit, which is rewarded with marvellous views across the surrounding countryside.
The most compelling of all the island's ruined cities, Polonnaruwa stands alongside a vast artificial lake a little over an hour's drive east of Sigiriya. A succession of kings ruled from here between the 11th and 13th centuries, leaving a legacy of finely sculpted statues, frescoes, colossal Buddha images and immense stupas. The site is particularly magical in the late afternoon when the shadows lengthen and the stonework is bathed in soft sunset colours.
Accommodation Options
Day 7
PASSIKUDAH
In the morning you'll be driven across the island to Passikudah on the Sri Lanka's east coast, home to some of the most glorious beaches in Sri Lanka and the perfect place to relax on your honeymoon.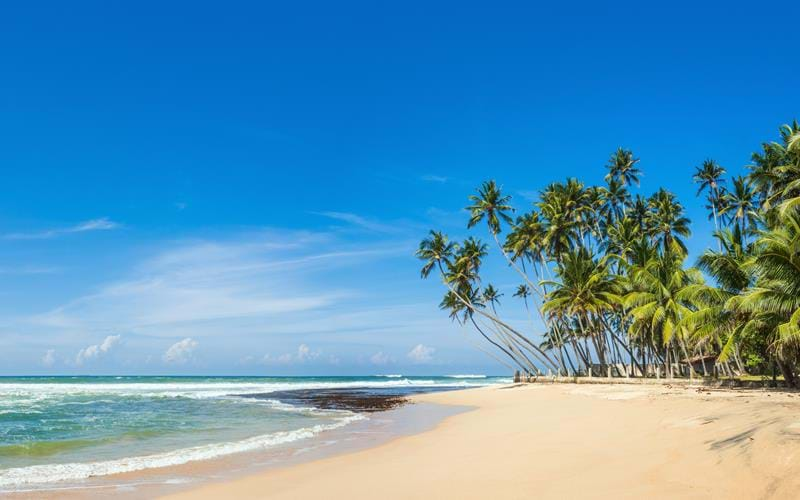 Passikudah breathtaking arc of pristine golden sand and warm, turquoise water will be your reward for a half day's drive from the Cultural Triangle region. When you see it, we're confident you'll agree the journey was well worth the effort. The hotel you'll be staying in is a dreamy five-star resort facing the sea.
Accommodation Options
Day 8
PASSIKUDAH
The first of three full days of rest and relaxation at Passikudah could begin with a stroll to the sea in time to marvel at the resort's legendary sunrise – though you'll have to get up very early to catch it as dawn tends to be around 5am! Spend the rest of the day enjoying the beach and transparent water.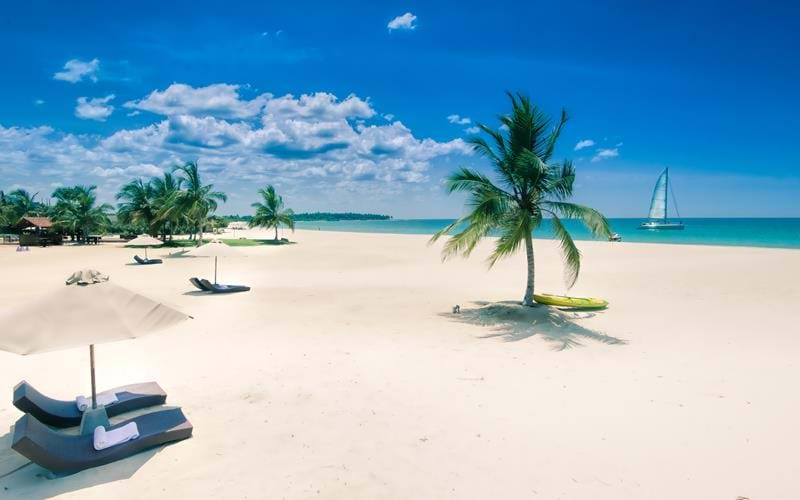 You can sidestep the holiday scene altogether at Kalkudah, a short walk around the headland from Passikudah. The local reefs are great for snorkelling and there are quality kayaks and sailboards for hire. Sunset cruises by catamaran are an added attraction.
Accommodation Options
Day 9&10
PASSIKUDAH
Should you tire of lazing in your beachside studio or out on the sand, consider an excursion to Pigeon Island, north of Trincomalee, regarded as Sri Lanka's top snorkelling spot.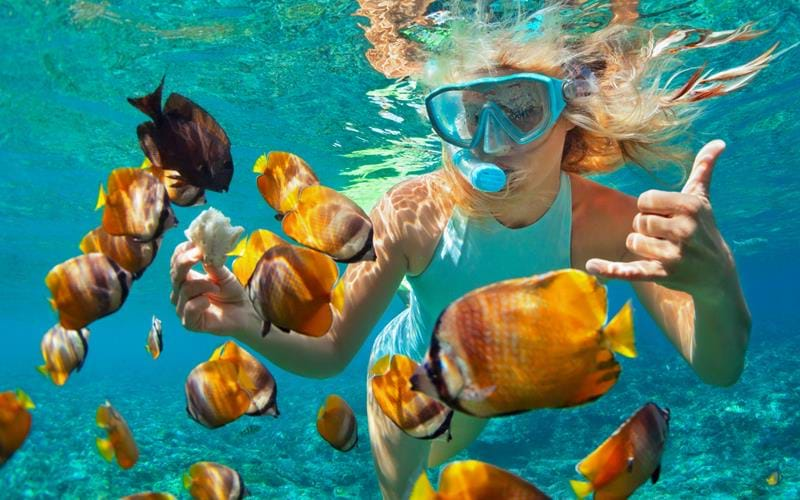 To the north of Trinco stretch some of Sri Lanka's emptiest and most idyllic beaches, among them Nilaveli which, at around 5 miles (8km), is among the longest on the island.
On your last night, treat yourself to a private candle-lit dinner at a table dug into the sand on the hotel terrace – an unforgettable experience!
Accommodation Options
Day 11
YALA NATIONAL PARK
After a few days relaxing on the beach it's time to head southeast across the island to Yala National Park. Once you've checked in to your hotel, the remainder of the day will be at leisure. Soak the sights and sounds of the surrounding forest, enjoying the wildlife flitting through the foliage from the privacy of your own deck and plunge pool.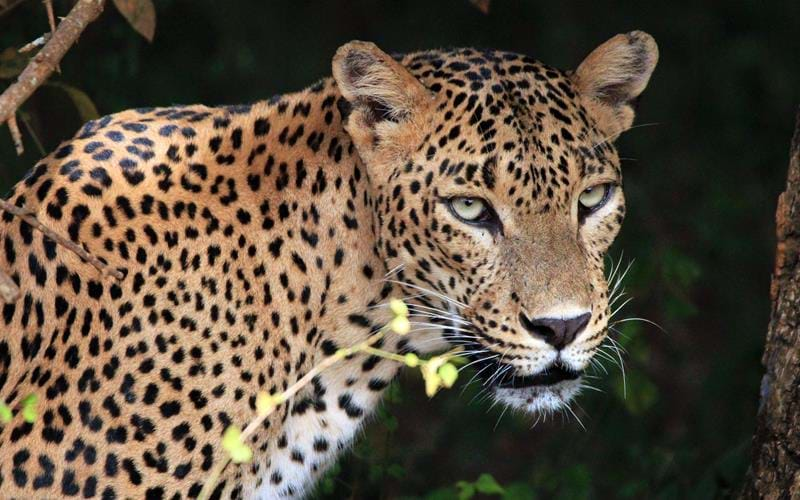 This might be a good time to enjoy a spa session or evening walk in the jungle around the resort, which is set in beautiful tropical greenery.
Accommodation Options
Day 12 & 13
YALA NATIONAL PARK
Two full days of safaris at Yala begin with an early morning game drive. The park boasts one of the richest ecosystems in Sri Lanka, with monsoon forests, sand dunes, freshwater and marine systems attracting a wealth of wildlife.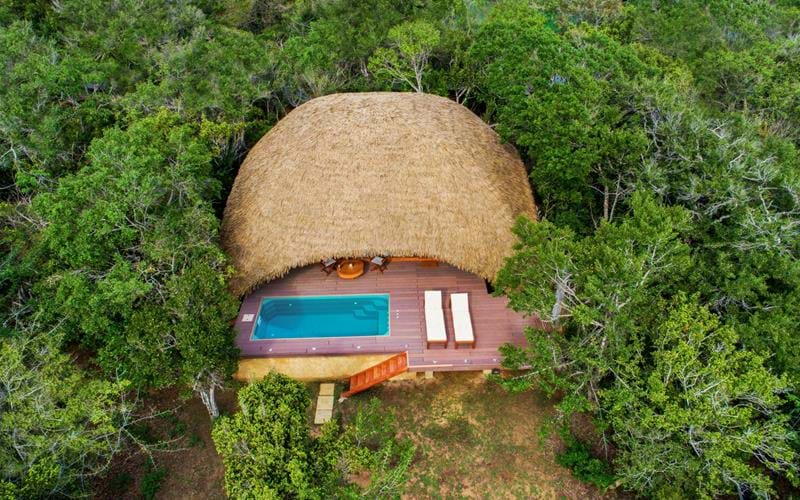 Yala plays host to around 215 different species of bird, six of which are endemic to the region. The park also has one of the highest densities of leopards in the world.  Sloth bears can often be seen foraging through the forests and elephants are also abundant.
Accommodation Options
Day 14
GALLE
Today you will be driven from Yala to Galle, a half day's journey. En route a stop will be made to see Sri Lanka's famous stilt fishermen. Spend the remainder of the day enjoying beautiful Koggala Beach.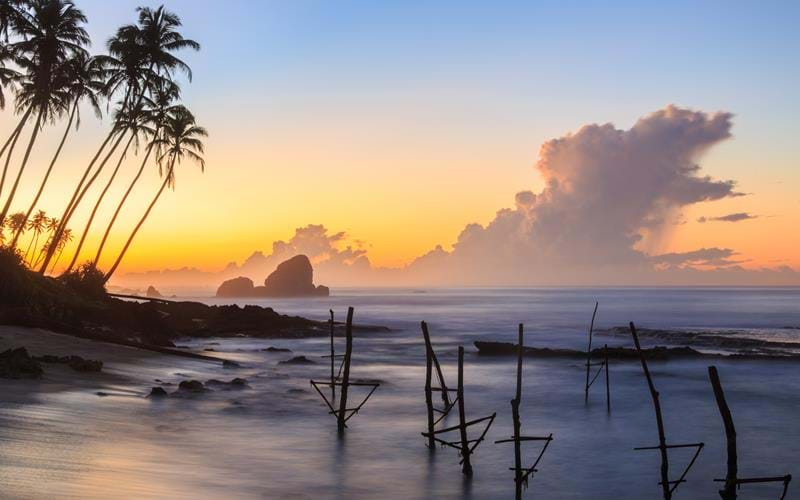 At this time of year, the sea off the south coast is too rough for swimming, but you'll be able to enjoy the churning waves from the hotel's infinity pool. Delightful ocean views also extend from the private terrace of your honeymoon chalet.
Accommodation Options
Day 15
GALLE
After breakfast, explore the pretty backstreets, boutiques and cafés of the old colonial fort at nearby Galle, before returning to your hotel after lunch for a final afternoon of relaxation.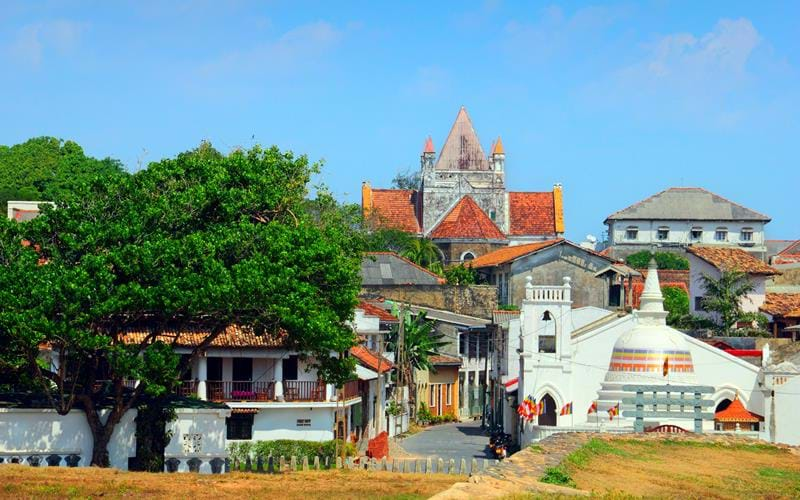 Galle is a great place for souvenir and gift shopping. Many of its historic buildings nowadays house artisans' workshops where you can pick up beautiful designer jewellery, clothes and crafts. Foodies will also enjoy its ever expanding crop of hip little restaurants, serving stylish Sri Lankan Fusion cuisine.
Accommodation Options
Day 16
COLOMBO, UK
Time to bid farewell to Sri Lanka as you drive from Galle to Colombo Airport, a journey time of approximately 2hrs 30mims.
Tailor-made Tour

16 days from £4875 per person
What's included

✓   Beautiful beaches
✓   Highlights of the Cultural Triangle
✓   Safari at world-famous Yala National Park
✓   Walking tour of Colombo
✓   Visit to the former colonial port of Galle
✓   Stylish, luxury properties throughout
Places and Experiences in this tour
Plan your Next Adventure
With the world now largely open again, now is the time to begin planning your next adventures in Asia. Our Travel Specialists are ready to take your call and discuss the adventure you have spent the last 3 years dreaming of.
Or call us on 0208 566 3739
TransIndus Brochures 2023
Join our mailing list