Thailand 16.06.2014 Transindus
Located on southern Thailand's Andaman coast, Krabi is an amazing province to visit during your travels around the country. Known for the stunning islands that lie just offshore, it is also home to interesting towns, fabulous restaurants and fascinating temples. 
One of the best things about Krabi is that it offers such a wide variety of experiences. While the best things to do will of course vary from person to person, we have compiled a list of the ultimate attractions to visit and activities to try below.

Krabi Town 
Perched among impressive limestone karsts, Krabi Town is little-visited compared to other destinations in the province, such as Ao Nang or the islands. This, as well as the fact that it is home to plenty of authentic culture, makes it a great choice for travellers who are keen to get off the beaten track a little and see things that others miss. 
That said, the centre of the town is home to an impressive array of accommodation, as well as gift shops and international restaurants designed to please tourists' palates. So, make sure you delve beneath the surface by doing things like exploring its markets and tasting local cuisine.

Tiger Cave Temple / Wat Tham Sua 
Just outside Krabi Town, you will find one of the province's top attractions - Wat Tham Sua, or Tiger Cave Temple. A magical place to explore, this cave temple complex can be reached with an enjoyable walk through a forest valley. Once you arrive, you can spend some time ducking in and out of the limestone caves and admiring the altars, Buddha images and statues tucked away inside.
Also, the more energetic traveller should consider tackling the 1,237 steps near the park's entrance - these will lead you to the top of a karst peak some 600 m high. Unsurprisingly, from here you get absolutely amazing views, not to mention the chance to admire a beautiful stupa and Buddha statue.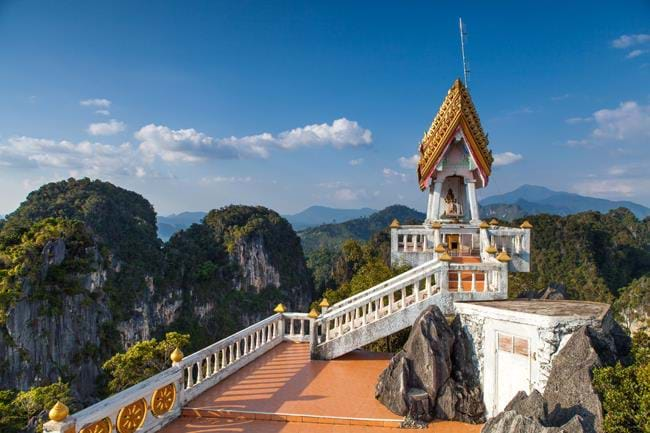 Dine at seafood restaurants in Ao Nang 
Ao Nang is Krabi's main tourist area, and it's where you'll find some of the best seafood restaurants. The place to go is Soi Sunset, a small, pedestrian-only street that's dotted with excellent eateries. The added bonus is that, as well as serving delicious cuisine, many offer wonderful views across the ocean as well.
This street is also quite enjoyable simply to stroll down, as many of the restaurants place ice sculptures filled with fresh catch outside to tempt people in - so don't forget to bring your camera.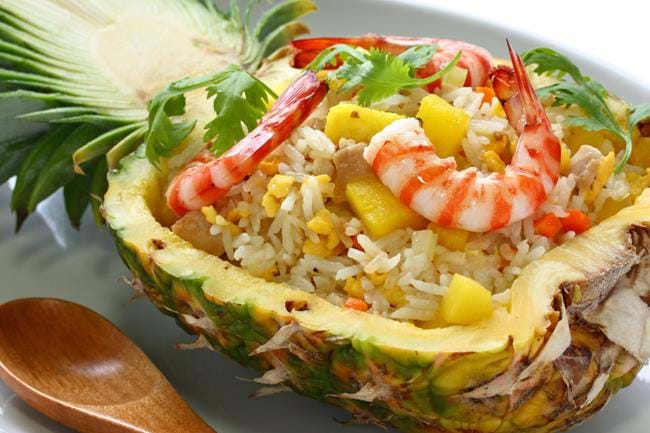 Fossil Shell Beach 
Susaan Hoi, also known as Fossil Shell Beach, is a must-see. Its name literally translates as Seashell Graveyard, which should give you some clue as to its appeal - it's full of unusual fossils that have turned this beach into one of Krabi's best-known attractions.
Walking along this beach, you can see vast oversized shards of fossil that are believed to be some 40 million years old. While simply seeing these ancient slabs is the key attraction here, there is also a small geological centre if you would like to learn more.
Island hopping 
Island hopping is one of the top activities that draws travellers to Krabi. There are more than 130 islands here, including the famous paradise-like Koh Phi Phi, which featured in the movie rendition of Alex Garland's novel The Beach. The chance to escape to islands like this and feel like a castaway is something that most travellers dream of. 
On these islands, you'll find secluded beaches, excellent climbing opportunities (rock climbers from around the world flock here to take advantage of them) and a wide variety of wildlife.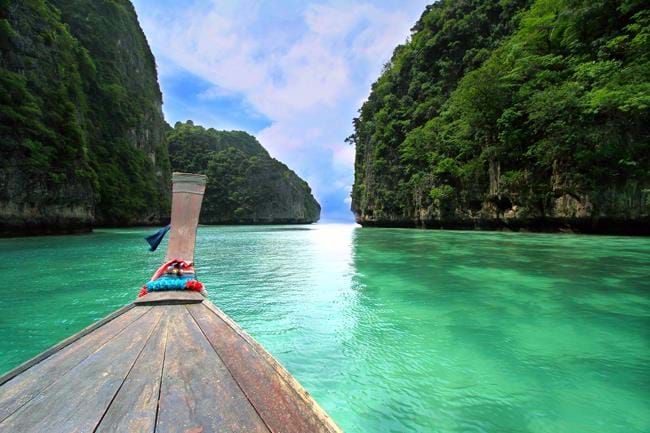 Water sports 
Another key draw to Krabi is that it's a prime location for water sports like kayaking, snorkelling and scuba diving. Numerous companies offer trips of varying lengths to try these sports in spectacular locations. Top destinations for sea kayaking include Ko Hong, which is home to a stunning emerald lagoon, and the sea caves of Bho Tho (look out for the cave paintings here in particular).
Divers looking for a unique experience, meanwhile, should seek out trips to Ko Mae Urai, which has two tunnels full of hard and soft corals.