Thailand 23.12.2014 Transindus
Known for its natural beauty, Thailand is characterised by tropical beaches and lush jungle landscapes. The nation is rife with nature and you'll be spoilt for choice when it comes to picking out a selection of natural attractions to visit during a tour of the country.
To narrow down your choice, we've picked out some of the very best sites and experiences to enjoy during a break in Thailand.


Khao Yai National Park 
Located in the north-east of the country, Khao Yai National Park is one of Thailand's most popular attractions and also its oldest world heritage site.
Spanning four provinces, the park comprises five different vegetation zones, including evergreen forests and savannah. Waterfalls and natural springs dot the landscape and all sorts of animals roam the park.
Among the mammals to call the park home are hundreds of elephants, tigers, deer, otters and bears – there are also more than 300 species of bird to spot, including the great hornbill.
There are bat caves to explore, as well as cultural buildings like temples, and it's possible to take a dip in the natural springs to cool off on a hot day.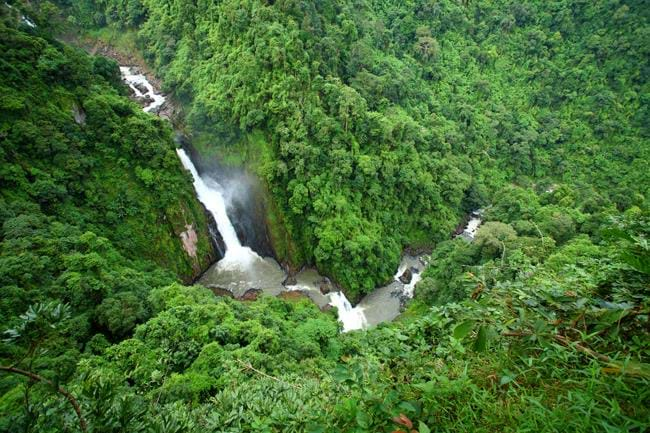 Ti Lor Su Waterfall 
Head to the western part of Thailand's central plains for a truly astounding sight: Ti Lor Su waterfall is reputedly the biggest cascade of water in the nation.
Located on the Mae Klong River, the waterfall measures approximately 250m tall and around 450m wide.
Surrounded by forest, the Ti Lor Su waterfall is especially impressive during the wet season and it's possible to view the natural phenomenon from its full height by walking to the top of the fall.
The waterfall is located in the grounds of the nearby is the Umphang Wildlife Sanctuary - a UNESCO World Heritage Site.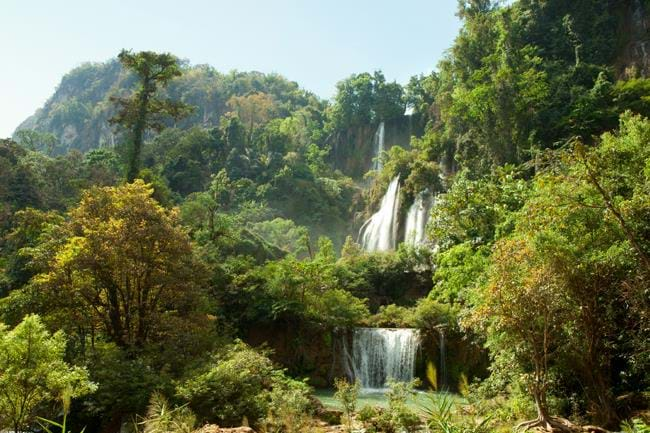 Ko Tarutao Marine National Park 
Thailand has hundreds of islands, some more populated than others, but if it's natural beauty you're after you won't want to miss visiting the islands that form Ko Tarutao Marine National Park.
Comprising more than 50 islands in total, Ko Tarutao Marine National Park is an example of unspoilt Thailand at its finest. On land, visitors can admire lush rainforest and gleaming beaches, while below the surface lie coral reefs teeming with wildlife.
The park is home to fishing cats, wild pigs, kingfishers, hornbills and sea otters, making it a fantastic place for a bit of nature-spotting.
It's not possible to visit all the islands in a single day but it's worth exploring Ko Tarutao, the largest island in the group. On the western shores, it's also possible to see turtles laying their eggs.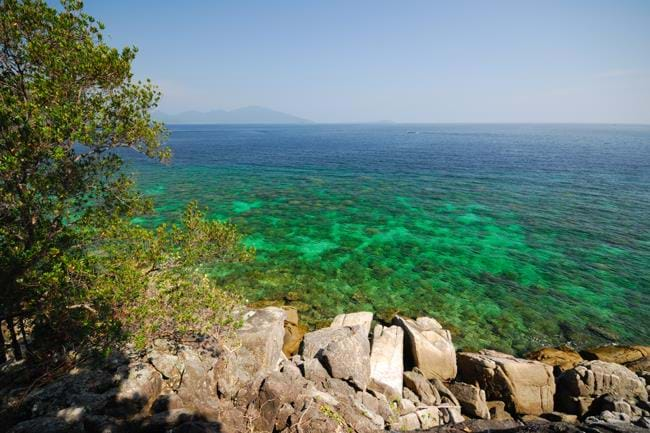 Ko Hong Island 
For a truly breath-taking sight during a break in Thailand, head to Ko Hong Island - which is, in fact, a large limestone rock surrounded by water.
A boat ride from Ao Nang takes visitors to the craggy rock, which boasts white-sand bays and a stunning green pool in its centre.
The spectacular lagoon can be accessed through a passage that runs through the cliffs – keep a lookout for lizards, sea eagles and white-faced gibbons as you make your way to the pool.
Around the coast of the island are snorkelling spots and you might decide to hire kayaks for a truly memorable experience.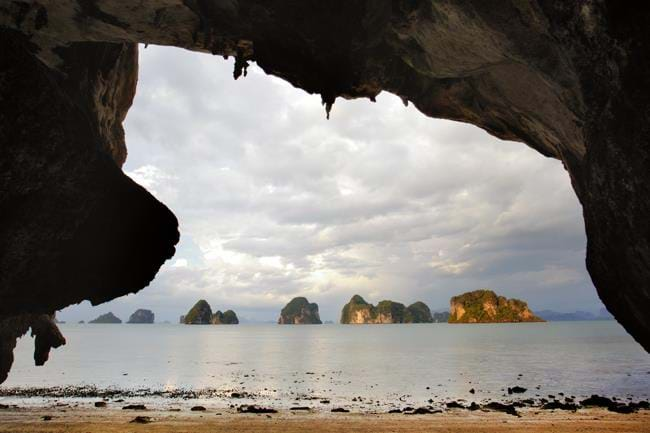 Phu Pha Lom Forest Park 
Not far from Loei is the lush setting of Phu Pha Lom Forest Park – an 800-acre wilderness of mountains and jungle foliage.
There are trails to follow through the forest to admire the natural beauty of the setting, and signs lead visitors to a series of caves that can be explored - many local people believe the caves feature in myth and legend as the den of the mythical serpent Naga.
Throughout the forest park it's possible to admire stunning views but also keep your eyes open for some of the wildlife that resides here – among the animals and birds to be spotted are mongoose, bats, macaques, drongos, monitors and doves.
For the best vistas, trek up the limestone rocks to admire panoramic views over the park.