Singapore 24.07.2020 Transindus
Last week, taking the opportunity to now be able to leave London for anything more than a day trip our General Manager, James, escaped up to Scotland for a few days in the North West Highlands. An impromptu decision to book a flight and "just go to see what it'll be like" (don't we all want to do this after being in lockdown?) was rewarded with an easy stress-free flying experience from Gatwick to Inverness. Of course it wouldn't have been Scotland if it hadn't also rained a bit, but this was a small inconvenience in trade off to be able to enjoy the quiet crowd free open spaces and some beautiful mountain walking. We catch up with James to find out what he learnt about travelling during the Covid-19 pandemic.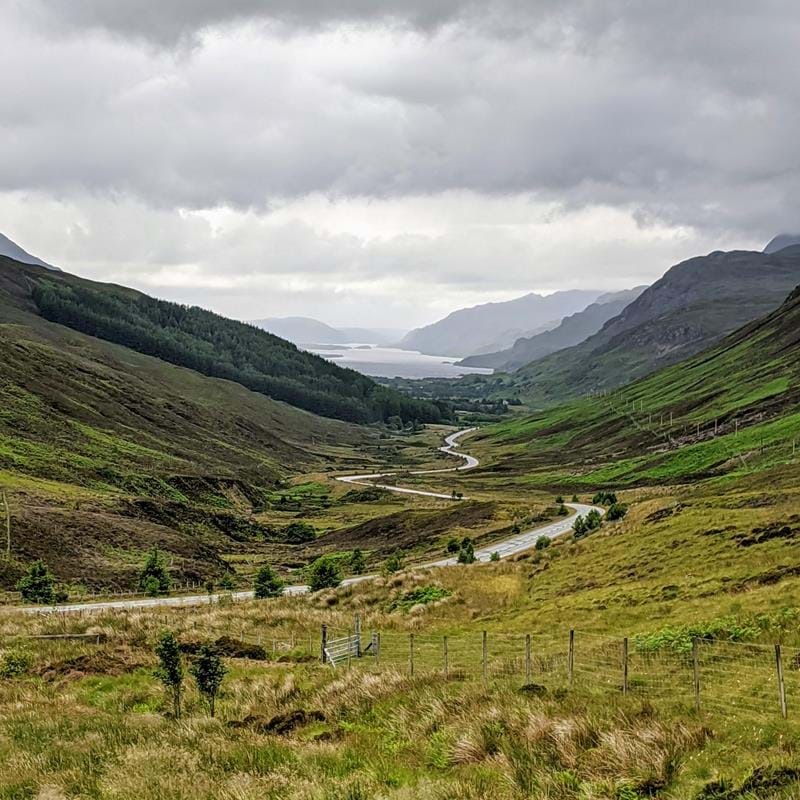 The Road to Loch Maree - Totally worth the journey
What was the airport experience like at Gatwick?
Far easier than I expected, in fact I'd say it was one of the better occasions I've flown out of Gatwick.
Prior to booking the trip, my wife & I debated whether we should go for it, with the main concern being the travel part getting up there; our plan was to hire a campervan from Inverness for a few days, so that would be all self-contained and in our control. But what would the airport experience be like? Would the flight be crowded? Would there be delays and what would it be like wearing a mask for so long? All reasonable questions we'd asked ourselves.
I'm very glad to say our instincts had been right, we'd assumed that as airports and planes are places where you'd normally expect to see many points of movement control and safety restrictions, it would be relatively safe compared to other public places. It was very reassuring to see how Gatwick had set up extensive anti-Covid measures throughout from terminal entry to departure gate, with excellent clear signage really helping to guide you through.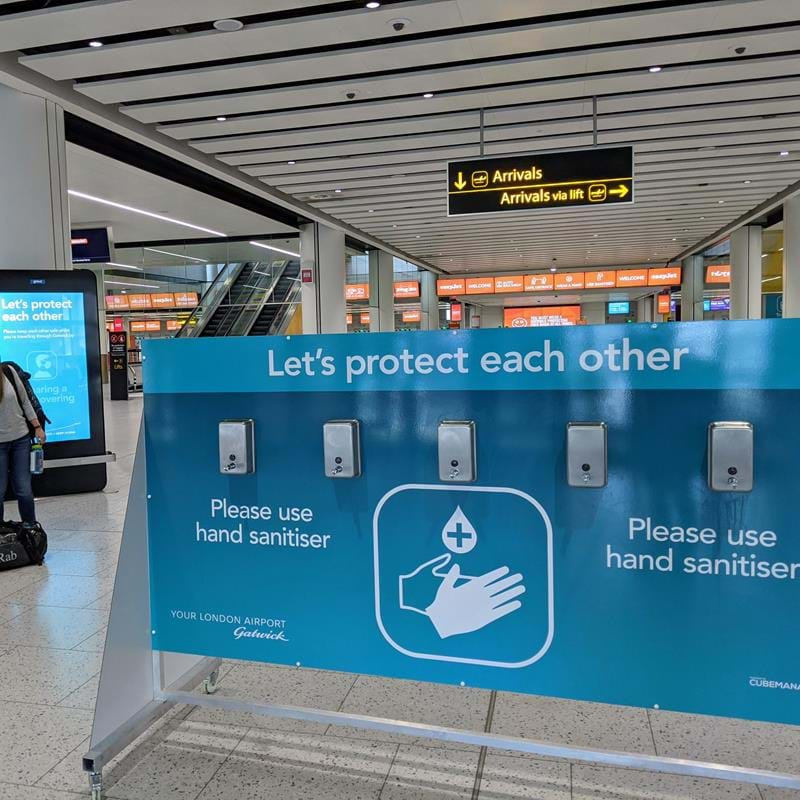 Hand sanitisers are everywhere throughout the airport
Undeniably, the biggest difference we saw was just how quiet the terminal was because the volume of travellers is so much lower at the moment, so there was always plenty of space between groups of people. One benefit of lower traveller numbers was a quicker and smoother journey through the airport, no waiting to speak of, something we've all wished for before on our travels. In addition, with all the new 2m distancing markings on the floor and the use of double spacing in the queues, it never really felt like you had to get close to anyone else. The downside of a very quiet airport is barely any of the shops were open, just Duty Free, Boots & Starbucks; although this is something that is changing on a weekly basis as more flights begin to operate with the improving FCO Travel Advice.
Another major reassurance was seeing that everyone was wearing a face mask all the time, it wasn't as big an issue as we'd thought it would be. Knowing that it is mandatory to wear them at all times from entry to the airport to exit at the other end (save the standard eating and health exclusions) meant we had planned ahead too. Whilst the reusable cloth masks are our day-to-day option when briefly popping out to the shops, they are thicker and warmer on the face than those disposable paper ones you can get. Yes, single use anything is bad and to be avoided, but the small personal comfort a slightly lighter and thinner mask can give you after several hours of wearing it was definitely worth it. After half an hour I genuinely kept forgetting I was wearing a mask, so relaxed was I that I almost poured coffee down my shirt because I couldn't find my mouth!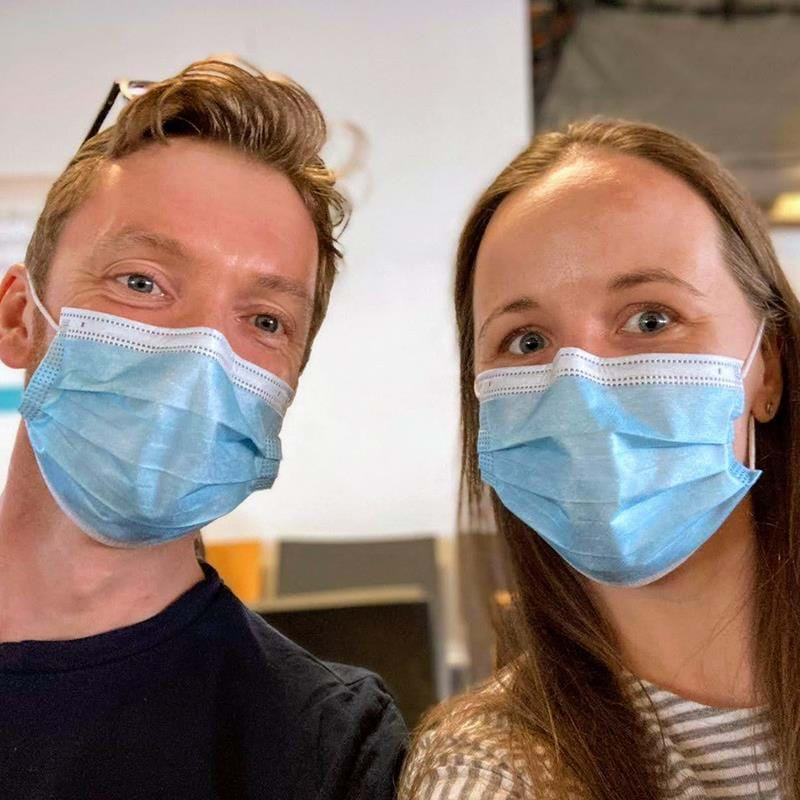 The Leask's travelling 2020 style
What about onboard your flight?
How much space you have is something that will obviously vary depending on how busy your flight is. And whilst you can pre-book your own seats on a flight and hope that the empty seat next to you doesn't get filled, there's no guarantee it will. You have to get onboard prepared to sit next to a stranger, same as we always have done. For us, doing what is the reverse-commute flight from London to Inverness on a Monday and back down on the Friday, we guessed correctly it wouldn't be that busy; both flights were maybe 60% full. What that meant was although people were in some cases originally seated next to each other for take off (presumably to balance the plane), once we'd got up in the air and cruising the cabin crew allowed passengers to move to another seat if they wanted. We ended up having three seats for the two of us and all in all it really felt ok. We  also boarded and disembarked the aircraft in smaller row groups so that there was not too much crowding in the aisleway while people stowed their luggage. The plane was spotlessly clean too, airlines apparently have crews doing a thorough wipe down between every flight, but still we continued with the constant use of hand sanitiser just to be doubly sure. And according to the pre-flight information we'd been emailed, the air within the cabin on our flight was being replaced with fresh air every 4 minutes, which again hearing that really did help put our minds at ease.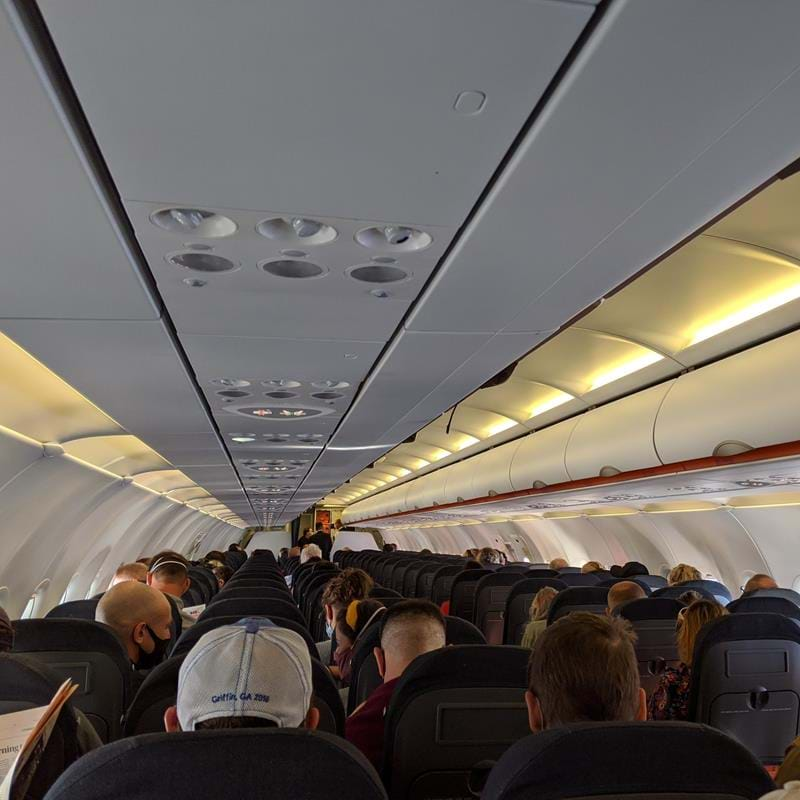 Onboard a socially distanced flight
It was only a domestic flight though. Would you fly long-haul now?
In short, yes I would. Like everything else with travel, the more you do it the more your confidence increases. Of course we all now face a new hazard when we go out into the world, and you must take sensible precautions to look after yourself and those around you, but no journey ever worth making has been entirely without risk. Each of us in this new Covid-present world has to make up their own mind on that one, but it is clear to me from this experience that both airports and airlines are making a genuine effort to reassure passengers that they can run their flights as safely as possible.