India 01.05.2020 Transindus
With apple blossom still on the trees and half the world in lockdown, Christmas is the last thing on most of our minds at the moment. But with summer fast approaching, it may be the first time we are able to head abroad after a long period in social isolation. After weeks inside, there are already real signs of recovery out there, with some of our favourite countries opening up for domestic travel. But domestic and short haul holidays won't be enough for our itchy feet. And when we are allowed to travel, hotels and airlines across the world are going to be tempting travellers with some real bargains.
So in the spirit of defiant optimism – and because we all need to dream of better times at the moment – here is a roundup of ten of our favourites places to travel to for Christmas 2020, whether with a significant other or a larger family group.

Anantara

Jabal Al-Akdhar, Oman

The rugged landscape surrounding this über-luxurious hideaway in the Hajjar Mountains of Oman is the most astounding on the Arabian Peninsula. Expect vistas of massive camel-coloured cliffs, palm-lined canyons and tiny villages swathed in orchards and flowering nut trees – best enjoyed while floating serenely in the resort's mirror-like infinity pool. The Anantara Al-Jabal is deservedly ranked among the most desirable hotels in the world. Thanks to its jaw-dropping setting on the rim of a vast escarpment, it's a popular retreat over the Christmas holidays among expats from around the Gulf and the atmosphere is surprisingly festive: gourmet gala dinners are laid on featuring turkey with all the trimmings (or a local alternative of melt-in-the-mouth lamb and date stew). Though, in truth, nothing can beat just gazing at the scenery from the seclusion of your own veranda.

Browse more winter sun holidays and hotels in Oman.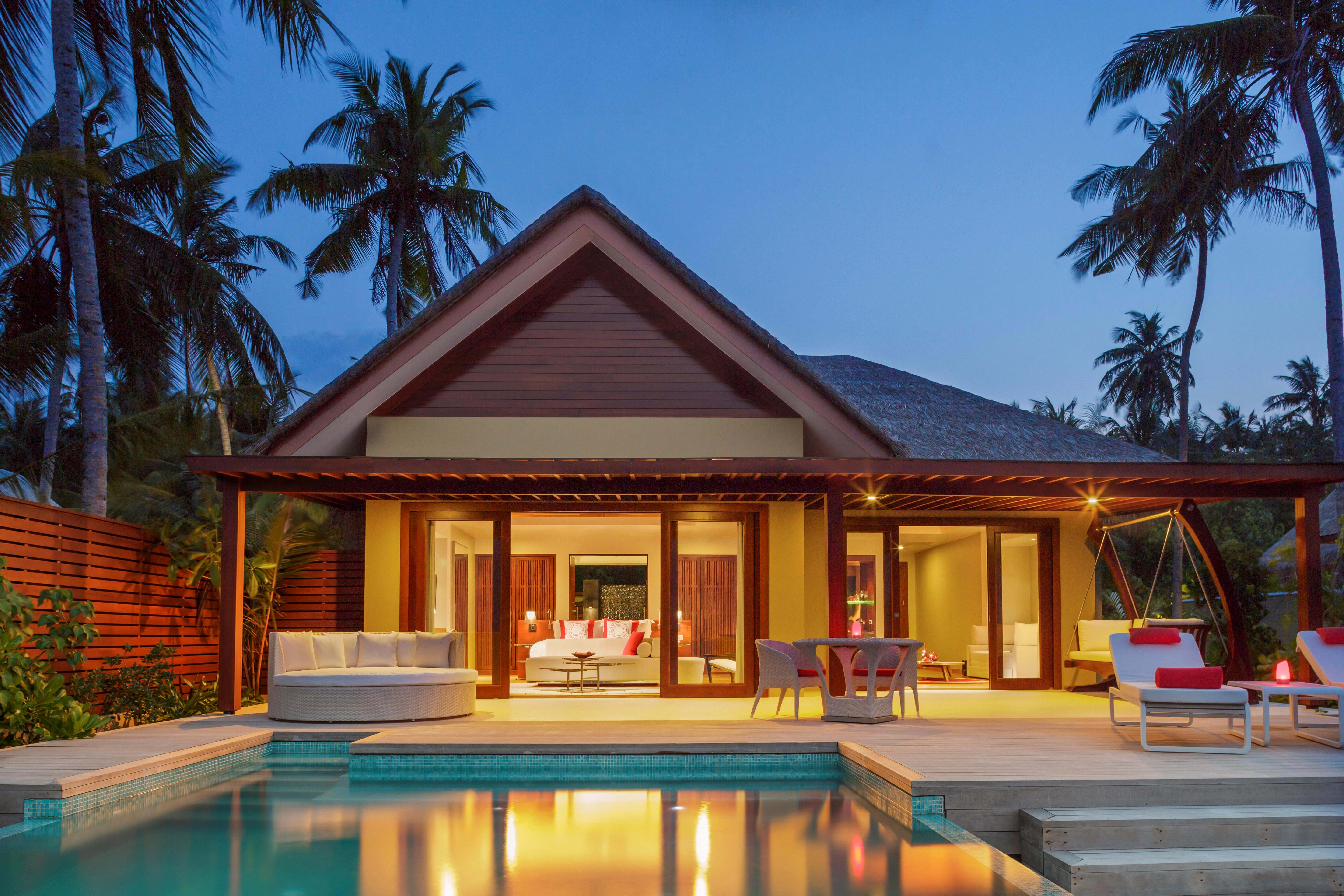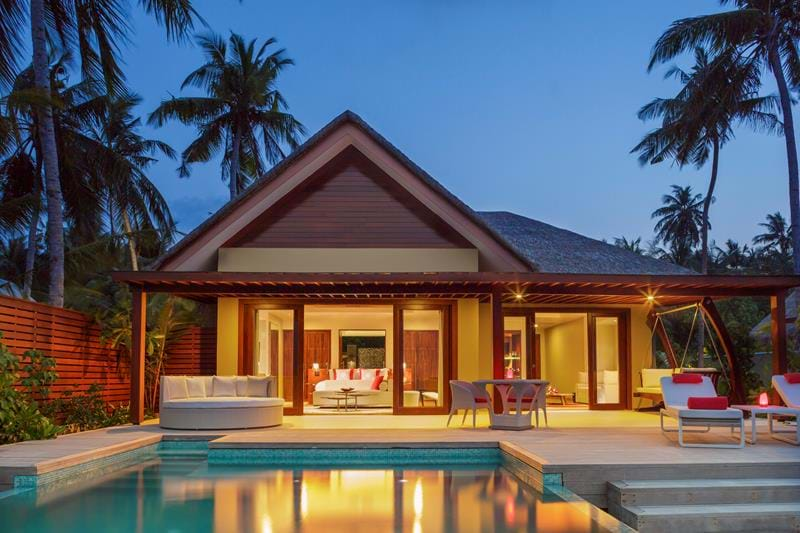 Niyama Private Islands, Maldives
If you dream of swapping drizzle and grey skies for a coral atoll fringed by powder-soft sand, look no further! The Maldives is likely to be in hot demand this Christmas with it's small luxury hotels on private islands - the perfect place to socially isolate. The Maldives host the ultimate tropical beach retreats and Niyama Private Islands is one of our all-time favourites, thanks to its clean and modern style in its villas, strong environmental code and the wealth of world-class dive sites nearby. You can also head off on day trips to neighbouring islands to experience a slice of local Maldivian life – a welcome distraction after the wall-to-wall lounging in turquoise water, lulled by the rustle of palm fronds overhead.
For more winter sun holidays and hotels in The Maldives.
Mantra Koodam, Tamil Nadu, India
The Kavery Delta around Kumbakonam in Tamil Nadu was the heartland of the mighty Chola empire, whose imposing, richly carved temples are scattered across a vast patchwork of rice paddy and orchards stretching east to the Coromandel Coast. Lush, predominantly rural and littered with fascinating traditional craft ateliers, the region warrants exploration in greater depth than it generally receives, and the most inspiring base from which to do this is Mantra, the latest creation  from our old friends the CGH Earth chain. The hotel takes the form of a traditional Brahmin 'ilam' mansion. Eight private cottages, complete with cosy pillared verandas, Arthangudi-tiled floors and antique Burmese teak doors, are dotted discretely around the grounds, wrapped in screens of shady coconut groves. Christmas Mass at Velankanni's Basilica, India's most revered Catholic shrine, is a festive highlight on the Delta.
Find out more about our holidays in South India here.
The Menjangan, Bali, Indonesia
Away from the busier resorts and backpacker hubs of the south, the serenity of the north coast is where this luxury boutique hideaway offers the perfect launchpad for trips along some of the last truly wild stretches of the island's shoreline. Smothered in bio-diverse mangroves, Menjangan is a haven for wildlife, including dwarf deer, who routinely graze on the coral sand beach overlooked by the hotel's hip, wood-built villas. This is a great option for diving enthusiasts, with one of the world's sub-aqua hot spots a boat ride away.
If you are feeling even braver, a couple of nights at Menjangan is the perfect way to end your holiday after two weeks of island hopping between the quieter corners of Indonesia. Browse our Indonesia and Bali holidays.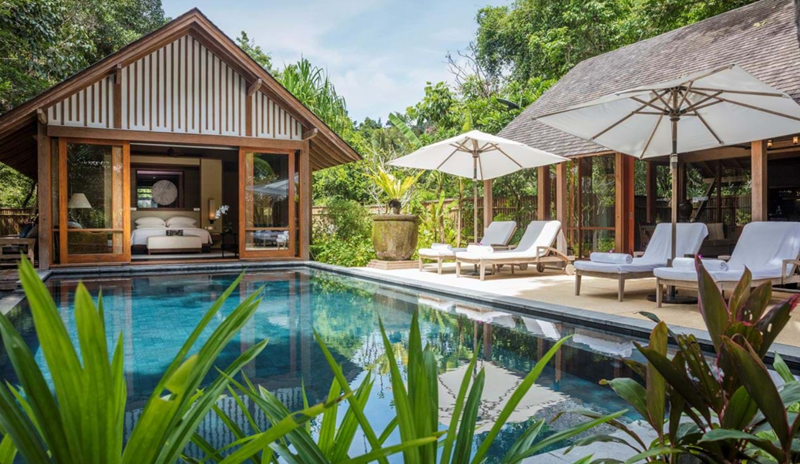 Datai Langkawi, Malaysia
The ultimate place to escape this Christmas, if you've never spent Christmas in a ten-million-year-old Malaysian rainforest, we can assure you it's an experience not to be missed! Framed by a tangle of strangler figs and ancient trees teeming with exotic wildlife, with the marble crags of Gunung Machinchang towering behind, Datai Beach, on beautiful Langkawi Island, is truly the stuff of dreams. Divide your Christmas holiday between explorations of the surrounding jungle and lazing on the sand-lined bay, soothed by a shimmering expanse of transparent water – about as far removed from the British winter as it's possible to imagine!
Find out more about our holidays to Malaysia and Borneo island.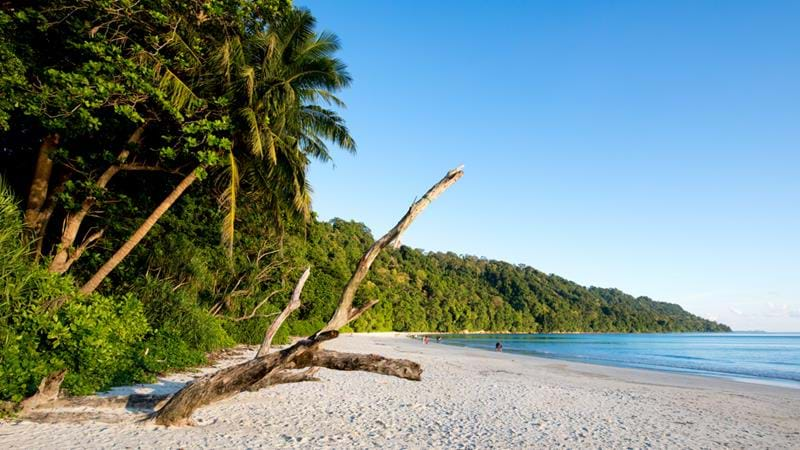 Taj Exotica, Andaman & Nicobar Islands, India
The Andaman Islands are an archipelago of tropical islands a couple of hours' flight east of Chennai (Madras). It's a bit of a detour across the Bay of Bengal, but one that's well worth the trouble if you want to spend Christmas somewhere pristine and beautiful, without having to sacrifice your creature comforts. The pick of the archipelago's small cluster of resorts is the suave Taj Exotica on Havelock Island, a 45-minute transfer by hydrofoil from the capital, Port Blair. Inspired by the houses of the local indigenous tribe, its 75 spacious stilted villas have thatched roofs and are lined with lustrous hardwoods. The gin-clear waters of Radhnagar Beach are just a stone's throw away – perfect for snorkelling and swimming. Jungle treks and guided cycle tours are also on offer to guests.
For more holiday ideas to the Andaman Islands.

Six Senses, Vietnam
Whilst northern Vietnam can be a little cold at Christmas, the weather gets warmer as you head south where you can find both of Six Senses two resorts. Natural wood, stone and white silk are used to create the stylish, elemental hideaways created by Six Senses, which all occupy settings of extraordinary natural grandeur. Imagine yourself in the final scene of a Bond movie and you'll get the picture!
Both of Six Senses Vietnam hotels are eminently desirable as Christmas holiday destinations. On a remote peninsula, the Ninh Vanh Bay can only be reached by boat. Each of its villas have their own pools, nestled amid the granite boulders or overlooking the tree tops to the turquoise water and white sand of the bay below.  The other Six Senses resort is further south at Con Dao, above a gloriously far-flung bay of turquoise water and soft, golden sand. Antique wood panels from old Vietnamese houses were used to make its teak villas; all split-levelled, with private plunge pools and heavenly views over the beach to jungle-covered islands in the distance.
Browse more Vietnam holiday ideas.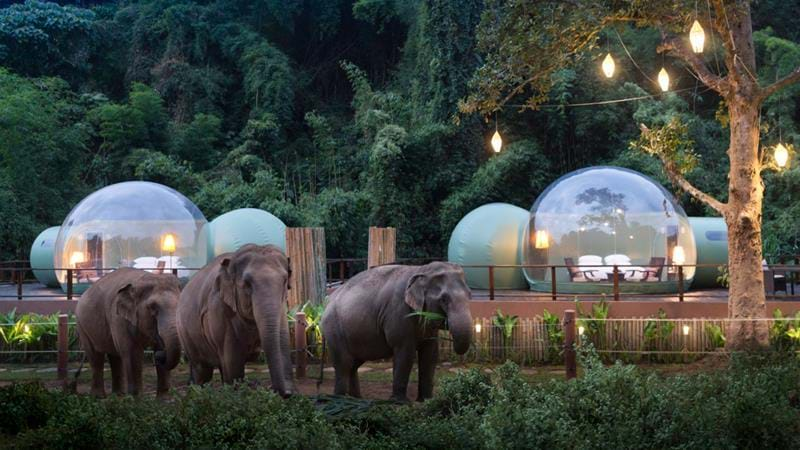 Anantara's 'Jungle Bubbles', Chiang Rai, Thailand
Tucked away in the forest outside Chiang Rai, near Anantara's glamorous 'Golden Triangle' resort in northern Thailand, is a scattering of pressurised, transparent domed pods containing luxurious king-sized beds. Wandering around these so-called 'Jungle Bubbles' are a herd of resident elephants, whose lives you can study at close quarters without even having to emerge from beneath the comfort of your own duvet! It's a unique concept in wildlife viewing, great for families, and one you can be sure will make Christmas one of the most memorable ever. Just be sure to remember to draw the curtains before you drop off or you could well be woken by the local pachyderms dawn, as they suck sugar snacks dangling from the branches. 
Find out more about this once-in-a-lifetime experience in Thailand.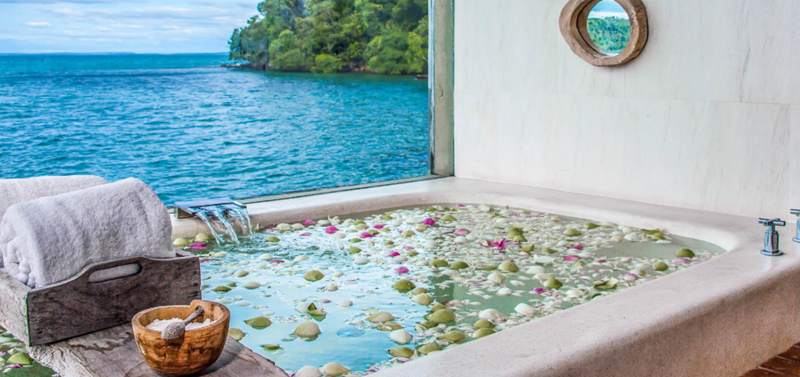 Song Saa Island, Koh Rong Archipelago, Cambodia
Fabulously exclusive and oozing environmental credentials, the private island resort of Song Saa on the prettiest stretch of the Cambodian coast is the most talked about property in Asia at the moment. A transfer launch speeds you across a bay of transparent blue water towards two jewel-like islands. Behind the jetty, nine over-water villas line up alluringly, each with crescent-shaped plunge pools and steps leading directly into the ocean. Driftwood, tree trunks and roots have been incorporated into the interiors, where you can soak up the glorious sea views from your enormous bathtub or four-poster. This is barefoot luxury at its most sleek and sophisticated – perfect for anyone wishing to finish off a trip to South East Asia in style!
Find out more about our holidays to Cambodia and the rest of South East Asia.
Goa, India
With over 100km of surf-lashed coastline, Goa retains a few stretches of golden sand that have totally escaped the attention of local property developers, and this is by far the loveliest. At Elsewhere, the entire beach once belonged to a local doctor, whose grandson, a retired fashion photographer, turned the tumbledown family cottages into heavenly boltholes that make perfect Christmas escapes. The locals are mostly Catholic fishermen, and the seasonal festivities are celebrated with great enthusiasm in the area. Expect gangs of carol-singing kids dressed and a preponderance of re-purposed Diwali lanterns strung between the whitewashed Portuguese pillars and surrounding coconut palms. Christmas in Goa is guaranteed to be one to remember.
Find out more about our Goa Holidays here.