India 15.01.2020 David Abram
Travel writer and photographer David Abram discovers the culinary delights of Old Delhi on our popular street food tour of the former Mughal capital.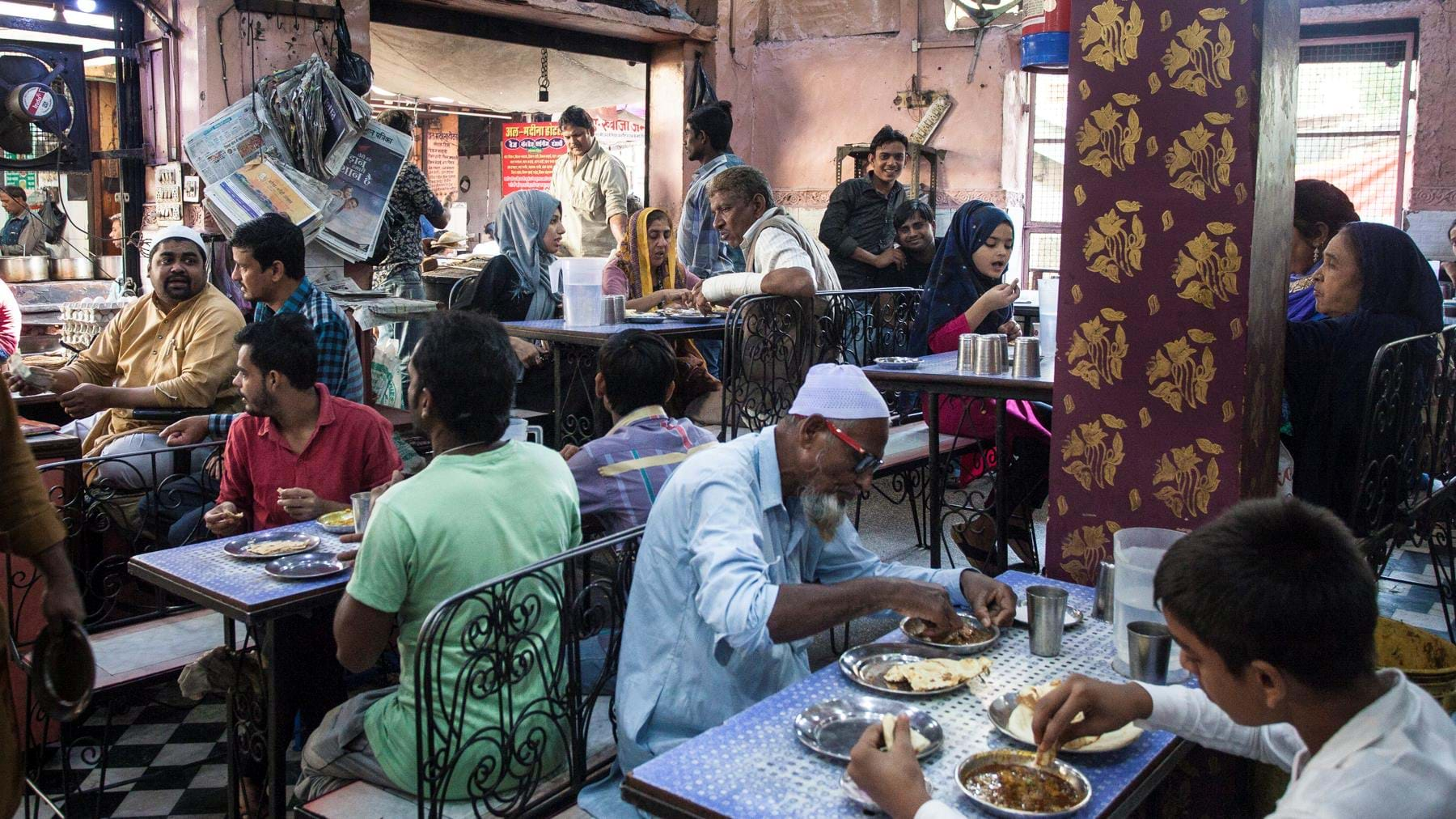 "No Mr David, do not eat the toast!"
I'd just sat down at the breakfast table and was reaching for a slice as my guide for the day, Mr Mohan Lal, entered the hotel courtyard.
"For breakfast, I have a plan!"
He'd been asked to devise a tour based around 'vegetarian food' and had clearly been doing his homework. The former Mughal area of the city where I was staying, previously known as 'Shahjahanabad', and now 'Old Delhi', is famous for specialities originally brought from Persia and Afghanistan by the Mughals in the 16th century. Many are based around meat – melt-in-the-mouth lamb kebabs, cuts of chicken marinated in spices and baked in tandoor ovens, and mutton slow-cooked overnight in huge terracotta pots. But were there any dishes a veggie could enjoy?
"Definitely. And we will start with one of the most famous!"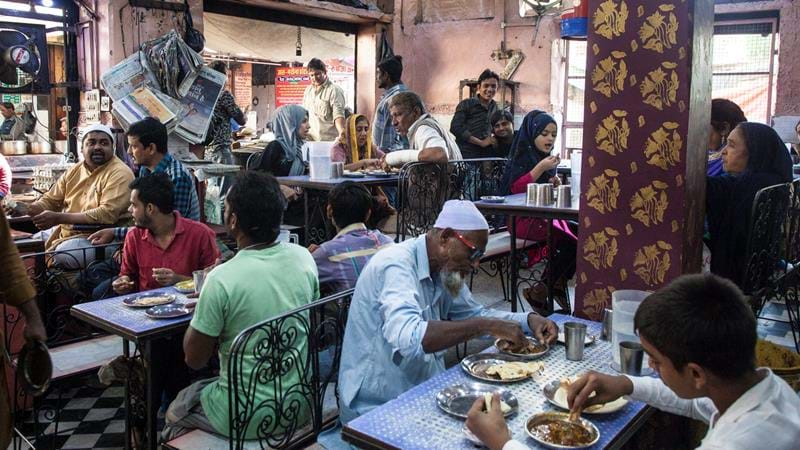 An auto-rickshaw sped us north, through the labyrinthine lanes of the old quarter towards the district's main street – Chandni Chowk. Swerving to avoid stray cows and hand-carts piled high with Diwali decorations, we rounded a corner to enter a narrow alleyway lined with little restaurants that were already packed with hungry office workers setting themselves up for the day. The air was filled with the aroma of hot oil and chilli.
"Welcome to Paratha Wali Guli! This street number one for paratha."
Parathas, Mr Mohan explained, are basically discs of dough, stuffed with various fillings and shallow fried. The ones served in this street are reputedly the best in India.
We squeezed on to a tiny table inside. Next to us, the walls were hung with photographs of 'paratha-wallas' from the past, posing proudly with Bollywood stars, cricketers and politicians. Mr Mohan pointed out a grainy old one showing Jawaharlal and Indira Gandhi (the latter seemingly enjoying the meal a lot less than her illustrious father!).
Teams of boys with Peaky Blinders hairstyles were working at breakneck speed from a counter facing the street, rolling, filling, folding and frying balls of dough as the restaurant manager stood in the lane calling out the names of the various parathas in a torrent of words. He sounded less like a Maitre D than a horse racing commentator in the closing stages of a race.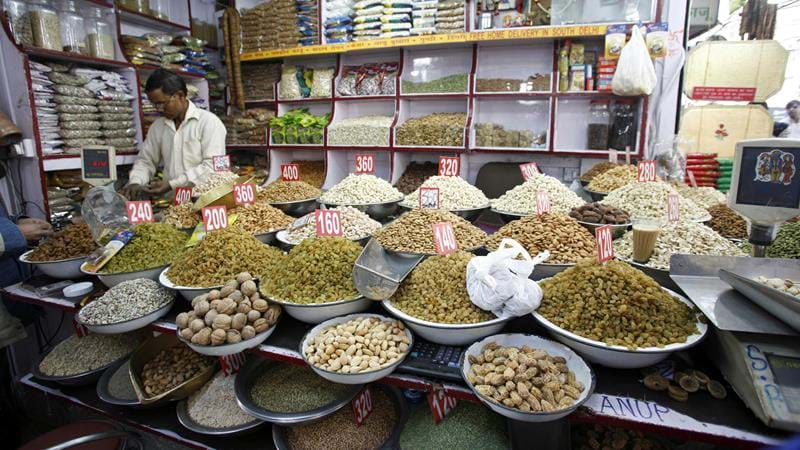 According to a faded sign on the wall, there were allegedly 36 varieties of paratha on the menu of this shop alone, which had been open 'Since 1875'. Mr Mohan wanted me to try the most expensive (75p). Comprising 16 layers, with a variety of green leaves and a secret blend of masala, it came with a ladle of potato and cauliflower curry, a spoonful of dahl and blob of lime pickle – utterly delicious.
"What's yours Mr Mohan?"
He smiled, struggling to get the words out between mouthfuls, an expression of near religious ecstasy on his face. "Ah yes, this one . . . is . . . hmmmm . . . 'rabri' . . . hmmm . . . 'rabri' paratha". He ripped off a corner for me. It was sweet and rich. "Ghee . . . almond . . . pistachio. . .and . . . condensed milk!"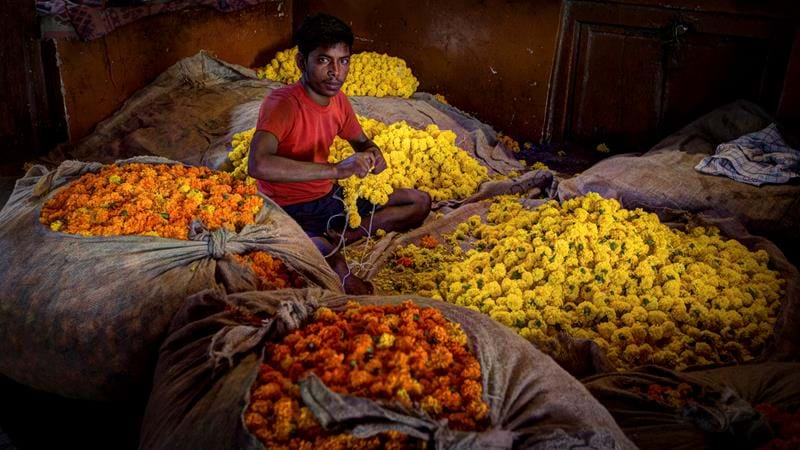 To work up an appetite for the next round of Old Delhi treats we decided to explore the nearby spice market, whose brightly lit shops were piled high with produce tracing the old trade networks that formerly connected the Mughal's great empire: saffron from Kashmir and Tabriz; dried mulberries from Herat; pomegranate seeds from Peshawar; apricots from the Pamir mountains; pepper, cardamom and cinnamon from Kerala; and bright, yellow turmeric powder from the Ganges Plains.
On the floor above, huge piles of marigold flowers were being strung into garlands. While I photographed the florists, a stream of boys from the neighbourhood scurried up the stairs to collect rolls of fresh blooms to drape around doorways and shrines of their work places, bringing luck for the day's commerce.
Lunch was a traditional 'pure-veg thali' near the Jain temple at the eastern end of Chandni Chowk, near the Red Fort. Although Old Delhi is famous primarily for its Mughal-inspired cuisine, fine food from a mosaic of different Indian communities may also be enjoyed here – in this instance, tangy Gujarati-style curries, balancing the sweetness of sugarcane with sour tamarind, firey green chillies and mellow yoghurt or buttermilk.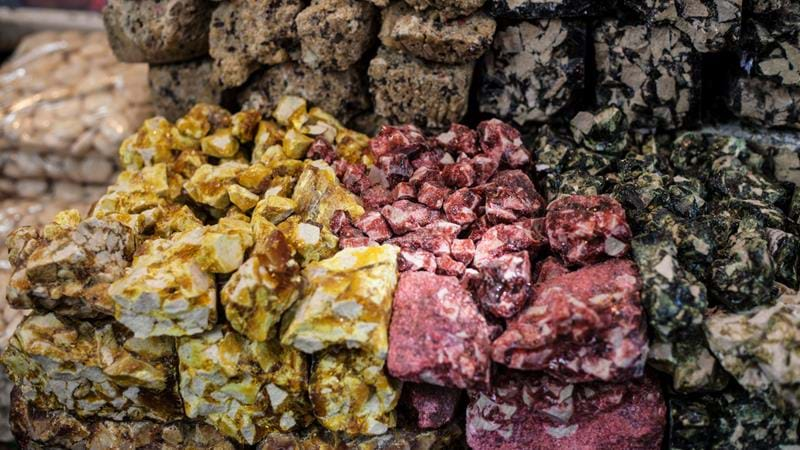 The rest of the day was spent in a whirl of food-inspired euphoria as we hopped between famous street food stalls, cafés and hole-in-the-wall restaurants, sampling specialities and chatting with the proud cooks who made them.
We enjoyed spicy 'chaat' (slow-cooked lentils, capsicums and tomatoes) scooped from a griddle on a street corner and served with scrumptious 'aloo tikki', or potato patties. The smiling lady owner displayed laminated newspaper articles about her stall as huddles of students and tourists tucked in. In the sweet street nearby we tasted piping hot 'jalebis' fried in ghee and steeped in syrup, followed a kind of chunky, dentally challenging peanut brittle ('sohan') from Ajmer, allegedly much loved by the Mughal Emperor Shah Alam (1759-1800).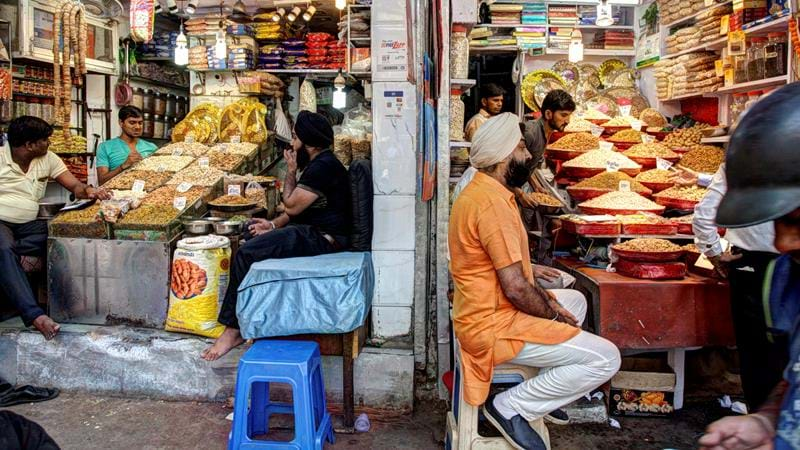 The piece de résistance, however, was saved til last. 'This Mr David is the taste of heaven!'. Mohan handed me a giant glass of fridge-cooled 'Amritsari lassi', a blend of fresh yoghurt, buffalo milk and spices prepared to a family recipe that's a closely guarded secret. I took a sip. For an instant, the swirling, raucous traffic around me seemed stilled. The lassi was simply perfection – a voluptuous, creamy texture; a harmonious balance between sweet and sour; and a quintessentially Mughal mix of saffron and rose that recalled the district's Persian-inflected culture.
Much of the Indian capital has, over the past two or three decades, been transformed by new building and roads. Remnants of its illustrious past are slowly disappearing, engulfed by flyovers and obscured by skyscrapers. But in the streets of Old Delhi you can still get a sense of the cultural richness that once prevailed here – a richness that in its way is every bit as distinctive and complex as the architecture of the district's mosques and mighty Red Fort, whose walls were glowing red at sunset as we headed back across the city, our mouths still tingling from the day's culinary delights.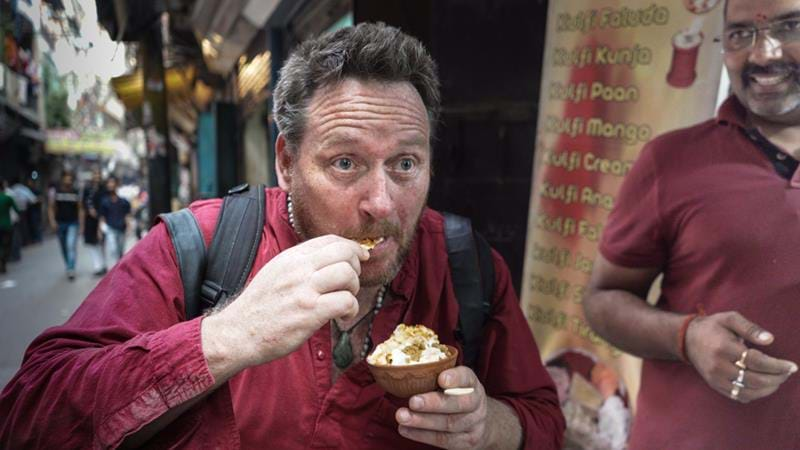 Find out more about our award-winning North India tours by clicking here or contact our team of India specialists at the TransIndus office in London on 020 8556 3739.