India 13.08.2020 Transindus
For many of us, trying the local food and regional delicacies is a huge part of our holiday and many of us want to try as wide a variety of dishes as possible when we are away. A holiday to Kerala is no different. Indian cuisine varies from region to region with different spices and ways of cooking used across the country. South Indian dishes are very different to those that are served in the north. You are unlikely to find naan bread or samosas on a menu here – rather dosas or idli are found on the table and many of the dishes are similar to those that can be found in Sri Lanka.
Kerala's main export is coconuts and so, almost all dishes served here will contain the coconut in some form – whether that is oil, milk, cream or shavings. Plus, the backwaters are teaming with fish and fresh seafood is enjoyed particularly around the coast.
Over the centuries, the port towns of Kerala have also operated as important trade hubs attracting people from all over the world meaning that Kerala's cultural diversity also makes it a particularly strong destination for foodies.
If these Keralan delicacies get your mouth watering, check out our Culinary Tour of Kerala for even more information.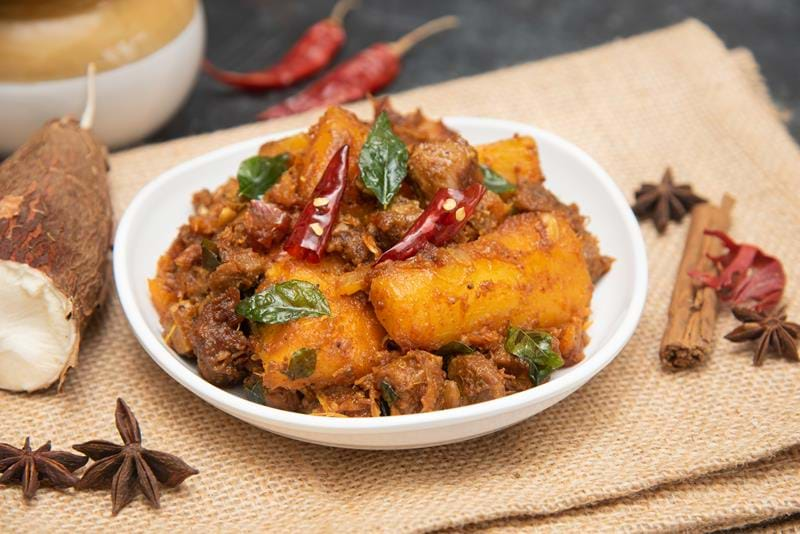 Kappa
Kappa was an important part of Kerala's diet during World War II when the state struggled to import other food-stuffs but today it is eaten widely and most commonly as an accompaniment to fish curry or Kerala Meen moilee. In the UK, kappa is sometimes called tapioca or yuca. In Kerala, the tapioca is boiled and mashed slightly with a spice mixture including ground coconut added to it.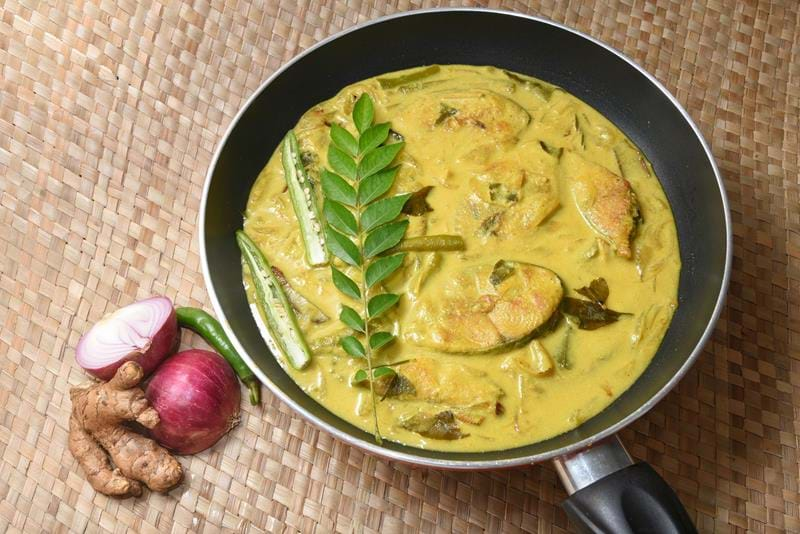 Kerala meen molee
For many, India is synonymous with curry and this dish has Kerala's own style. The local fish, pomfert, is stewed in coconut milk and a variety of subtle spices so as to not overpower the taste of the fish. It's a favourite for tourists as it is creamy and indulgent yet not too spicy.  Because of this it can be found on the menu at some of the best places to stay in Kerala. Rather than accompany this dish with rice, try appam which you can read more about below.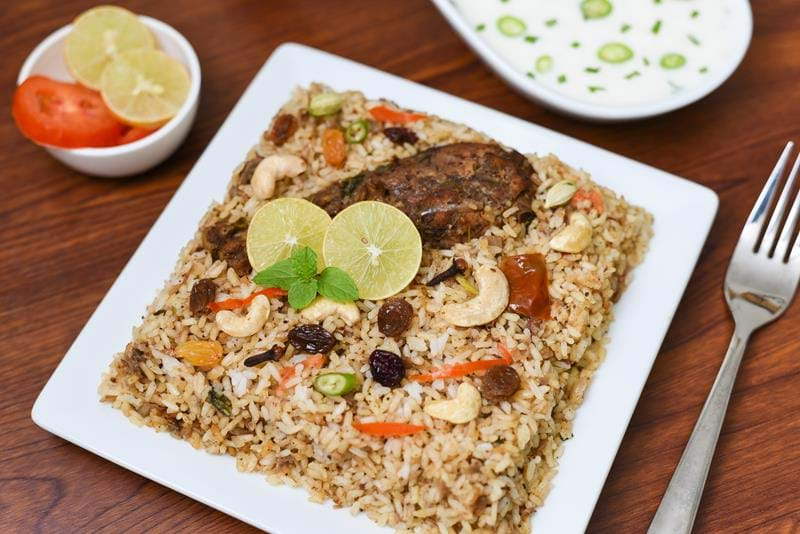 Thalassery biriyani
The Thalassery biryani which is served today in local restaurants in Thalassery is the result of waves of immigration from Mysore and Arkot over the centuries. Unlike your other biryanis, it uses a short grain, thin rice called khaima or jeerakasala and it has a unique flavour – it is not oily and the rice absorbs the juices of the masala and the chicken it is cooked in.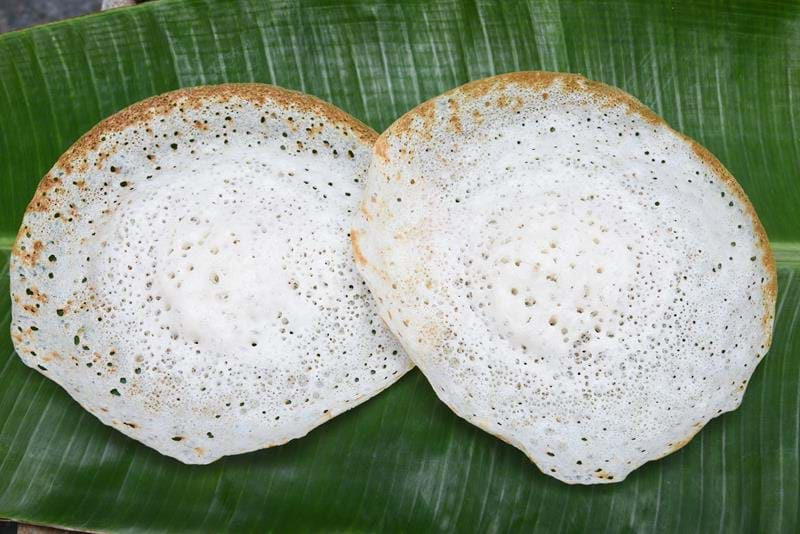 Appam
Made out of fermented rice batter and coconut milk, the appam is a type of pancake that is typically eaten for breakfast or dinner. A plain appam is shaped like a bowl and has quite a neutral taste as it is mostly served as a side with a curry.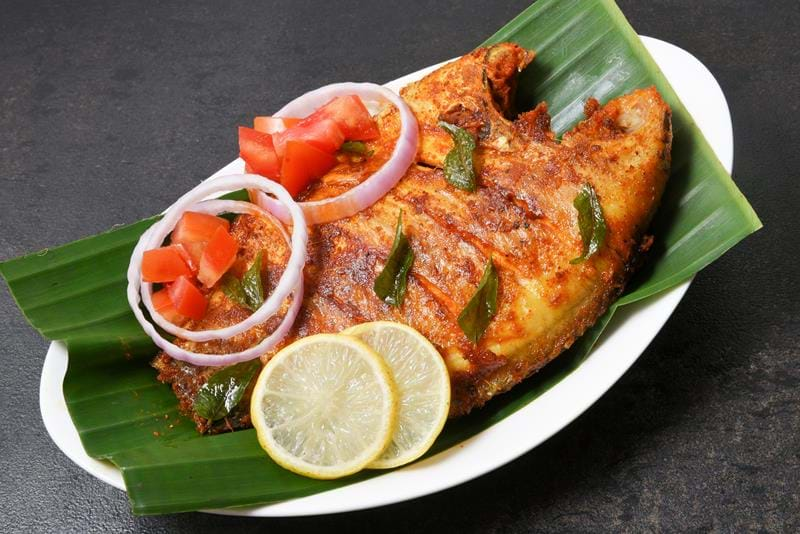 Meen pollichetu
If your ideal holiday involves enjoying fresh locally cooked fish then this dish is a must-try. The local fish in Kerala is Karimeen (pearl spot fish) and for this dish, the fish is marinated in a delicious spicy masala sauce, wrapped in a banana leaf and fried or steamed with coconut oil. It's the kind of meal that you can smell being cooked in the kitchen and it's guaranteed to make your mouth water before the dish even makes it to the table.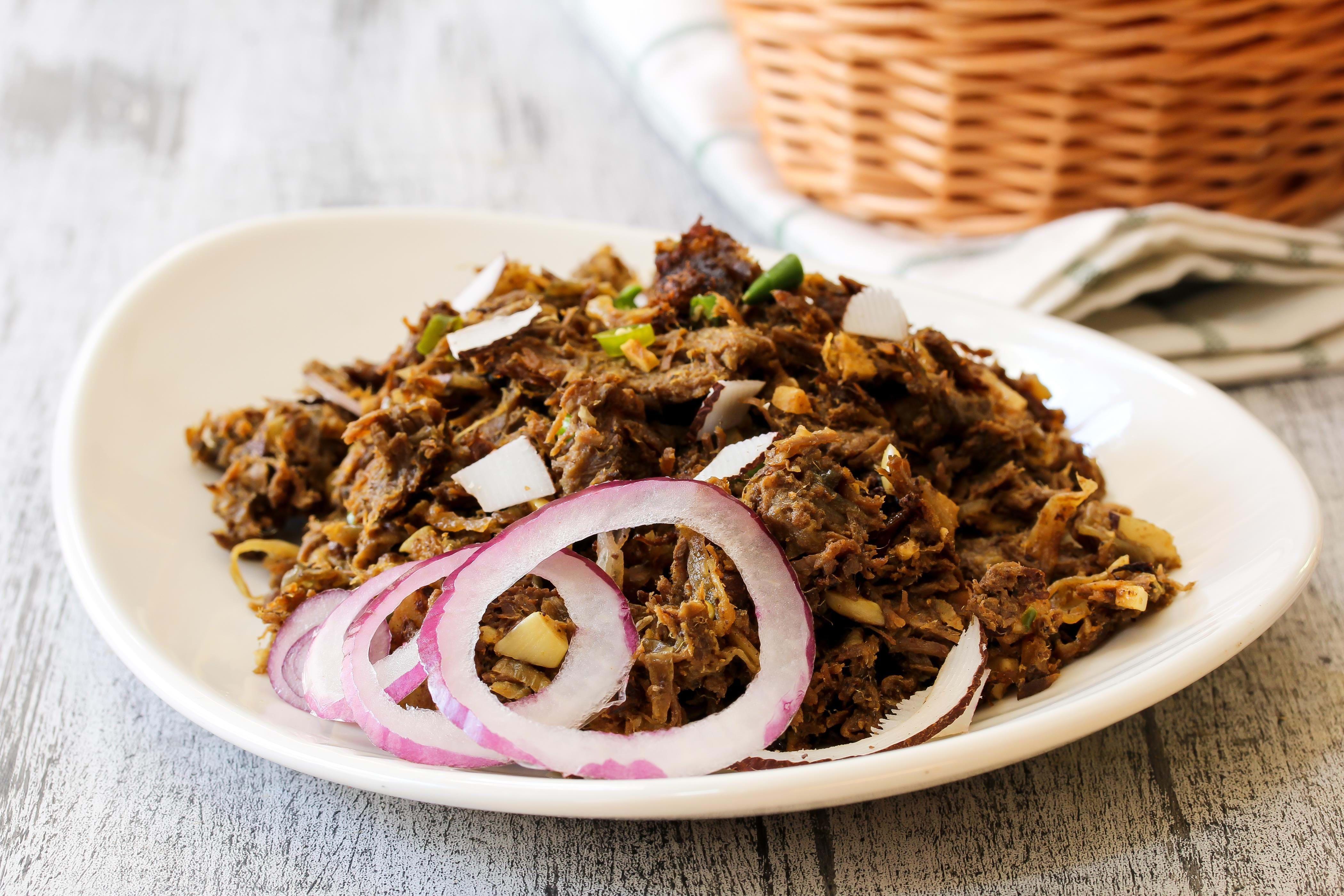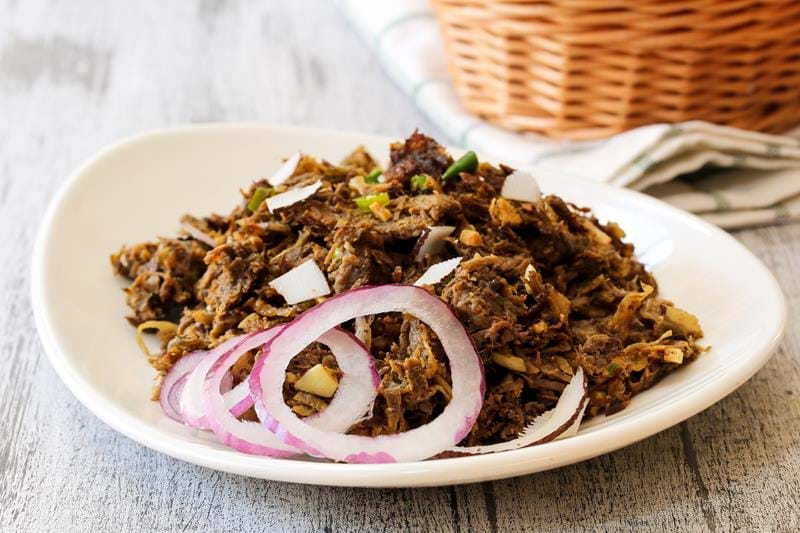 Beef ularthiyathu
Any meal cooked slowly is worth trying and this slow-roasted beef dish is no exception. Coated in spices, curry leaves, onions and (of course) coconut oil. The dish is one of the oldest on our list, having been traced back to as far back as AD 7 when the first Jewish traders arrived with Kosher cattle slaughter techniques. Over the years, the dish has not only crossed cultures and religions but brought them together around the dinner table – most notably when the Indian government attempted to ban the slaughter of cattle. Today, cows can only be slaughtered in Kerala, Goa, West Bengal and some states in North East India so this dish is difficult to find too far north of Kerala's borders.
Idiyappam
If you like the sound of appam, then you will definitely need to order idiyappam to try as well. Otherwise known as string hoppers, this dish is an alternative to rice and is a steamed rice noodle made from rice flour.  Order idiyappam as a side to mop up a fish curry or try it sweet for breakfast or dessert with sweetened coconut milk.

Kadala curry
With coconut milk being such a staple ingredient in Keralan cuisine, a holiday to Kerala is perfect for vegans and those on a gluten free diet. The first in our list of vegetarian/vegan dishes, this chickpea curry has a rich coconut-y flavour from the use of coconut oil and a paste made from grating and then roasting the coconut's flesh. Served with appam or idiyappam, it's the kind of dish you can have over and over again.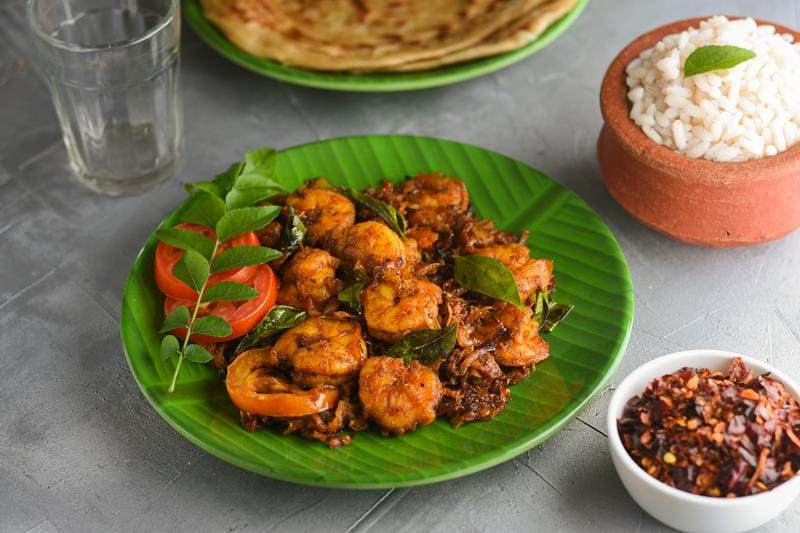 Chemmeen curry
Another seafood delicacy, prawns cooked in (surprise, surprise) coconut milk and a variety of herbs and spices. Tomato and onion give this curry its red colouring and it's so easy to cook, it can be found across the state. It's even easy to replicate at home. Served with rice or appam, it's the perfect meal to enjoy at dinner – perhaps in a local restaurant on the beach.
Mutton ishtu
This dish is yet another example of Kerala's diversity of cultures and religions. Found primarily along the Malabar Coast in northern Kerala, this mutton stew is particularly warming with plenty of ginger. It is a favourite during the wet season when monsoon rains drench the coastline while temperatures remain high. The meat is delightfully tender and melts in the mouth whilst the coconut milk broth is not too spicy. Make sure you soak every last drop of this stew up with a idiyappam.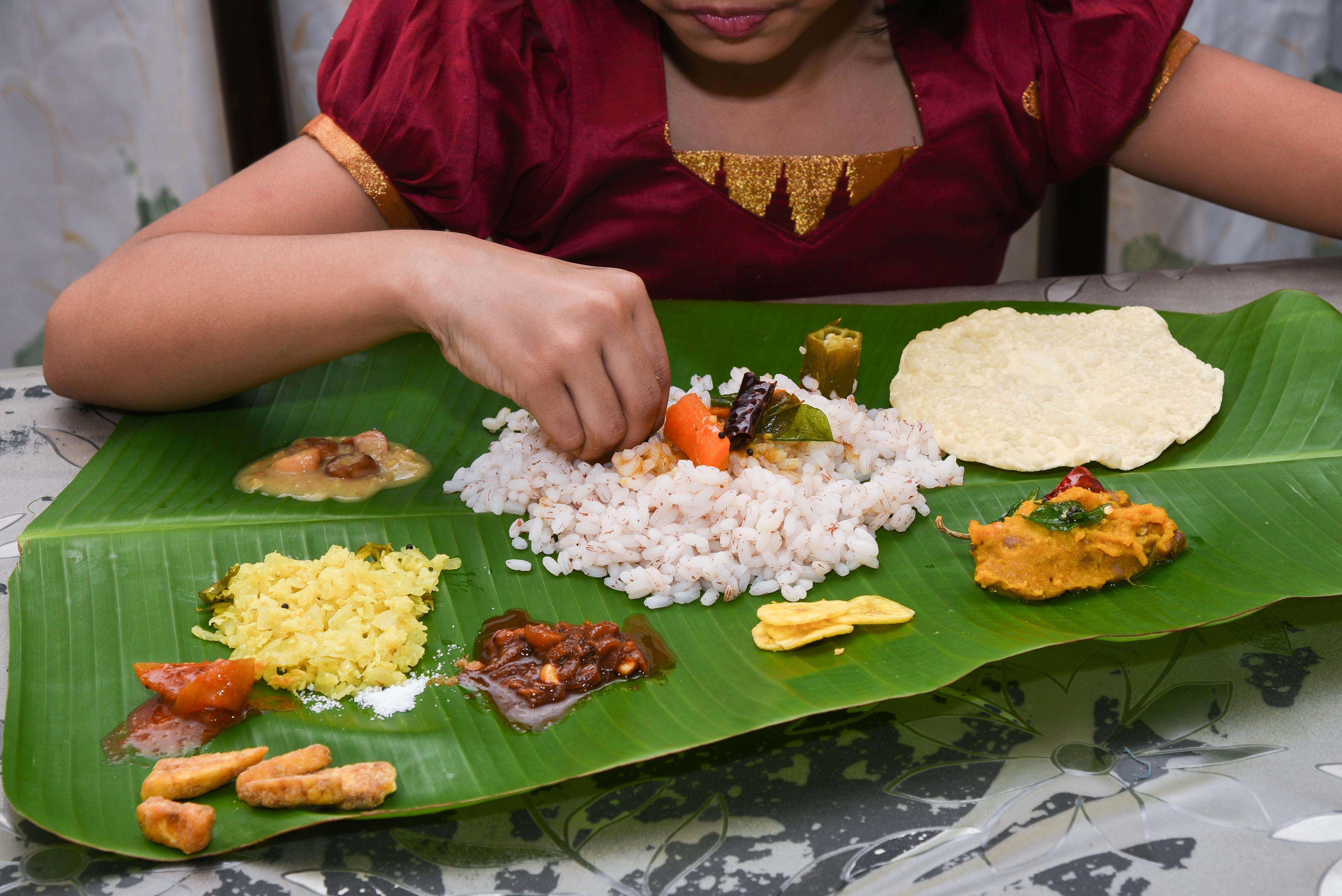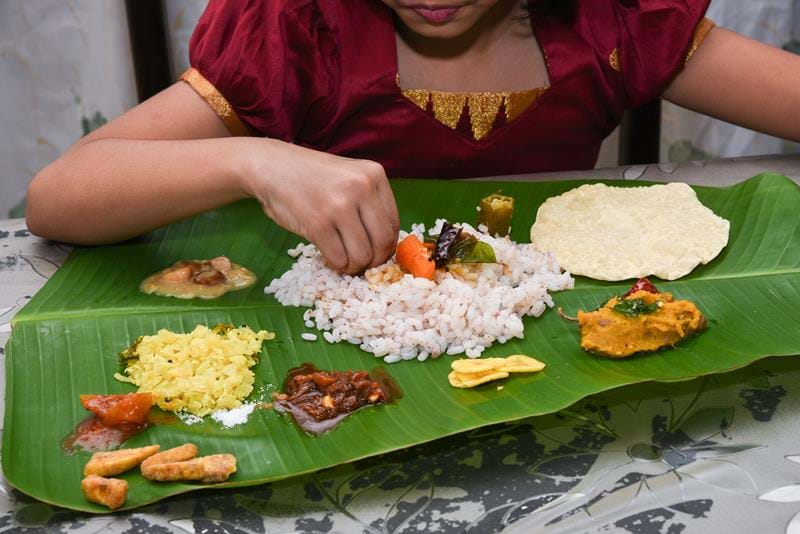 Kerala sadhya
Our favourite meal, this is an experience you are guaranteed to remember and talk about around the dinner table when you get home from your holiday. Sadya is a traditional Keralan feast, a variety of vegetarian dishes usually served at lunch time. What's unusual about this meal is that the whole dish is served on a banana leaf and you typically eat this sitting cross legged on the floor with no cutlery.  A typical sadhya has up to 28 different dishes on the banana leaf – sometimes more and the dishes are placed is a specific order to make it easier for servers to top up your leaf. The meal is traditionally served around the Onam festival which falls every year in Kerala in August – September to celebrate the harvest but can be enjoyed year round.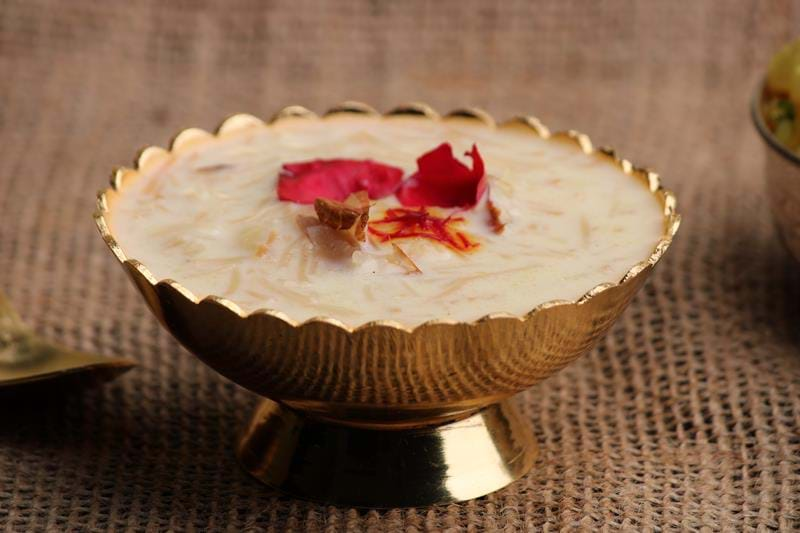 Payasam
Desserts are typically a little more difficult to find throughout Asia but for those with a sweet tooth, this dish is a must try. The pudding can be found throughout the entire Indian subcontinent but in Kerala, the key ingredient here is coconut milk, rather than dairy milk which is used in northern India. Boiling the coconut milk with sugar and rice, the pudding is flavoured with nuts and dried fruit to give it an additional sweetness.
Banana chips
These are slightly different to the banana chips we can find in our local supermarket here in the UK but no less delicious. So delicious in fact, the snack is featured on our list of unique experiences in Kerala. On a houseboat cruise down Kerala's Bharathapuzha river, you may spot banana plantations along the banks with trees bursting with fruit. In Kerala the banana is king of the fruits and bags of banana chips are sold on stalls across the state. These banana chips are fried in coconut oil, and make for a very more-ish snack. You can try before you buy for an extra experience.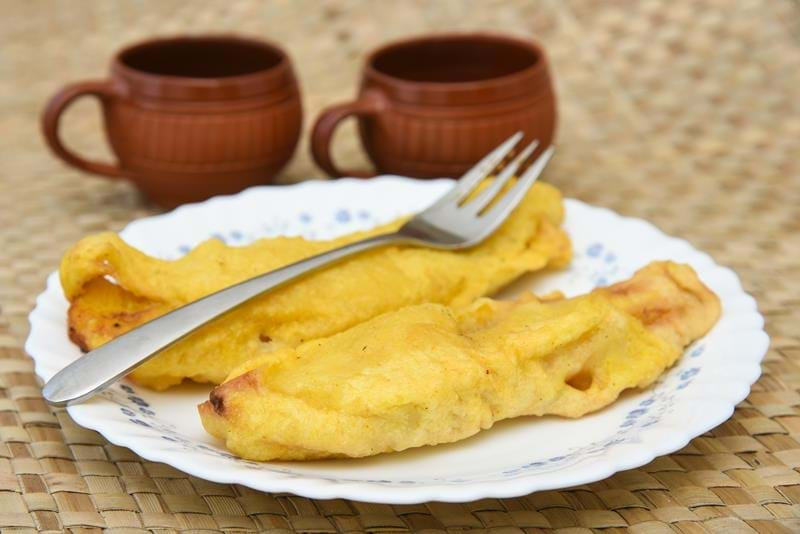 Pazham pori
Another banana recipe, these banana fritters are sometimes served an evening snack in hotels in Kerala. Coated in a batter with a hint of turmeric and sugar, these bananas are deep fried until they are deliciously crispy on the outside. Enjoy these with an evening coffee or chai for the ultimate treat.