Vietnam 29.06.2020 Transindus
Many travellers who visit Vietnam on holiday for the first time, will fly into Hanoi with plans to travel south by train to Ho Chi Minh City. Vietnam's capital city, Hanoi is a bustling city, brimming with culture and local living spilling out onto the streets. 48 hours in Hanoi is the perfect amount of time to explore Hanoi in depth, before heading out of the city to travel to other parts of northern Vietnam like Halong Bay and Sapa. Here we detail our guide on how to make the most of your time in Hanoi and what you must see and do.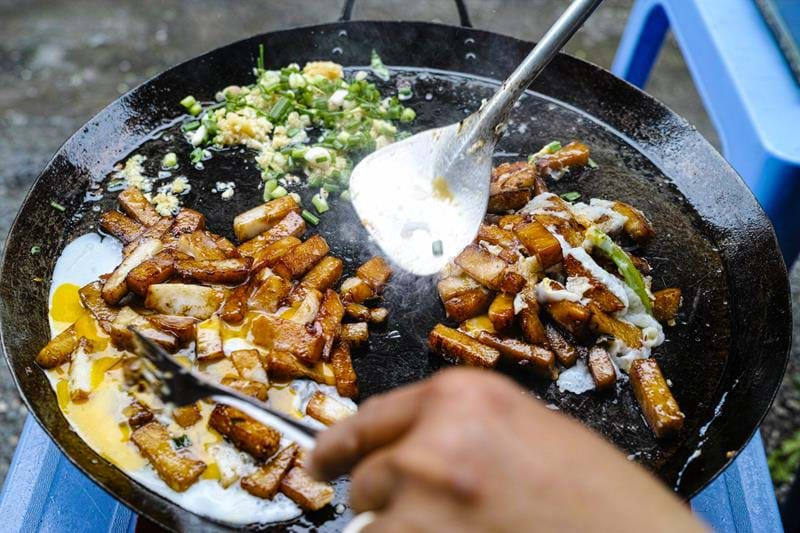 Eat & Drink on Food Tours
Vietnamese food has grown in popularity in the UK as much of the cuisine works well in our long, dark and cold winters. Hanoi's street food culture is impossible to ignore with local sellers sitting on the street as they pour out bowls of steaming hot pho to be enjoyed. As such, the smells of garlic, chilli and fish sauce float through the air and to navigate the streets, you have to jump over low seated footstalls that you typically perch on as you slurp up your dinner.
To make the most of the street food in Hanoi and to enjoy the city's many local dishes, a street food tour is strongly recommended. Here, a local guide will walk you around the city to the best places to eat everything from banh mi (a delicious fresh baguette, stuffed with meat and pickled veg) to bun cha (fermented rice noodles with fresh herbs, garlic and a fresh dipping sauce).  Remember to finish off your food tour with dessert. Our favourite is Che Ba Mau, a refreshing treat with red beans and jelly as well as rich coconut cream and ice – it's cold and refreshing. A welcome treat in Hanoi's summer heat and humidity.
Hanoi's rooftop bars are not as plentiful as in Ho Chi Minh, but there are still excellent places to grab sunset cocktails or a refreshing Vietnamese draft beer in between a spot of sightseeing. Hanoi's narrow streets bustle with activity and some of the best places to truly experience the noise and chaos is from above. In the heart of the Old Quarter, grab a drink at Diamond Sky Bar and admire the 360 degree view or the Skyline Hanoi where you can also enjoy delicious local cuisine on the outdoor terrace.

Explore the Old Quarter in Hanoi
The heart of the city, Hanoi's Old Quarter is a dense labyrinth of narrow streets, criss-crossing, intertwining and brimming with activity. You can easily spend half a day getting lost down the alleyways, shopping and eating. Traditionally, each street in Hanoi's Old Quarter specialised in selling a certain craft or trade. Today, while the street names often remain, the local vendors sell anything from cheap knock offs to local art or sweet treats.
Whilst exploring the sights of the Old Quarter, it's a good chance to perfect the art of crossing the road. With mopeds buzzing by and no lights, roundabouts or traffic management systems in place, crossing the street is unavoidable and nerve-wracking for the first few times. To do so safely, walk slowly and persistently with no sudden movements or changes in the direction. Once you get the hang of it, it's surprising how well the system works.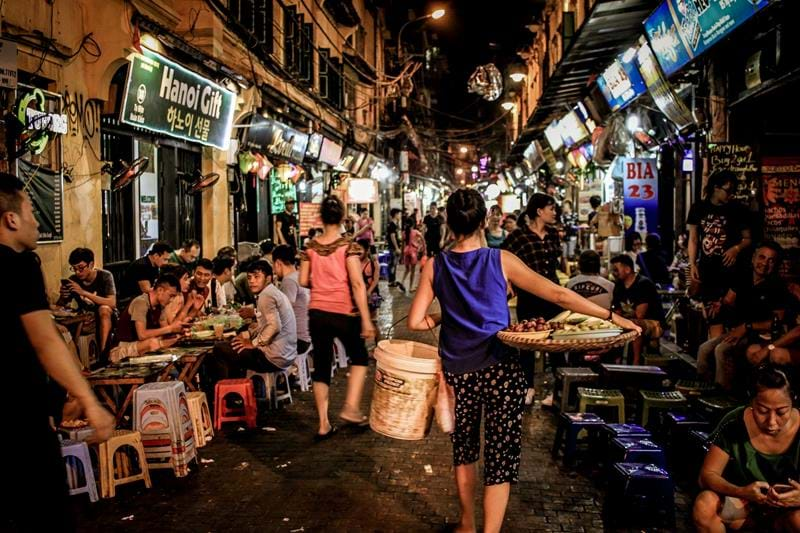 Enjoy the nightlife
Hanoi's rooftop bars and restaurants are just one way of enjoying Hanoi's nightlife. For something with a more local and authentic feel, head to Hanoi's streets. South East Asia is famous for their night markets and Hanoi is no exception. On weekends, the Old Quarter bustles with activity and you can easily pick up a fake Hermes or cheap sets of chopsticks as souvenirs.
If you're looking to hit the town like the locals do, head to Bia Hoi Junction. At night, low plastic stools spill out onto the street as groups of friends cluster together to drink Beer Hoi. For less than a dollar, this Vietnamese staple isn't as strong as the European brands but for people watching and soaking up the atmosphere, it's a street not to miss.
If you're looking for a more cultural experience, then a visit to a water puppet show is a must do. Here, puppets glide gracefully over water, telling stories of ancient legends in a way that is easy to understand for tourists. Another option is to catch a show at the Hanoi Opera House. Performances are not on constantly, but it's may be possible to time your visit to Hanoi with a show and purchase tickets in advance.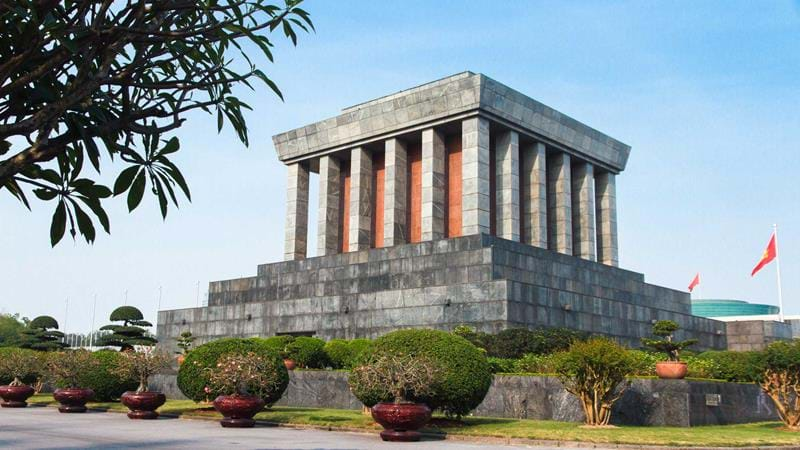 Tour Ho Chi Minh's Mausoleum & Museum
To understand the impact of the Vietnam War on the people, you have to visit the War Remnants Museum in Ho Chi Minh City, but to learn about the man who lends his name to the southern city and who led Vietnamese troops against the Americans, you must visit his mausoleum and museum, ideally with a local guide.
Inside the huge marble building in the centre of a huge square lies Ho Chi Minh's body, embalmed and lying in a glass case for mourners to view. Behind the towering monument sits the museum telling the story of the man and how he led the country through the Vietnam War.

Stroll around Hoan Kiem Lake to the museums
The centre point of Hanoi, the atmosphere around Hoan Kiem Lake varies between morning, afternoon, and night. It attracts local women practising tai chi at 6am to men playing chess, a walk around the lake takes around 30 minutes and is an excellent opportunity for people watching. On the other side of the lake to the Old Quarter lies a neighbourhood brimming with French architecture, aptly named the French Quarter. It is here that you find most luxury hotels, upmarket restaurants and foreign embassies. A world away from the neighbourhoods on the other side of the lake, it is also close to most of the city's best museums including the Police Museum and the National Fine Arts Museum         
Click here to browse all our Vietnam Holidays that include a couple of days in Hanoi