Myanmar 21.01.2013 Nick
Kyaiktiyo happened to be the first place that I visited in Myanmar. It is not one of the four major destinations, but it is always going to be my favourite place in the country. Perched on the edge of a cliff at the top of a mountain, Kyaiktiyo is an enormous rock covered with gold leaf which balances, teetering on the edge. It has been teetering for over 800 years and it is said that it rests on one of the Buddha's hairs which keeps it from crashing into the valley below.
It takes some dedication to reach. A long road journey over roads that are more pothole than surface, followed by a drive in a crammed pickup truck to get halfway up the mountain. From there it is an hour walk to the summit. The road is steep, but there were many other people making the same ascent, from small children to the elderly, stopping at teahouses and stalls along the way.
I was lucky enough to visit on a holiday weekend. The atmosphere was a fascinating blend of the sacred and the festive. Families were visiting on pilgrimages, crowding as close to the rock as possible, saying prayers, burning incense, and the men sticking gold leaf onto the rock. A little further away were other groups sitting and chatting, enjoying picnic meals, spending the holiday with loved ones. Through all of this snaked a procession of men, women and children carrying votive offerings, flags, and sculptures made of fresh flowers. Everyone was dressed in longyi, the traditional Burmese garment that the vast majority of the population still wears, and most of the women were sporting traditional makeup called thanaka.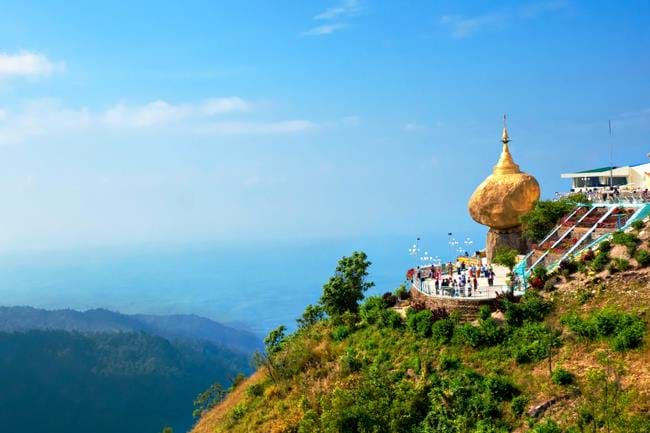 I sat quietly waiting for dusk, taking in the scene around me. Every now and again someone would shyly approach and ask if they could take a photograph with me. I bought some very tasty sticky rice and roti from one of the stalls and ate watching the crowds. At last the sun began to set. The sunset at Kyaiktiyo is justly famous. As the sun falls, the rock changes colour, creating an entirely natural lightshow until it is dark and the rock is brightly lit up against the night sky.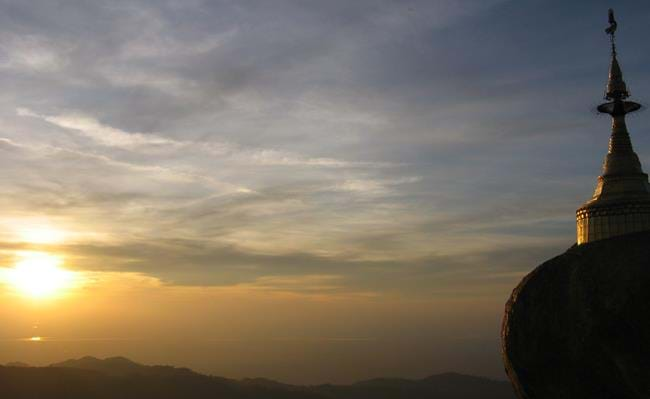 As I was meandering back towards my hotel I came across a group of dancers putting on a show. My guide asked around and then explained to me that they were a rebel insurgent dance group from Kayin State. They were on a pilgrimage to Kyaiktiyo and were being given free accommodation in return for putting on the show. Their singing and dancing was energetic and quite unlike anything else I saw in Myanmar. Kyaiktiyo may not be the easiest place to visit but it is worth the effort.