Myanmar 28.02.2014 Transindus
One of the many reasons people choose to explore Burma is that it's home to some of the world's most spectacular - and, at times, unusual - temples and stupas. If discovering these looks set to be a major focus of your trip, you can find out all about where the most sacred and beautiful can be found with our guide.

Yangon 
One of the most famous stupas in Burma is Shwedagon Paya, a dazzling gold edifice in the former capital, Yangon. It makes sense to be begin your adventure here, as Yangon is something of a gateway to the rest of the nation.
Located on a hill in the north of Yangon, Shwedagon Paya can be seen from virtually everywhere in the city - a fact that's helped, of course, by its glittering gold, ruby and diamond-encrusted exterior. This grand exterior is a testament to just how important this stupa is; indeed, it's one of the most sacred Buddhist sites in the entire country.
According to legend, it is 2,500 years old, but archaeologists believe the it was originally built between the 7th and 10th centuries. It's also been rebuilt several times, with the last time being in the mid-18th century, though it still exudes history and a real atmosphere of magic, enhanced by the cluster of small shrines, statues, temples and more around it.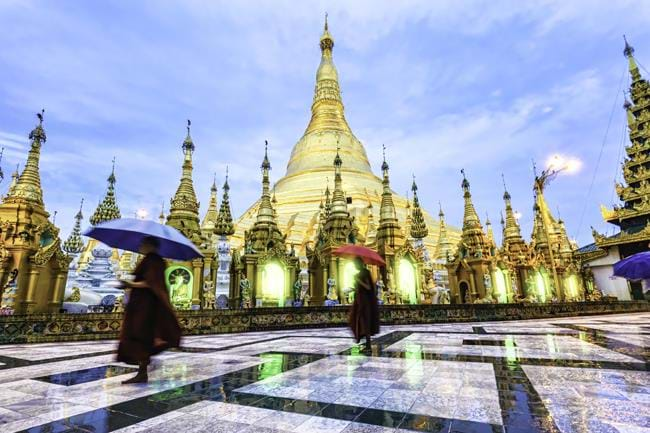 Bagan 
An ancient city, Bagan is a veritable maze of historic temples and stupas. In fact, there are more than 4,000 squeezed into this 26 sq km space, all of which differ in terms of size, shape and style, not to mention what treasures can be found inside.
With temples and stupas stretching as far as the eye can see, Bagan is a magical place - and, looking out over it, it's only natural to wonder what the story behind it is. After all, having such a high concentration of religious buildings in one place is hardly commonplace. As you may perhaps expect, it was the result of several centuries of religious fervour, when the country transitioned from Hinduism to Theravada Buddhism - something that began in the 11th century.
Somewhat incredibly considering its impressiveness, Bagan is quite a quiet place, so you'll be able to stroll around the temples and stupas in peace. It's always worth going inside when you can to see what relics can be found, while you should also take a trip to the top of one of the taller temples - this gives you absolutely spectacular views over this crumbling city.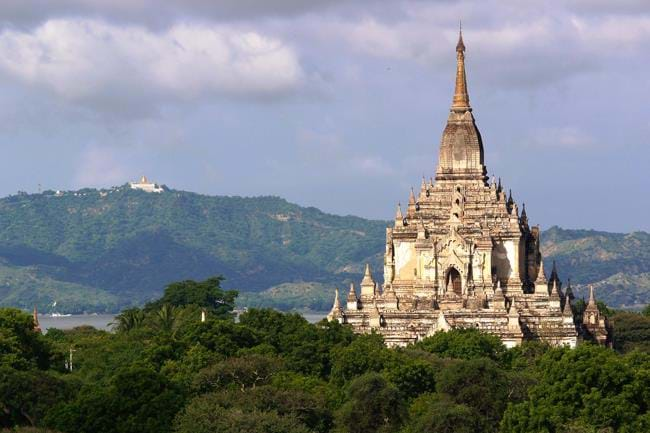 Kyaiktiyo 
It's hard to imagine buildings much more striking than Shwedagon Paya or the thousands to be found in Bagan, but Golden Rock Pagoda certainly holds its own against them. One of the most unusual sights you're likely to see on your trip, Golden Rock Pagoda famously sits on a gilded boulder that's perched precariously on a cliff-edge on Mount Kyaikto.
It is believed to mark the site where, in the 11th century, a hermit donated a hair of the Buddha, which had been rescued from the sea by a local ruler. It is a site associated with a number of miracles and this, combined with the sheer wonder of the gleaming golden rock, makes it one of the country's major pilgrimage sites - especially during the main pilgrimage season, which falls between November and March.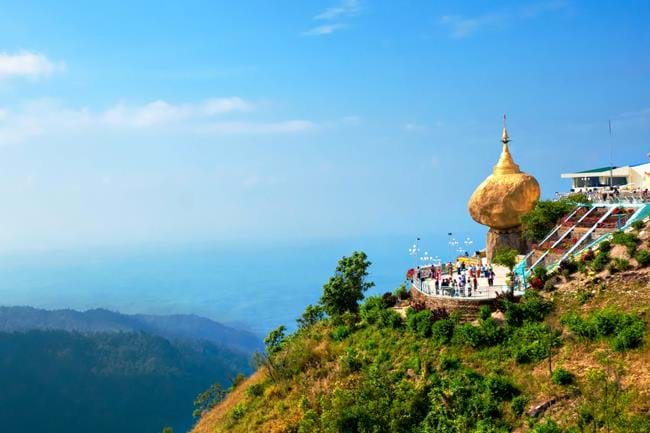 Mount Popa 
A similarly sacred pilgrimage site is Mount Popa, which is home to the country's 37 nats (nats are spirits worshipped in Buddhist Burma. There are 37 Great Nats, and Mount Popa is considered to be a key centre for nat worship). The temple can be found on Taung Kalat, a vertical-sided outcrop on Mount Popa proper.
Getting to the temple takes a lot of effort, it being located in such a hard to reach place, but the experience of the climb paired with the amazing temple make the walk well worth it. Just remember there are a few things local superstition says you shouldn't do on the mountain - including cursing, saying negative things about other people, and wearing red or black.