Sri Lanka 01.07.2020 Transindus
The clocks will be about to go back. Our summer tans will have faded. The leaves will be changing colour and there will be a definite nip in those blustery winds. But for a lot of us prone to wanderlust, October also signals the start of the 'itchy feet season', when our favourite Asian destinations emerge dripping and lush from the monsoons and begin to welcome the return of visitors.
This year will be a bit different, or course, but at the time of writing, in mid-summer 2020, it's still too early to say which countries will fully embrace the 'new normal' and fully open their doors to travellers from overseas. While we wait for the options to firm up, here's a reminder of which the best places are at this time of year and why you might wish to consider them for your holiday.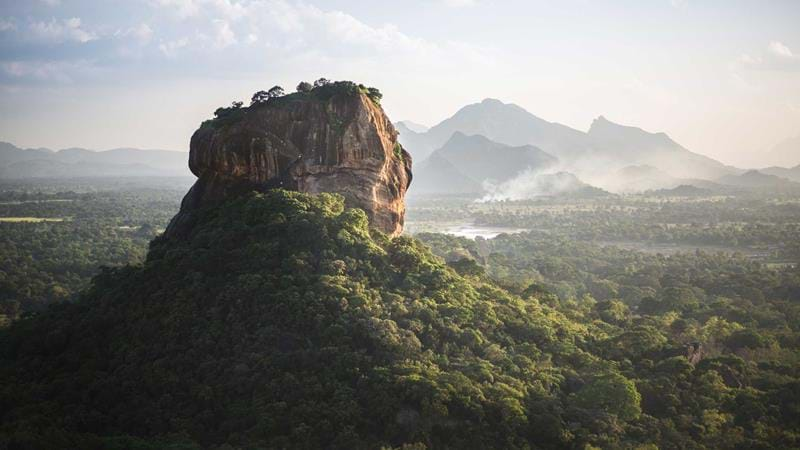 Sri Lanka
October is the 'inter-monsoonal' period in Sri Lanka, when the rainy season has petered out on the west and south coasts, and before the second, or 'retreating' monsoon has arrived on the east. Ranging from 14 to 28̊C, maximum temperatures are relatively restrained. You can expect a few bursts of heavy rain here and there, and a fair bit of cloud, particularly up in the hills of Tea Country, but the weather at this time of year is dynamic and changeable, making for sublime sunsets and abundant tropical greenery everywhere, even in the dry zones.
For Sri Lankan Buddhists, October heralds the end of a period of seclusion when many monks emerge from three months of prayer and meditation indoors. The local population celebrate their return over the full-moon phase of 'Vap' month with gifts of new robes, carried to temples and monasteries in processions of white-clad devotees led by troupes of dancers, drummers and caparisoned elephants. The colourful 'Katina Peraheras' are joyful, authentically Sri Lankan spectacle that many clients have cited among the highlights of their Sri Lankan holidays.
Find out more about our Sri Lanka Holidays.
The Maldives
October corresponds to the tail end of the monsoons in the Indian Ocean, which in terms of weather can mean a mixed bag in the Maldives. Over the course of a typical fortnight you can expect two or three days of rain, perhaps another couple of showers and the rest uninterrupted sunshine and blue skies.
The trade-off is much lower prices. With resorts dropping their tariffs to entice shoulder-season custom, this is the time to bag a real bargain and you can read our list of the best resorts in the Maldives to help you decide where to go. If you've ever dreamed of visiting the archipelago but have been put off by the high costs, do give us a call and we'll identify the best October deals out there.
Our consultants will also be able to recommend resorts better suited to variable weather conditions, with lovely large decking areas and more generous sized over-water villas. Lots of our past clients have actually relished the 'days off' relentless sun – the cooler temperatures and grey skies are more conducive to relaxed reading, and of course the changing colour palette creates a different mood for those sublime seascapes. Diving and snorkelling activities tend to continue as normal.
Find out more about our Maldives Holidays.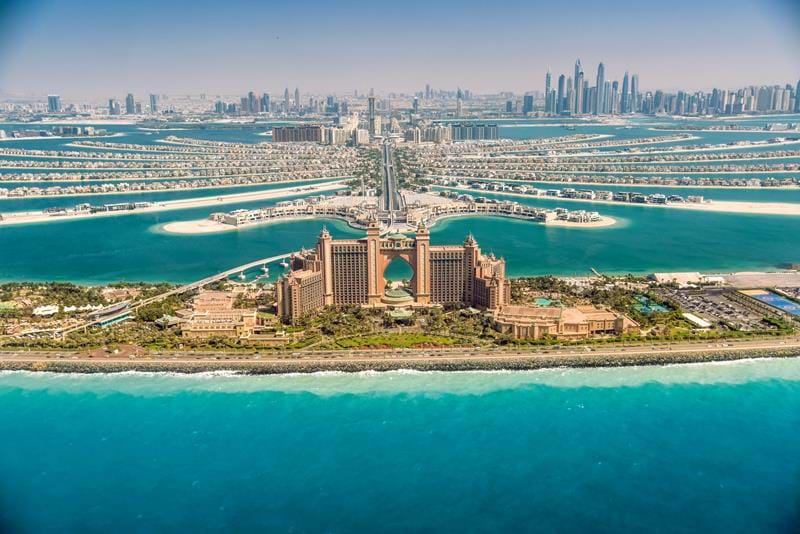 Dubai
The heat of high summer has abated by October in the United Arab Emirates, making this a good time to visit Dubai, particularly if you're attracted by its heavenly beaches. Expect plenty of glorious sunshine with daily highs of around 30̊ centigrade and sea temperatures also a balmy 30̊. Dune bashing trips to the desert and other excursions are always conducted in air-conditioned vehicles, so you're guaranteed total comfort wherever you travel and whatever your chosen activities. Hotel rates and flights are also lower at this time of year. Contact our team to discover the best packages.
Find out more about our Dubai holidays.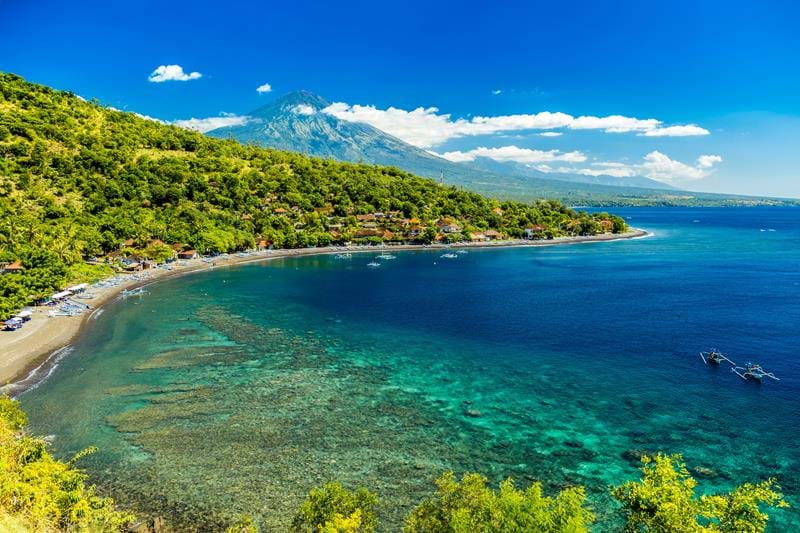 Bali
With average temperatures around 27̊C and nine hours of sunshine per day, October is a perfect time for a holiday in Bali. You can expect a slight increase in humidity and rainfall towards the end of the month, with the approach of the annual monsoon, but nothing likely to put a dampener on your holiday. So whether you're primarily looking to flop on the sand or experience the island's rich traditional culture at temples and craft workshops inland, you'll be spoiled for choice. As this is not peak season in Bali, our consultants will also be able to offer some great value tailor-made packages on both single-resort and multi-destination trips.
Find out more about our Bali holidays.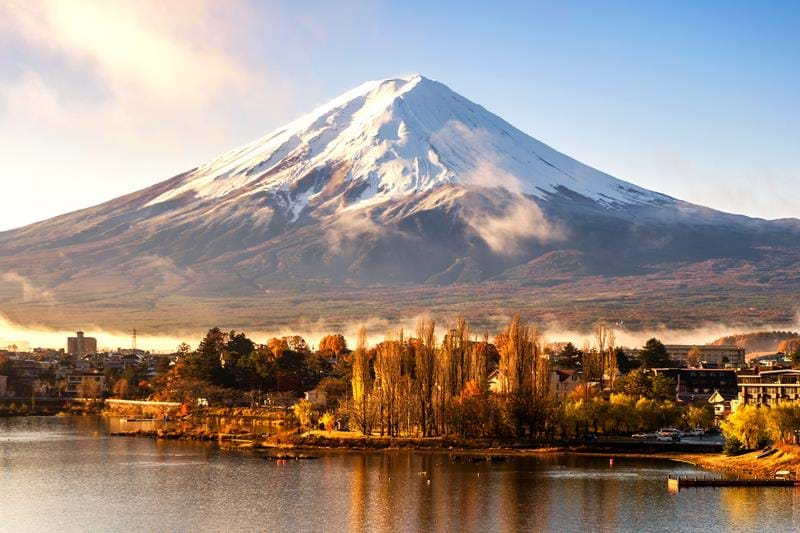 Japan
For nature lovers, Japan holds particular appeal in the autumn – the time of year when 'momijigari' ('leaf-peeping') becomes the national pastime. Through October, the seasonal colours are approaching their peak in Kyoto, Nikko and the Kamikochi National Park. Picture gilded temples framed by displays of scarlet maple and luminous gingko, and whole mountainsides carpeted in golden oak, birch, katsura and bamboo. The weather at this time tends to be crisp and dry – perfect for leisurely morning walks in those exquisite formal gardens, parks and forests, and for luxuriating in onsen baths in the evenings. Moreover, the crowds are markedly thinner – and in many palaces non-existent – while hotel prices are lower. Oh, and if you've never tasted pumpkin-filled 'tayaki' you're in for a real treat!
Find out more about our Japan holidays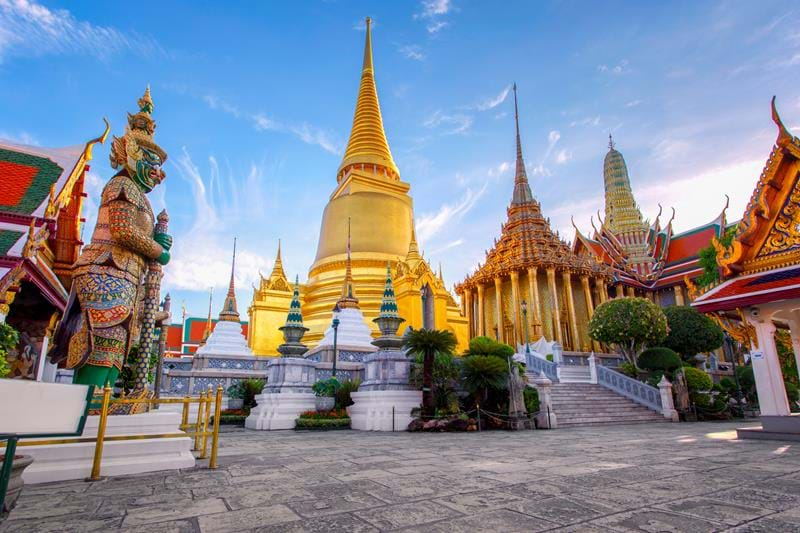 Thailand
Lower temperatures, humidity levels and prices make October a good time to explore Thailand. The beaches are much less busy at this time too, though you can expect the odd downpour. The upside is abundant greenery in the villages, where the rice paddy glows a vibrant green, creating an idyllic backdrop for cycle rides and buffalo-spotting country walks! October is also ideal for visiting the hill regions of the north, and the drier province of Isaan in the northeast, famed for its Khmer ruins. The only region to avoid is the far south, which may experience prolonged periods of rain at this time.
Find out more about our Thailand holidays.
Borneo
In common with most of the other destinations in this list, October is shoulder season in the island of Borneo. The end of the month sees the onset of the annual monsoon, though you can expect plenty of dry, sunny weather, particularly in Sabah, where the ascent of Mount Kinabalu and treks in the surrounding jungles are the principal attractions.
Rainfall gradually increases across Sarawak through October, particularly in low-lying coastal areas. Gunung Mulu National Park is less affected, and flights into the region are rarely delayed by bad weather in October. This is a popular time of year to undertake visits to the famous Pinnacles of blue-grey limestone and great cave systems of Mulu.
Find out more about our Borneo holidays.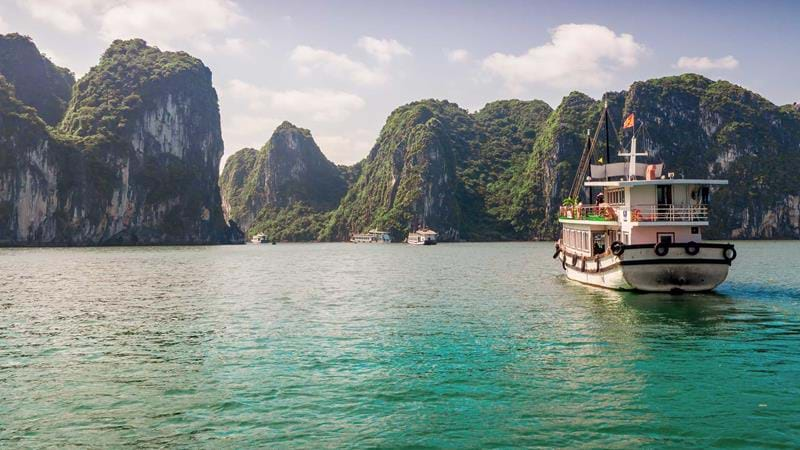 Vietnam
The weather varies greatly across the different regions of Vietnam, and October is no exception. Up in the north, the wet summer season has abated, giving way to prolonged spells of drier weather and lower temperatures. This is the optimal time for visiting Hanoi and cruising on Halong Bay, as well as trekking in the hills around Sapa and Ha Giang, home to a panoply of colourfully attired minority groups.
The centre of the country, by contrast, is wet and stormy in October, rendering the beaches of Nha Trang off limits. Hue and Hoi An remain easily accessible, though you'll probably need your brolly at some stage.
Further south, the idyllic coastline around Phu Quoc and Con Dao really come into their own in October as the monsoon retreats and blue skies and warm, dry conditions return. On the nearby Mekong Delta, Khmer communities around Tra Vinh province hold traditional 'Ngo' festivals, in which teams of thirty or forty rowers race in long 'dragon' boats on local rivers – and unforgettable experience.
Find out more about our Vietnam holidays.