New
Group Tour

10 days from £4595 per person
Places Visited:
Tokyo, Kanazawa, Hikone, Kyoto, Arashiyama
Departure: 11 November 2019
Single supplement: £2,990 per person
Join us for a very special, small-group tour of Japan, showcasing the country's unique horticultural heritage. The trip has been carefully timed to catch the 'koyo' leaf colours at their peak in November: over the course of nine varied days, you'll visit a succession of temple and royal gardens whose pagoda-roofed shrines, koi ponds, rockeries and gently sloping stone bridges will be framed by beautiful displays of red maples and golden gingkos shimmering in warm sunlight.
The tour is led by medal-winning garden designer and journalist Hannah Gardner. Hannah will be familiar to readers of the Gardens Illustrated magazine for her monthly travel column, 'The Outsider', for which she roams the world in search of botanical wonders. One of her planted-focussed adventures involved a stay of one year in Japan, where she studied in Kyoto under a master gardener responsible for some of the finest temple gardens in the city.
 "Gardening is regarded as a high art form in Japan – an expression of philosophical and religious sensibility, as well as a means of creating soothing outdoor spaces. I'm thrilled to be revisiting some of the very best on this trip, and to have the opportunity of sharing them with a group of like-minded enthusiasts!"
In addition to Hannah's expertise for the duration of the tour, you'll have the benefit of our local representatives throughout. Accommodation is of superior grade, in comfortable hotels consistent with the high standards of our award-winning group tour programme. Travel will be on a mixture of bullet trains and small private coaches.
Hannah Gardner
Hannah first came to our attention for her entertaining features in the Telegraph and Gardens Illustrated magazine. A 'best-in-class' graduate of the prestigious diploma course at Kew, she has contributed to several prize-winning gardens at the RHS Chelsea show, winning a silver medal at Hampton Court in 2018 for her co-design inspired by Anton Chekhov. Hannah is currently the Head Gardener at a private estate in West Wiltshire, and runs her own design consultancy, New British Landscapes. We're thrilled she agreed to lead our special small group tour to Japan, where she spent a year as a Daiwa scholarship student working with landscape architects and talented gardeners in Kyoto and Hokkaido. Her encyclopaedic knowledge of Japanese horticulture will ensure your tour is filled with considerable insight as well as vibrant colour!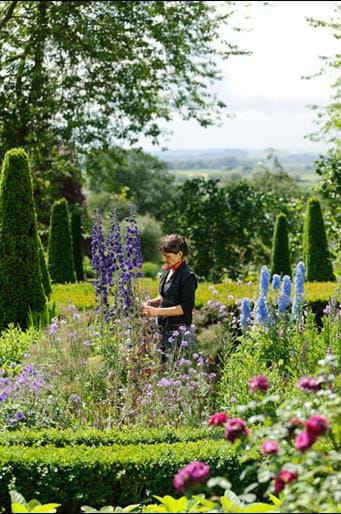 Highlights
✓ The Imperial Gardens of Tokyo
✓ Kenroku-en in Kanazawa, one of Japan's 'Three Great Gardens'
✓ Eight of the finest rock, moss, 'shrunken' and temple gardens in Kyoto, Japan's cultural capital
✓ Visits to a traditional Japanese villa and Samurai castle
✓ Topiary demonstration
✓ The famous Hills of Arashiyama, a 'koyo' autumn-colour hot spot
✓ Groves of giant bamboo
✓ Private tour of a 200-year old traditional teahouse
Suggested itinerary
Day 1
Tokyo
On arrival in Tokyo, you'll be met by your TransIndus representative and escorted to your hotel. The group will convene with tour leader Hannah for a welcome dinner in the evening.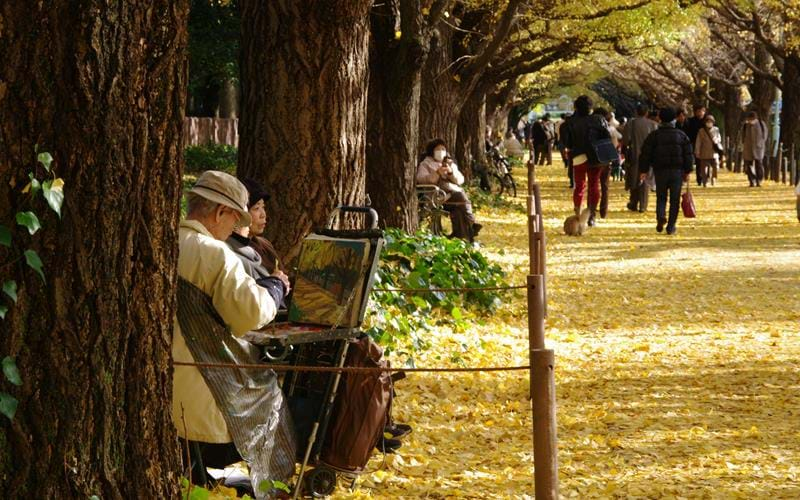 From the red maple leaves in the city's parks to boulevards lined with golden Gingko trees, Tokyo comes alive with autumn colours in November. Tour host Hannah will be on hand to recommend the best 'koyo' leaf-peeping spots should you wish to get exploring straight away.
Accommodation Options
Day 2
Tokyo
Explore the horticultural highlights of Tokyo today, starting with an introductory tour of the Mingeikan Folk Arts Museum before moving on to Jingo Gaien, where, with luck, the leaves on the gingkos will be a scintillating shade of gold! After lunch, enjoy a stroll through the Imperial Palace East Gardens and adjacent Kitanomaru before visiting Rikugi-en, with its quintessentially Japanese bridges and shrunken scenery.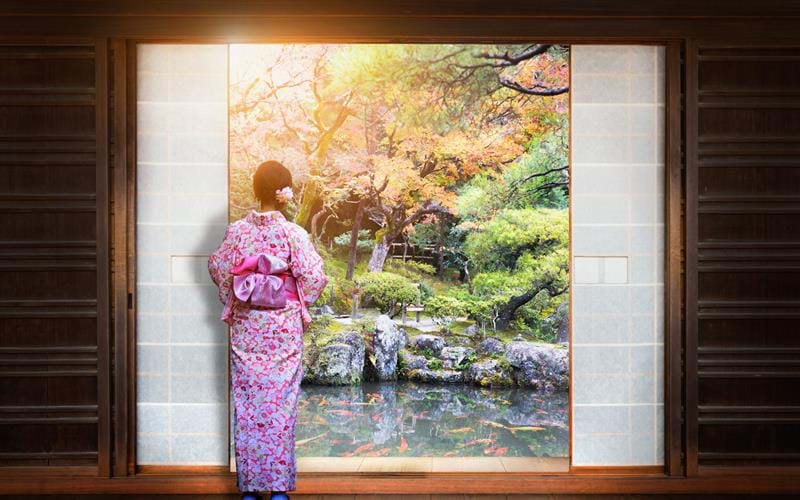 Rikugi-en is generally considered to be Japan's finest landscape garden, and provides an oasis of calm in the bustling metropolis. It was built around 1700 for the 5th Tokugawa Shogun, and has largely been maintained in its original form. Various small man-made hills and viewpoints allow the visitor to appreciate the shrunken scenery and evocations of 88 Japanese poems. Japanese bridges lead over the central lake to the banks of autumn foliage on the far side of the garden, and several teahouses around the perimeter are open for visitors.
Day 3
Kanazawa
Catch a bullet train over the Japan Alps in the morning to Kanazawa, where the group will be treated to a tour of the exquisite Nomura House & Garden before moving on to the historic Higashichaya teahouse, where the Shima Ochaya will serve as a memorable introduction to the arts, dances and culture of the Geisha.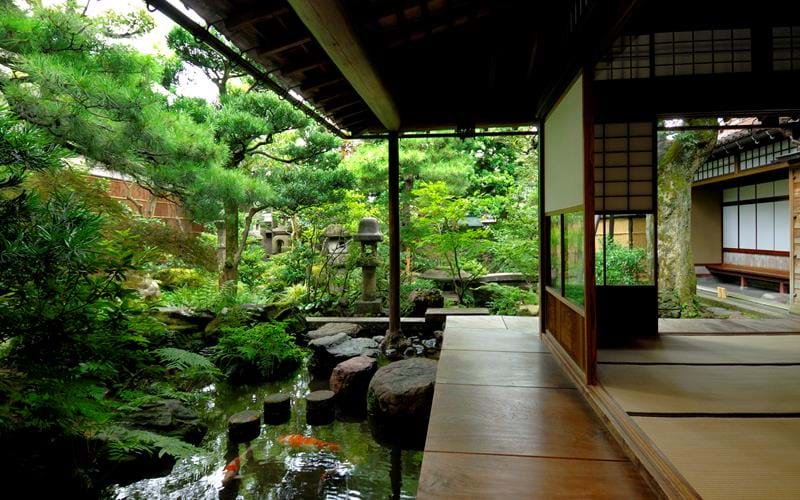 Known as a 'little Kyoto', Kanazawa is dotted with beautiful antique buildings and gardens, among them the wood-panelled teahouses of Higashichaya, which you'll see today. Nearby, in the original samurai quarter of Nagamachi, is Nomura House – one of Japan's finest examples of a traditional residential house. Built in the mid-17th century by a samurai lord, it has been handed down through generations and lovingly restored. Painted 'fusama' sliding screen doors, displays of samurai armour and views of its garden may be enjoyed during your visit.
Accommodation Options
Day 4
Kanazawa
In the morning, join Hannah on a tour of the Seisonkaku Imperial Villa, famed for its intricate interiors. The group will then experience the six distinct areas of Kenroku-en – one of Japan's greatest gardens. Enjoy some time at leisure in the afternoon, perhaps exploring Omicho market or Museum of Contemporary Art at your own pace.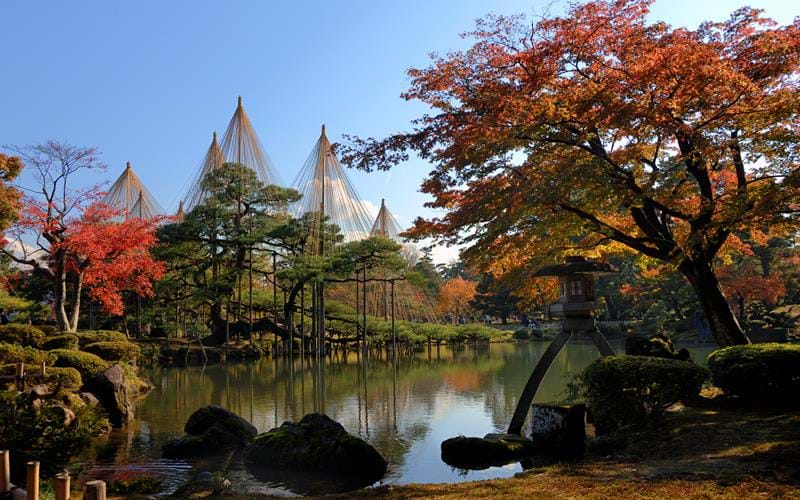 Feudal-era Japan was dominated by half a dozen powerful clans, which not only competed with each other for land and power but also for supremacy in the arts. Japanese landscape and garden design arguably reached its apex with the development of Kenroku-en by the Maeda clan in 17th century Kanazawa. They spared no expense in engineering a water system – the first of its kind in the archipelago – to replenish the streams and central ponds, and then designed six distinct areas according to Chinese aesthetic principles. This ambitious project was opened to the public in the mid-18th century, since when visitors have flocked here to enjoy its picturesque landscapes, bridges, teahouses and views of Kanazawa Castle.
Day 5
Hikone, Kyoto
Transfer to the train station in the morning to catch the express train service to Hikone, where you'll visit the Genkyu-en garden and iconic, Edo-period castle – a national treasure. Later, speed onward to Kyoto for a late-afternoon arrival at your hotel.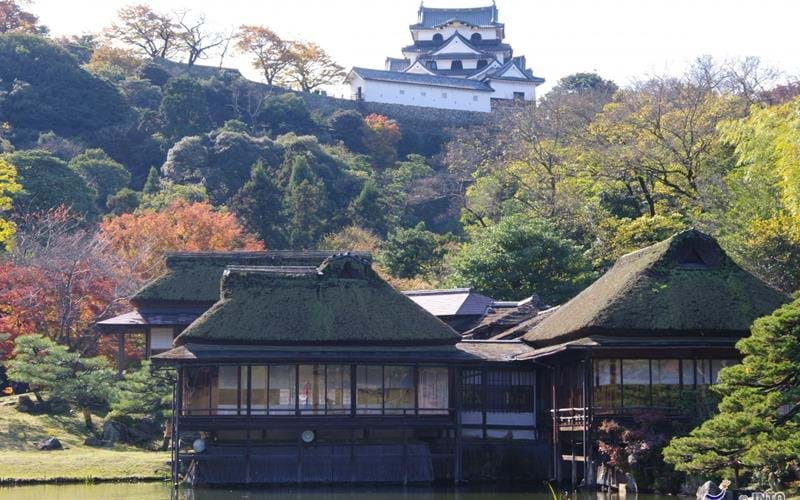 While Kanazawa's castle is a reconstruction, Hikone's has over the centuries survived fire, earthquake and war to become one of Japan's best loved monuments. Visitors can enter the original keep and scale the steep stairways inside for views of the adjacent Genkyu-en garden. The majestic whitewashed tiers and concave black-tile roofs provide an atmospheric backdrop for strolls over the bridges and island of the garden itself.
Accommodation Options
Day 6
Kyoto
Explore some of Kyoto's most renowned temples and gardens today, which at this time of year should be swathed in autumnal hues. The tour will start at Daisen-in, then move on to Ninna-ji before taking in the Zen rock garden of Ryoan-ji. Wander around the grounds of nearby Kinkaku-ji afterwards, with its splendid Golden Pavilion, before visiting Anraku-ji's unique octagonal pagoda if time permits.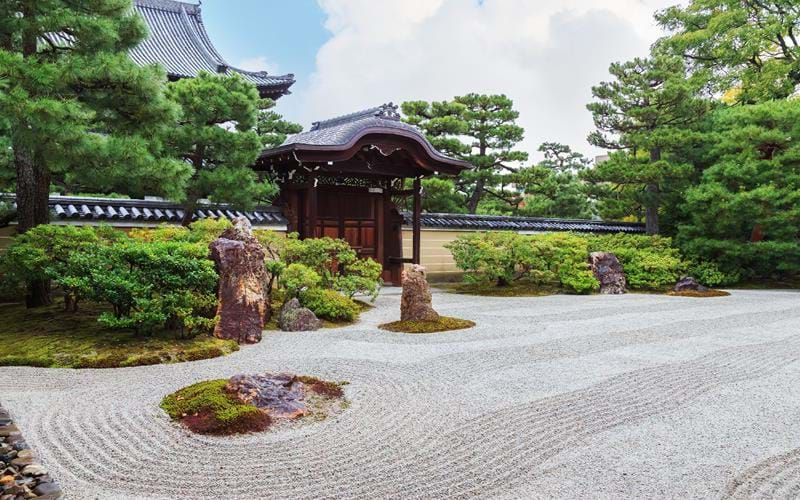 Ryoan-ji zen rock garden in Kyoto will come as a surprise after the softer lines of those you'll already have visited on this tour. The meticulous raking of the gravel is regarded as a form of meditation, which you can still see being practised in the grounds of temples and traditional inns across the country. Its simplicity Its simplicity and the spacious placement of natural weathered rocks are designed to immerse viewers in contemplation of the transience at the heart of nature.
Day 7
Kyoto
Further deepen your appreciation of Japanese garden design this morning at the Tofuku-ji and Nanzen-ji temples. After lunch, the tour heads out of the city to the pretty Tentoku-ji shrine, renowned for its displays of Japanese bellflowers.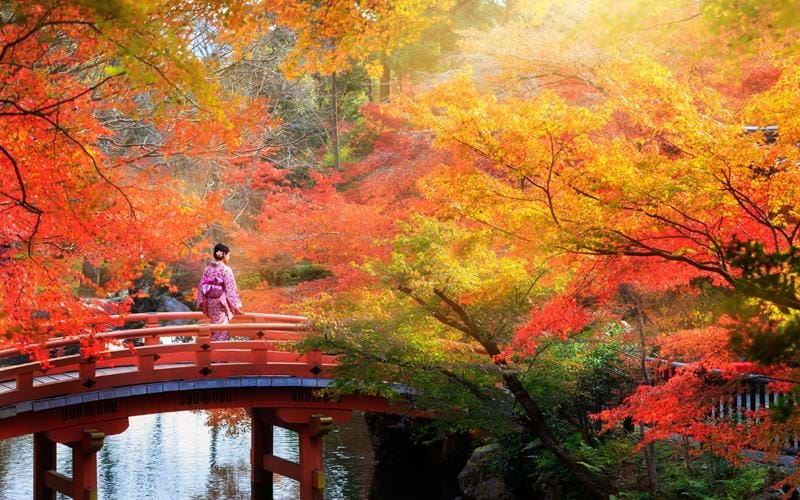 Having miraculously escaped bombing in the war, most of Kyoto's temples and gardens are originals that date back hundreds of years. This tour focuses on the ones boasting the most impressive autumn colours, from the Edo-period gardens and five-storey pagoda at Ninna-ji to mighty Nanzen-ji temple. For leaf lovers, the highlight will  be the view from Tsutenkyo bridge at the Tofuku-ji temple, which spans a lush valley of maple trees. The intoxicating blend of ancient history and autumn colours has few equals anywhere in Japan.
Day 8
Kyoto
After breakfast, visit Arashiyama, just west of Kyoto, whose wooded hillsides will be ablaze with autumn shades. The Tenryu-ji temple provides a spectacular focal point, its sliding outer doors revealing a beautiful interior and strolling temple garden to the rear. This leads, in turn, to a magnificent giant bamboo grove and one of Kyoto's hidden gems: the Okochi Sanso villa and gardens.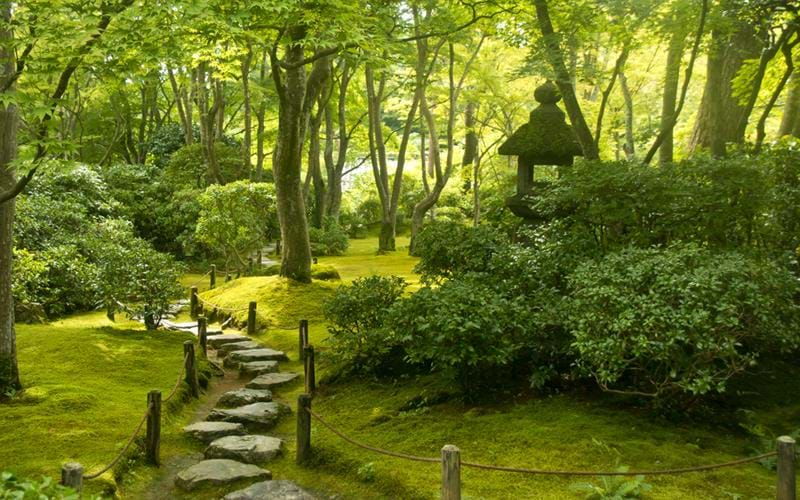 Built by Denjiro Okochi, an actor from the golden age of Japanese cinema, Okochi Sanso villa & garden is a delight. The property lies hidden at the far end of a giant bamboo grove in Arashiyama, to the west of Kyoto. Relatively few visitors know of its existence, and even in high season the garden remains relatively uncrowded and serene. After a pot of matcha green tea at its teahouse, the group will enjoy a stroll through the manicured grounds of the villas where Okochi-san lived in his dotage. The highlight here, though, has to be the iridescent moss garden, with its stone lanterns half smothered in greenery – a quintessentially Japanese spectacle.
Day 9
Kyoto
Visit the renowned Chion-in temple and garden at Maruyama Park in the morning, then drive by coach in the afternoon to Nara, whose superb collection of 8th-century shrines has earned for it UNESCO World Heritage status.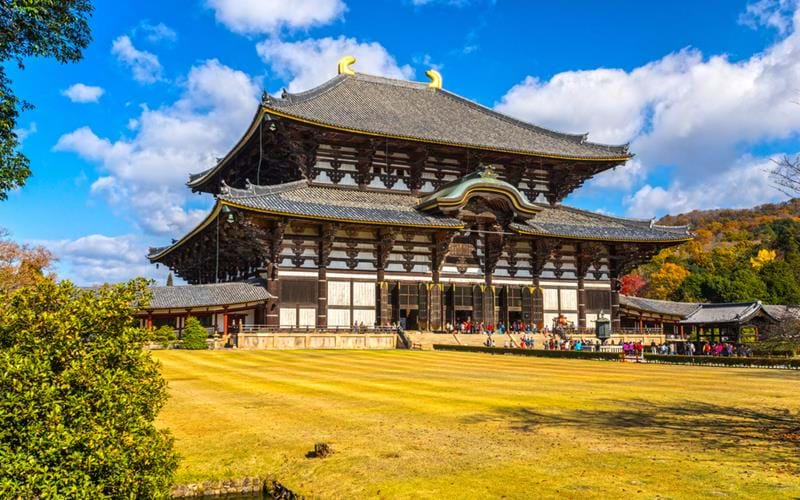 Nara Park, less than an hour south of Kyoto, is one of the best autumn leaf viewing spots in Japan. Its spacious grounds are famously populated by a herd of tame deer that add greatly to the charm of the place but will be very inquisitive if you are carrying any food! Its centrepiece is the stately Todai-ji temple, the largest wooden structure in Asia, whose presiding deity is a giant, 15-metre-tall Buddha cast from 400 tonnes of bronze. Time permitting, the group will also call at Nara's National Museum, which houses some of the country's greatest art treasures.
Day 10
Tokyo
Transfer to Kansai airport by shuttle bus for the flight home.
Group Tour

10 days from £4595 per person
What's included
✓   9 nights' superior-grade accommodation
✓   All internal transportation and transfers using a private chauffeur-driven vehicle
✓   Local English-speaking assistants in each location except Hikone
✓   An accompanying Gardening specialist
✓   Breakfast daily, and lunch daily except for Hikone
✓   Entrance fees to sites and monuments listed in the tour itinerary
Places and Experiences in this tour
What Our Clients Say About Us
Talk to the Experts
At TransIndus we are committed to quality and determined to ensure every one of our clients enjoys the best holiday possible. Having lived or worked, and travelled extensively in their specialist countries, our consultants are experts whose advice can be depended on. To make an enquiry, call us on 0208 566 3739
020 8566 3739
TransIndus Brochures 2019/20
Join our mailing list