Oman 03.01.2022 Transindus
Happy New Year from Transindus
We hope your New Year has gotten off to a great start and are looking forward to good times ahead.

After the turmoil of the last two years, you have asked us to recommend uncrowded getaways where you can relax, kick off the sneakers and walk barefoot in the sand! We also hear you remain concerned as we're not entirely out of the woods yet, despite red lists, restrictions and quarantines fast becoming a thing of the past.

With vaccine programmes in some countries well ahead of others and a few destinations still out of bounds, we have put together a holiday planner to guide you through the 2022 travel season.

So, read on and start planning and booking your adventures, reassured by our Covid -19 Promise and Flexible Booking Conditions.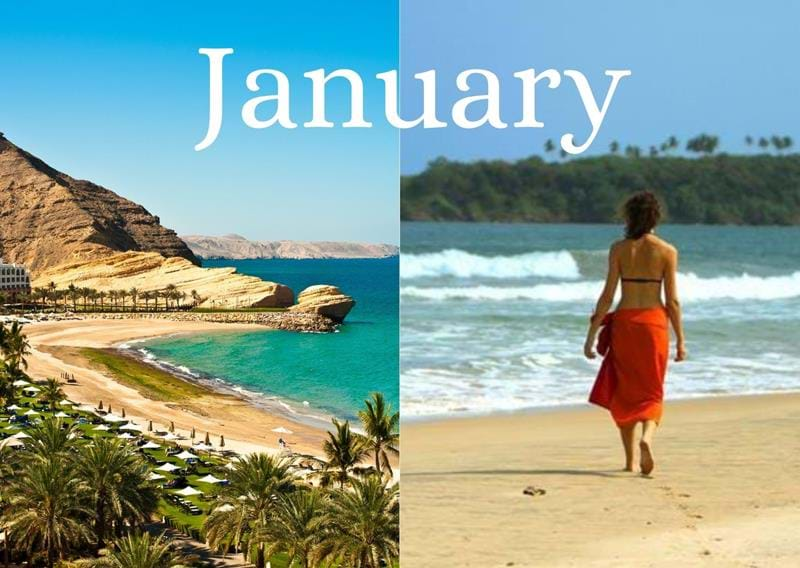 Beaches of Oman & Sri Lanka
To shake off the lockdown cobwebs and get 2022 off to a fresh new start, we couldn't recommend the glorious beaches of Oman and Sri Lanka more. They offer guaranteed sunshine, tranquil blue waters, beautiful surroundings and service with a smile. The great news is that they are fully open and have been receiving guests for several months now.
For those of you who might enjoy a little activity, both countries offer rich cultural tour options, long leisurely walks in the hills or Wadis.  Sri Lanka also offers great wildlife explorations while Oman's desert activities are great for keeping young families engaged.  Find out more here: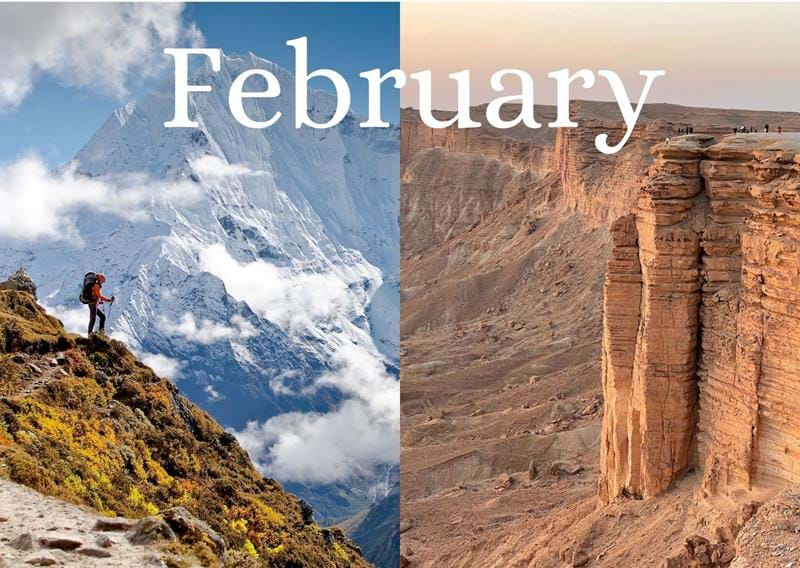 Nepal  | Saudi Arabia
While Nepal is home to the world's highest mountains, Saudi Arabia boasts the largest desert in Asia. Though the two countries couldn't be more different, February is one of the best times to visit these intriguing lands. The fact they are open and receiving guests now means you can head out sooner than you think!

Only just opened to tourism Saudi Arabia, be the first to experience this treasure trove of history spanning 10 millennia with some of the oldest known prehistoric sites. 2500-year-old Nabatean Tombs to evidence of Babylonian settlements. A host of unique natural wonders make compelling viewing, including the 300-meter high desert cliffs known as The Edge of the World.

In contrast, Nepal's medieval cities, remote mountain villages, with a backdrop of soaring snow-covered mountains and lush jungles with opportunities to view Elephants, Rhino and Tigers in the wild make it an inviting destination as you connect with nature. Discover more here:

Bhutan  |  Japan
Spring is the season for great festivals in both these intriguing and ancient Kingdoms bound by centuries-old traditions that survive unchanged to date.
Sakura or Cherry Blossom Festival is among the most popular times to visit Japan, just as fruit trees burst into bloom and families gather beneath them to picnic in celebration of nature. 
The little-known mountain Kingdom of Bhutan also celebrates nature at springtime in great style when masked dances are put on great shows in the courtyards of opulent monasteries and palaces. Age-old ancient silk tapestries are unfurled and, monks chat hymns from ancient manuscripts and, local people dress in traditional robes in celebration. Find out more about these truly fascinating worlds here: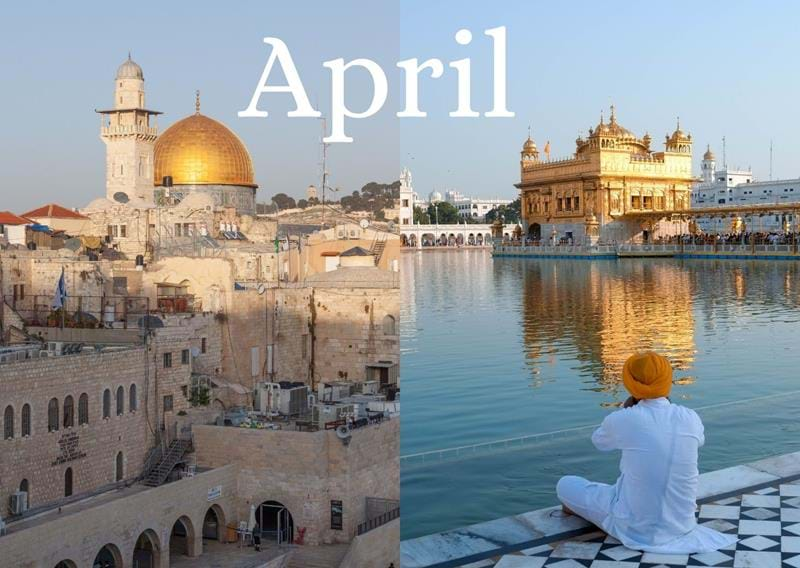 Israel, Jerusalem  |  India, Amritsar
The spiritual homes to a number of the most widely practised religions of the world, Israel and India are especially popular in spring when they celebrate some of the most significant religious moments.
Easter in Jerusalem is a must when the Orthodox and Catholic Christian churches focus celebrations on the church of the Holy Sepulchre which marks the crucifixion, burial and resurrection of Jesus.
 The Golden Temple, Amritsar is the focal point of Baisakhi, Punjab's spring festival when the Sikh community gathers in tribute to the tenth Guru, Guru Govind ahead of exuberant celebrations in song and Bhangra dance across every town and village.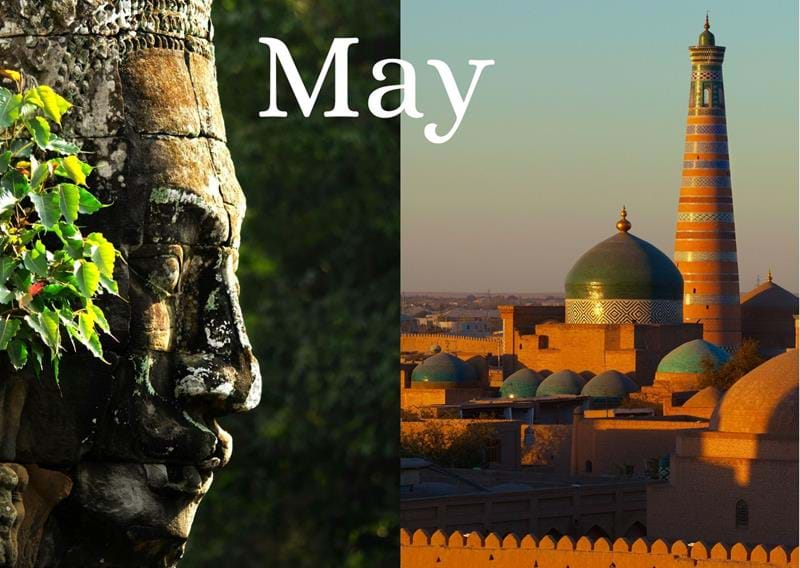 Cambodia  |  Uzbekistan
The only thing that connects these nations at opposite ends of Asia is the sheer scale and grandeur of the monuments. It's no surprise they appear on most people's bucket-list!
The glorious temples of the Khmer Empire at Angkor Wat and Bayon in Siem Reap and Emperors Timur's cities of Khiva, Samarkand and Bukara wielded power over the ancient Silk Trade routes.
Whichever you choose to visit first, the month of May is an ideal time to travel. The weather in Cambodia at this time is still dry but the large crowds that can overwhelm these monuments have dissipated, allowing you time to explore them in relative leisure. Uzbekistan also enjoys good weather in May, making it an ideal time for exploring its impressive mosques, minarets and great cities. Find out more here: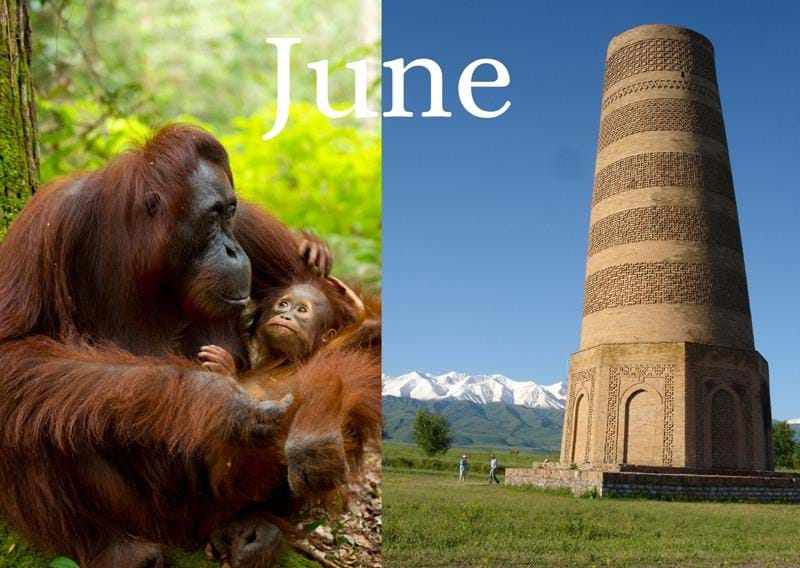 Borneo  | Kyrgyzstan
These destinations simply take your breath away but in entirely contrasting ways.
The lush dense jungles of Borneo nurture and support a wide array of wildlife, some of which we can't even begin to imagine! Among the best times to spot the animals here is June, when trees are overflowing with fruit and animals venture ever closer to make the most of the abundant harvest. It is also the best time to climb the sacred Mount Kota Kinabalu.
The sheer beauty of Kyrgyzstan's magnificent snow-capped Celestial mountains, blue-green glacial lakes and pastures dotted with Yurt encampments is simply overwhelming. June sees the start of the summer when cold winds and rain subside giving way to warm sunny days. This is when the Nomad dwellers of Kyrgyzstan come together to hold great cultural festivals, competitions and trade the good the spent the winter preparing. Find out more here: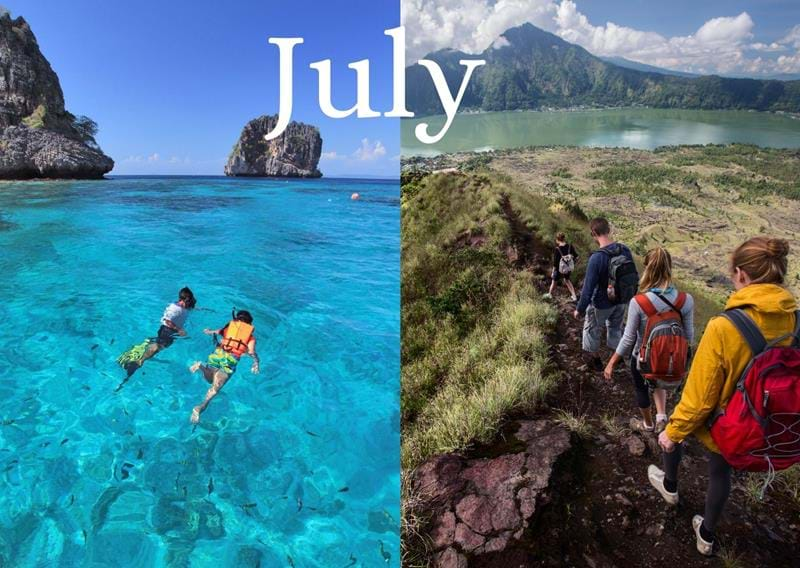 Indonesia  | Thailand
Most people think of glorious beaches, easy living and great food when speaking of these idyllic holiday destinations but, they are much more: 
Each has a distinct culture, follows its individual blend of Buddhism and Hinduism with elaborate temples and rituals in dedication. Nature displays itself here in spectacular ways from beautiful coral reefs and karst formations in the sea to lush fertile valleys and living volcanoes
For independent travellers, July is quite possibly the best time when temperatures are ideal, days are dry and the school holiday season has not yet started! There is no better time than now to start planning your summer vacation than now: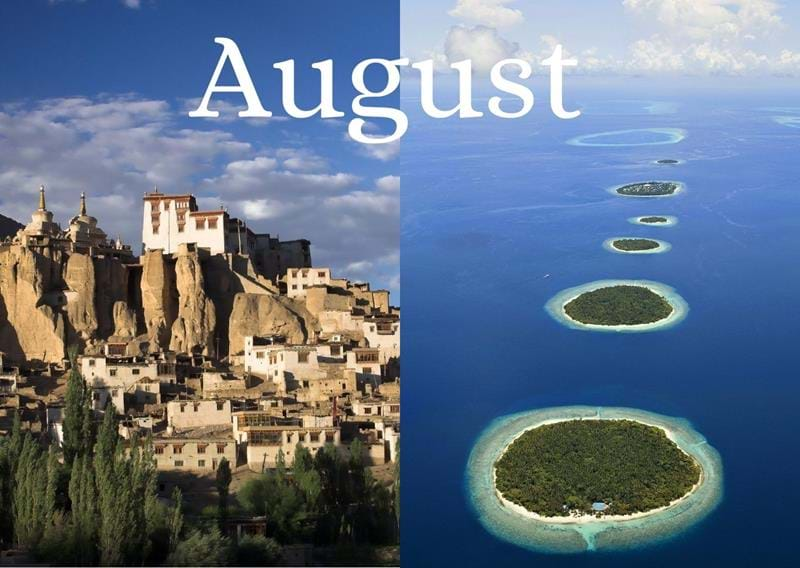 Ladakh, India  | The Maldives
So, you've worked hard through the first half of the year and at this mid-way point deserve a well-earned rest to reconnect with yourself.
Why not head for Ladakh in the northwest of India. A rustic yet heavenly destination of breath-taking mountains, crystal clear skies and astonishingly beautiful monasteries. Here you can watch pashmina goat herders rear their livestock as time rolls gently by, allowing time for quiet contemplation in the comfort of luxury boutique and palace hotels.
You might simply wish to maroon yourself away from the world in the luxury of your island retreat in The Maldives, where the only thing that really matters is the care and attention you deserve. No matter which you choose, speak to us to secure your summer solace now: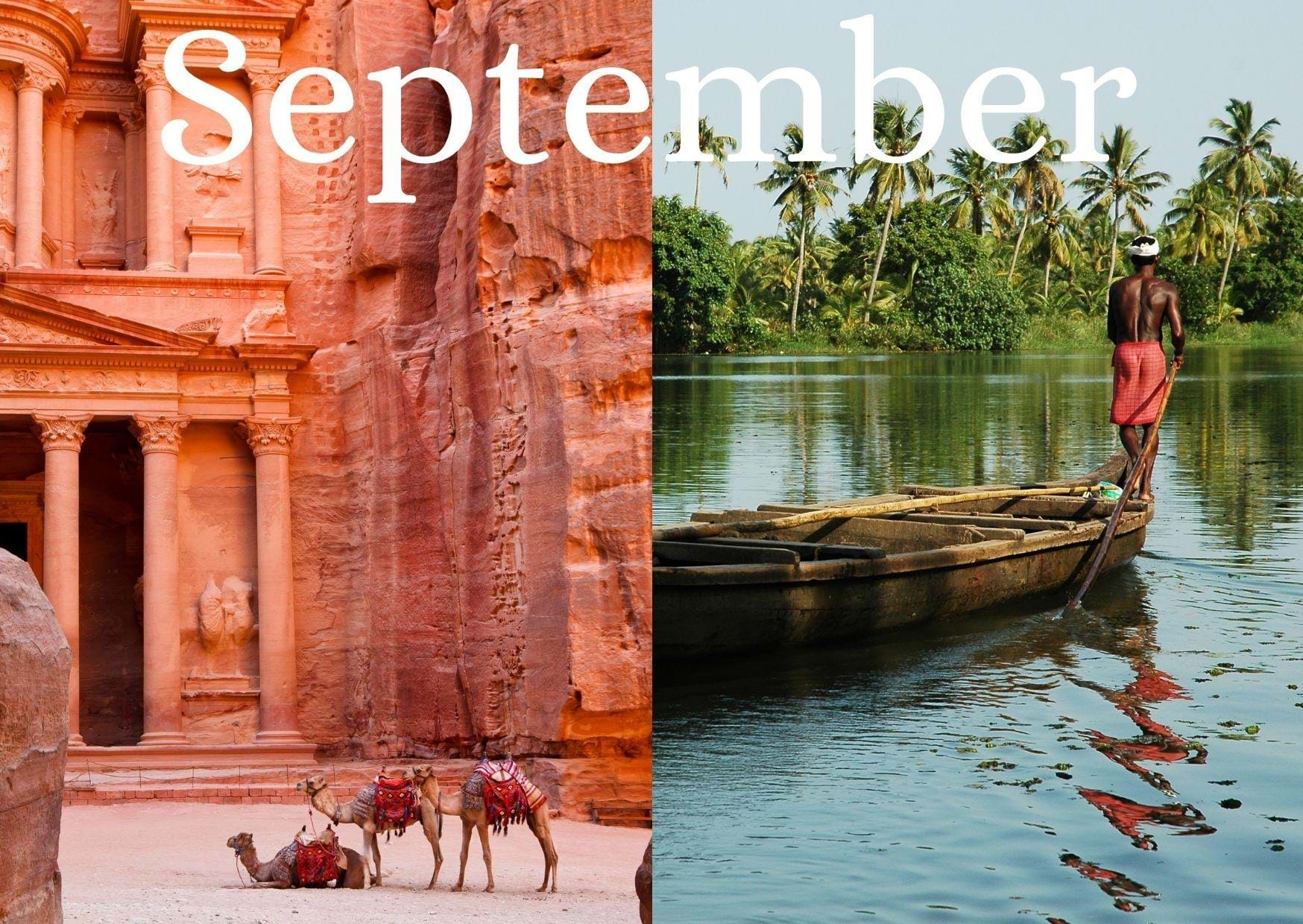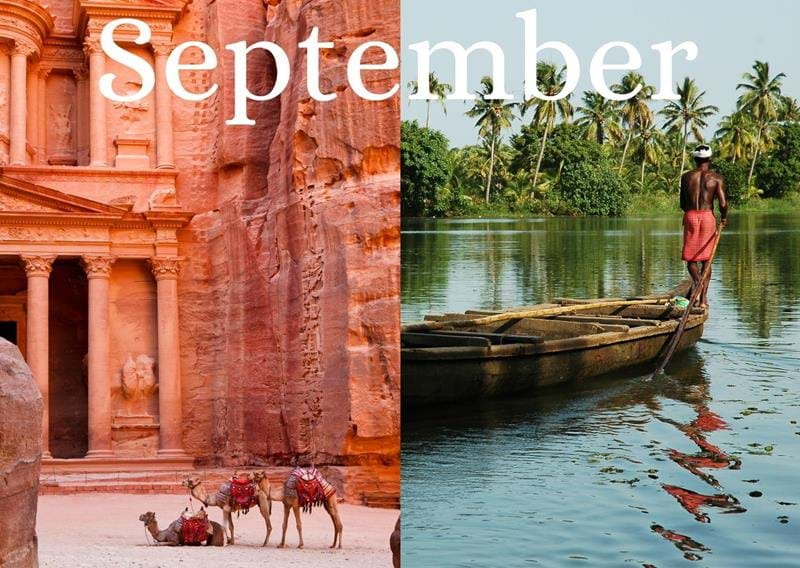 Jordan  | Kerala, India
These are two of our most popular destinations at this time of the year as the heat of the summer subsides in Jordan and, the monsoon rains give way to clearer weather in Kerala.
Kerala offers a chance to connect with nature with its calm winding backwaters, fragrant spice-scented hills, wildlife and birds and some of the most glorious beaches India has to offer.
Jordan on the other hand tempts us with its ancient capital of Nabatean rulers at Petra, Roman ruins at Jerash and Amnan's Jabal al-Qal'a and relaxation at the picture-perfect beaches of Aqaba. Both are easy and relaxed destinations to navigate and great for family holidays. Speak to our team to discover more now: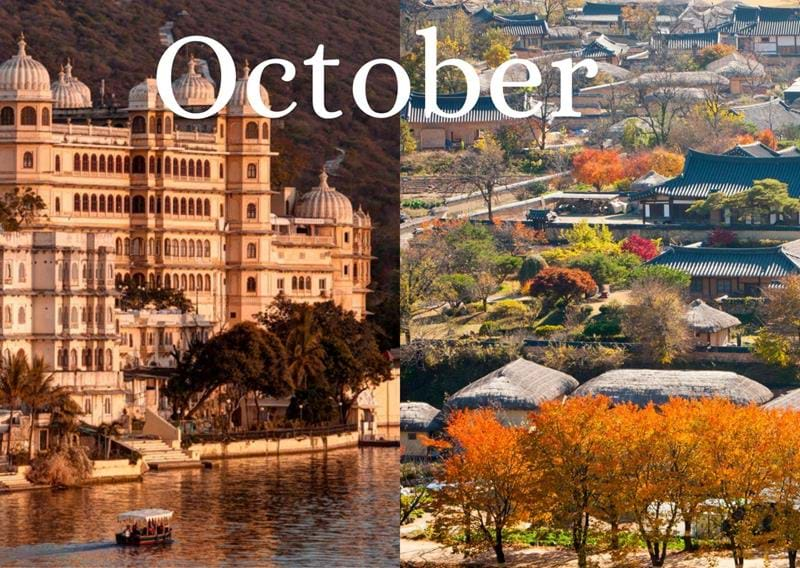 Rajasthan, India  | South Korea
October is a great time to explore Asia. Our two favourite things to do here is to celebrate the vibrant festival of lights, Diwali in Rajasthan, when the entire state is festooned in lights and fresh flowers in readiness for the festivities. The weather is perfect for explorations.
The second is the fall season in South Korea when every corner of the country is ablaze in autumnal colours and the weather is still warm and dry. It's a particularly good time to venture into South Korea's beautiful National Parks and experience the festivities of the Busan's  Fireworks Festival. Find out more here: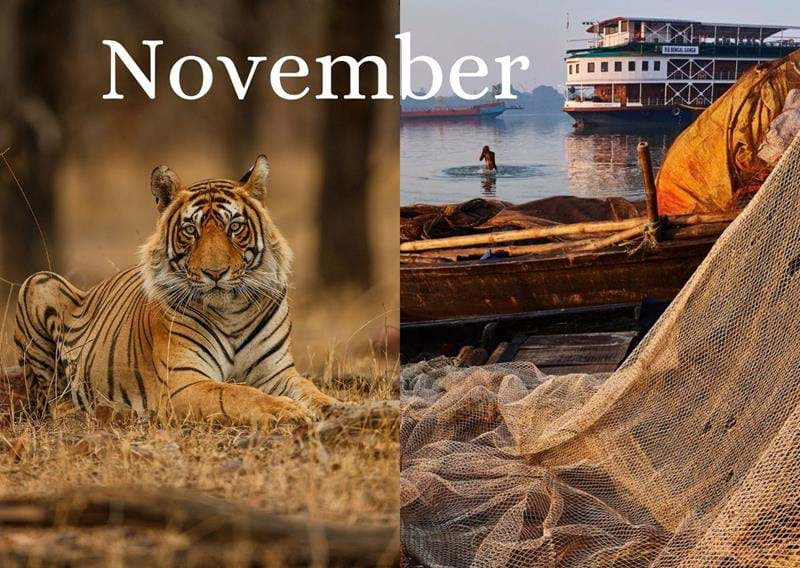 Wildlife, India  |  River Cruising, India
November sees the re-opening of India's great Tiger parks after the long hot, wet summer when the forests and jungles have had time to replenish themselves and animals' mate. It's about the best time for wildlife viewing before the animals retreat into the undergrowth.
It is also when the water levels on the great rivers of India have settled following the monsoon rains and the cruise ships can re-start sailings along the mighty Brahmaputra and the Sacred Ganges in Eastern India allowing access to some remarkable, otherwise inaccessible places.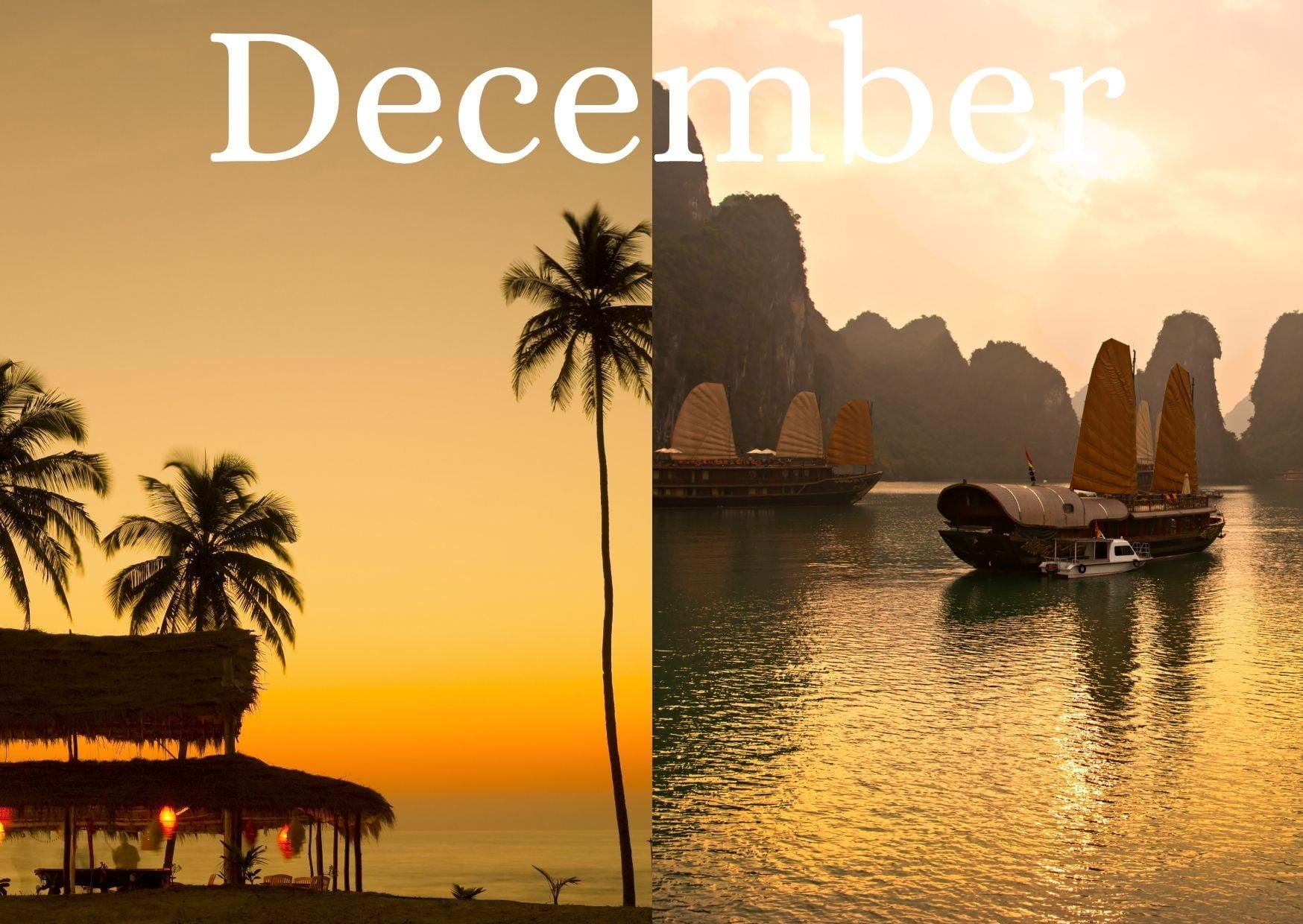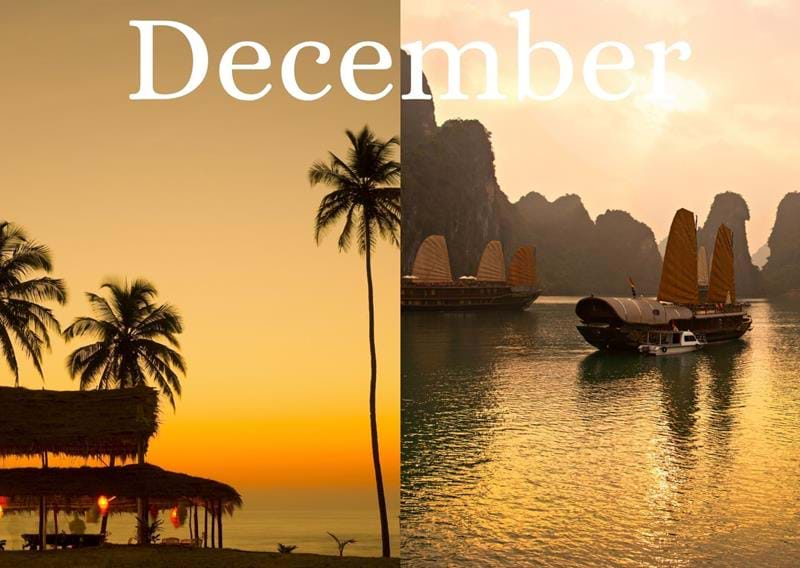 Goa, India | Halong Bay, Vietnam
Fun-filled and relaxed, Goa is simply blissful in December with golden sandy beaches, clear blue skies, guaranteed sunshine from dawn to dusk and a cuisine to die for! Perfect destination whether you choose chill here or a few nights at the end of tour or opt for a standalone holiday. Check out the best places to stay in Goa below:
Similarly, most of Vietnam is warm and dry in December, making it a perfect time to explore the colonial ambience of Hanoi, stunning Halong Bay, the cultural hub of Hoi an and historic Ho Chi Minh City.